Kimora Lee Simmons Is Positioning Baby Phat as Chanel for a New Generation
As she relaunches the iconic brand after 20 years, the designer reflects on bringing a high-fashion and unapologetically female perspective to streetwear.
Kimora Lee Simmons Leissner launched Baby Phat by Kimora Lee Simmons — the womenswear brand that epitomized early aughts streetwear with baby tees, bedazzled jeans and a sexy cat in silhouette — in 1999. It was huge. The fashion week presentations were over the top. (Simmons Leissner staged live runway shows in Times Square and Radio City Music Hall.) The front row was always star-studded. (Lil' Kim, Rihanna and Paris Hilton were fixtures.) Under Simmons Leissner's creative direction, Baby Phat became a billion-dollar company.
But when the Great Recession hit, sales slowed and Kellwood Company, which acquired the brand in 2004 from her then-husband Russell Simmons, "unceremoniously" ousted Simmons Leissner in 2010. Baby Phat subsequently faded into cultural and sartorial irrelevance.
Related Articles
Madhappy Is Building a Brand Around Hoodies and Mental Health
The Secret to Truly Unique Personal Style Is Listening to Your 13-Year-Old Self
Kimora Lee Simmons Has a Strong Opinion on the Term 'Urban' in Fashion
Seeing as all that went down nearly 10 years ago, you could be forgiven for forgetting that Baby Phat was a thing, or that Simmons Leissner is a decade-defining designer.
Allow her to jog your memory.
Earlier this year, the entrepreneur reacquired Baby Phat and announced plans to relaunch the brand — not only to catch the wave of 2000s nostalgia that's washed over those who knew (and loved) Baby Phat the first time around, but to introduce it to a younger generation. Specifically, the generation that claims Simmons Leissner's eldest daughters Ming Lee Simmons, 19, and Aoki Lee Simmons, 16.
The initial release from the new Baby Phat, a 17-piece collaboration with Forever 21, is a testament to that. The collection launches on Thursday and features logo tees, bodysuits, bike shorts and more priced from $14.90 to $24.90, all co-designed by Simmons Leissner, Ming Lee and Aoki Lee. (Baby Phat will roll out ready-to-wear and accessories via its own direct-to-consumer channel in the fall. Denim, footwear and beauty will be released in future collections.)
The timing is spot-on. Whether you like it or not, early-2000s fashion is back, with everything from going-out tops to low-rise jeans reentering the style cycle. "I've always seen it coming," Leissner Simmons tells Fashionista. "This is one of those cases where 'been there, done that' is great — women have been there, done that and want that."
She's not wrong. Despite the Gen Z-leaning allure of Forever 21, it's easy to picture those in Simmons Leissner's age bracket scooping up a branded sweatshirt or cropped tee to pair with jeans or yoga pants on the weekend — worn with a hint of irony, for sure, but also with genuine affinity for the fashion of their youth.
"I know this customer so well," says Simmons Leissner. "As women, we are special, exotic creatures. I raised my kids this way, I raised a whole generation of people that way and I want them to know we're still here, we're doing it."
"Doing it," in this case, means interrupting the male-dominated streetwear market with an unapologetically female perspective. This was Simmons Leissner's mission (and one she accomplished) back in '99, as well. When oversized jerseys and too-big tees purchased and repurposed from the men's section were de rigueur, Baby Phat presented another option: shrunken, form-fitting pieces made by women, for women — of all races and sizes, no less.
"I've always had women of color. I put some of the first plus-size girls or thicker girls on the runway, and they have magnificent careers to this day," Simmons Leissner says. "I feel like my family alone is like the UN, so it's important that my kids see that."
Has the industry followed suit? "There have been a lot of changes in the landscape of streetwear, but not enough," says the designer. "I feel like there's a sizable gap [of female voices], and that's why I decided to reacquire the brand and relaunch it. Baby Phat was a movement, and people forget that."
During my interview with Simmons Leissner, she seems a little stuck on this idea of being forgotten, or left out of a larger conversation. She knows exactly how influential she was, and still is, really. "There are, like, thousands and thousands of kids named Kimora [after me], and I want them to understand what that means," she says (I checked OhBabyNames.com; it's true). And she demands a little credit, goddammit.
"I've had many different lines, I've worked in many different categories. I don't know why people don't talk about that enough," she says, seeming truly baffled. Fashion's nostalgia trend is apparently a point of frustration, as well. "These girls are 16, 17, 18. They think something's new and I'm like, 'No, that came from me.' People who know are like, 'Oh, Kimora did that.'" Simmons Leissner also claims she created the high-low mix. "Not by myself," she adds, "but [in] the past 30 years, for sure. My background is obviously high fashion, so I feel like I bring that high-fashion feel to streetwear."
The background she's referring to is, of course, her stint as 14-year-old model on the Chanel runway. (Or was she 12? Or 13? The age changes every time Simmons Leissner mentions it — a total of three times in 20 minutes.) Karl Lagerfeld famously plucked the six-foot-tall Simmons Leissner from her hometown in Missouri and gave her an exclusive modeling contract in the late '80s; she's been referred to as his muse more than once, and it's clear she takes inspiration from the storied French house.
"Look at Chanel, what does it represent?" she asks. The answer comes without pause: "The Depression, costume jewelry, costume now being high end, chains, faux pearls," she rattles off. "That's high-fashion perspective."
Simmons Leissner is positioning Baby Phat for Forever 21 as Chanel for a new generation while clad in a bodysuit emblazoned with an illustration of a cat and leopard-print bike shorts — an outfit that totals a whopping $35.80 — so at first, it's an easy concept to dismiss.
But later, I can't stop thinking about it. Is Kimora Lee Simmons Leissner the new Coco Chanel?
Coco Chanel liberated women from corseted couture in 1910, when she dared to craft casual women's wear from men's jersey fabric. Simmons Leissner arguably did the same in 1999, as the first designer to offer hip-hop-inspired streetwear tailored to women's bodies and sensibilities. Where Chanel gifted the world with the Little Black Dress, Simmons Leissner bestowed upon us the Little Baby Tee. She went on to launch fragrance (like Chanel), handbags (like Chanel) and bedazzled cell phones (OK, she has Chanel beat there).
Chanel herself famously stated, "Luxury must be comfortable, otherwise it is not luxury"… and what's more comfortable than a spandex bodysuit and bike shorts? "Now more than ever, streetwear can definitely be high end," Simmons Leissner echoes, 100-some years later. 
To hear both designers explain it, high fashion is not about a price point, but an attitude. "It's kind of how you do it, how you wear it and that's what girls have always looked to me for," explains Simmons Leissner. To this end, so much of herself — and her daughters — is embedded into the brand; and like those who shop Chanel, anyone who scoops up the latest collection is buying into more than a logo. They're buying the movement, the experience, the history… honestly, they're buying the Kimora Lee Simmons of it all.
The question now is, do Baby Phat baby tees have the potential to reach 2.55-level ubiquity? If Simmons Leissner has a say in the matter, the answer is yes.
Browse the full collection below and shop it now on Forever 21's website.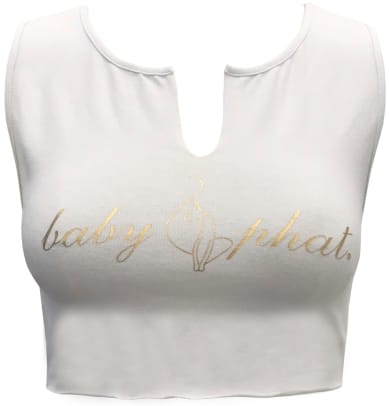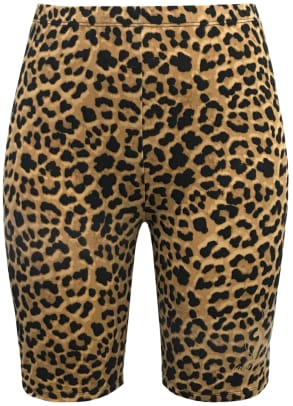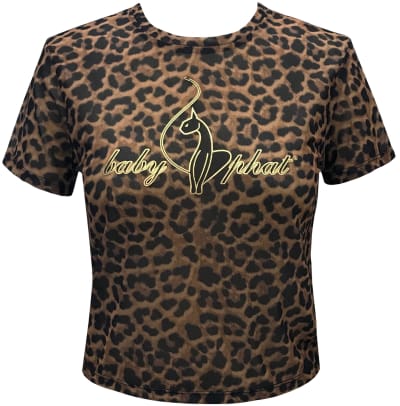 Please note: Occasionally, we use affiliate links on our site. This in no way affects our editorial decision-making.
Sign up for our daily newsletter and get the latest industry news in your inbox every day.