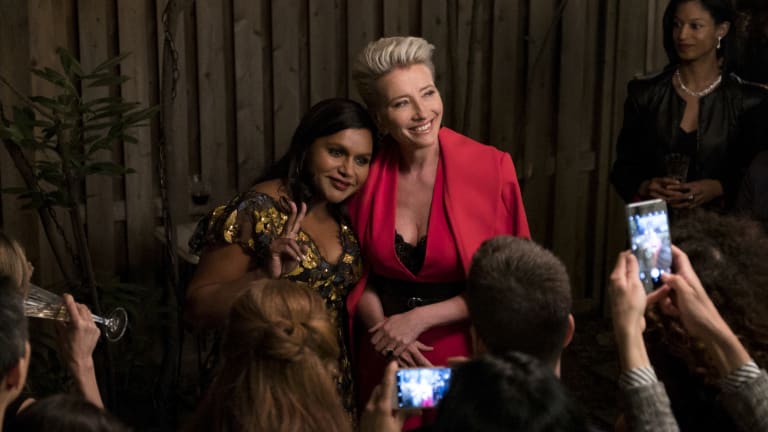 Emma Thompson's Chic Pantsuits in 'Late Night' Pay Tribute to Talk Show Legends Joan Rivers and Ellen DeGeneres
"We owe it to all these women to do it right," says costume designer Mitchell Travers.
Warning: mild spoilers for 'Late Night' below.
In "Late Night," two-time Oscar winner Emma Thompson effortlessly owns the big screen playing talk show host Katherine Newbury — all while looking intimidatingly chic in a profusion of designer pantsuits fit for a fictional comedy legend. The role feels so natural, as if that type of person — that type of woman — should exist, right? 
But aside from Joan Rivers anchoring the pioneering, Johnny Carson-competing and very short-lived "The Late Show" in 1986, on the then-just launched Fox, there hasn't been an established female late night talk show host on network TV in the vein of Letterman or Leno. (Although, Chelsea Handler helmed shows on E! and Netflix, Samantha Bee skewers politics on TBS and Busy Philipps chatted with fellow celebs on "Busy Tonight," which E! just canceled.)
"It still blows my mind," says "Late Night" costume designer Mitchell Travers. Not having a specific real life reference point also created an "interesting challenge," for both Travers and the movie's writer and co-star, Mindy Kaling, in building the costume arc for the iconic but out-of-touch late night TV host, who's about to be replaced (and by a younger man).
So Travers, who caught Kaling's attention as an associate costume designer on "Ocean's 8," took a "grounded" approach in seeking inspiration and looked to universally beloved legends within the talk show and comedy genre: the aforementioned Rivers, of course, Ellen DeGeneres and the late Gilda Radner. 
"I wanted to put in little nods to the women who have paved the way in comedy," he says. "We owe it to all these women to do it right."
Katherine's black-on-black outfits and bold statement necklaces pay homage to Rivers, along with luxurious fur coats thrown over more casual looks. "I was so inspired by [Rivers] in general as a trailblazer," explains Travers. "I just felt like it was the look we needed in the movie in order to feel like [Katherine] would be coming up through the ranks the same time as Joan." 
Of course, Katherine's tailored menswear-inspired pinstripe suits, starched collars and white creepers speak to DeGeneres. A soft silk pussy bow blouse, worn under a structured pinstripe suit, directly references Degeneres hosting the Academy Awards in 2014. (The velvet blazers bring her 2007 Oscars debut to mind.) Travers also looked to the celebrity-favorite talk show host for a relaxed navy striped vest, over a button-down, and skinny dark jeans outfit for a heartfelt writers' room scene. 
"I'm really inspired by the way Ellen combined traditional menswear elements, but puts her spin on it and it's recognizably Ellen," says Travers. 
Filming began in spring of 2018, just before the whole pantsuit trend started to peak, so options were more limited. "I had to really work to find variety," says Travers. "Now you can get it at Zara." He credits Armani and Stella McCartney for stocking much of Katherine's comprehensive collection, especially as her suiting styles needed to evolve as she opens up to a new approach — thanks to the impulsive "diversity hire" of Kaling's Molly Patel. 
Both Thompson and Travers agreed on a stunning red Brandon Maxwell ensemble (top photo), with billowy flared trousers and a long, flowing nipped-waist jacket, to illustrate that pivotal moment. "We put the pantsuit on and she was just twirling around in the room. She felt so good in it," says the costume designer. "We need this energy in that scene. It needs to be a signal that things are going to be different after this point in the film."
Katherine's elegantly dapper accessories loosen up in the process, too. Travers swapped out men's cufflinks for inventive earrings to fasten her French cuffs and bow-ties for layered necklaces — and adios pocket squares. "We added bras and things that blended and blurred the lines a little bit, which allowed you to feel that she was taking risks," Travers says. Her styling becomes more carefree and plush textures, like velvets, metallic fabrications and a suede longline jacket, warm up the screen.
For Katherine's big mea culpa moment, Travers and Thompson went minimal. Instead of looking to comedy icons, Travers studied celebrity court cases to land on a fitted black tuxedo suit by Suistudio, a pleat-front shirt and spats-inspired cap-toe mules by Tibi. After watching Thompson rehearse her moving lines in the dressing room, Travers pared down her accessories at the last minute to 19th century pearl cufflinks and simple stud earrings. 
"It was so private and honest and I saw where she was trying to take that monologue and I just felt like reduction and simplicity were the answer in terms of costume," he says.
Despite her love of trouser suits, Katherine actually opens the film accepting an award in a long, metallic sequin gown by Talbot Runhof and painful heels — not flat creepers — which she immediately removes in relief at a restaurant after the ceremony (also reminiscent of Thompson's famous 2014 Golden Globes Louboutin heels moment.)
"We loved the idea that [the gown] was almost like a knight's armor," explains Travers. "There's a lot of darkness in comedians. She's up on stage accepting this award — and she can't really make too many jokes about it — it's an uncomfortable position for her to be in." So she's out of her comfort zone sartorially, too.
Plus, the elaborate dress and oppressive heels illustrate the difference in expectations for women versus men in the entertainment industry: the glam squad, the high pressure red carpet moment and the Spanx, which she also laments. "The hurdles are higher," adds Travers. "To survive in that world, this woman really did have to be different." The sparkling dress also creates a powerful introduction to bookend the spectacular navy sequin Armani pantsuit (above) that Katherine wears to close out the movie in her own confident and newly enlightened way.
As for newbie writer Molly, her influence on personal style — and outlooks overall — isn't limited to the big boss. She also breaks up the homogeneity of the all-white-male writers room with her presence and innovative ideas, plus symbolically through her wardrobe.
RELATED ARTICLES:
Ali Wong Wears The Row, Isabel Marant and Michael Kors in 'Always Be My Maybe' on Netflix
The Costumes in the Live-Action 'Aladdin' Include Authentic Middle Eastern References and Modern Day Streetwear Influences
The 'Booksmart' Costumes Include Blue Wave Boilersuits and Original Cali Thornhill DeWitt Self-Spoofing Merch
Travers envisioned the legacy bros as a "herd of zebras." "Everyone thinks that they're special and unique, but it takes someone coming in from a truly different background, with a different point of view, for you to feel how similar everything in this environment was," he explains. He dressed the male writers, including Reid Scott as Tom (or "seven," as Katherine prefers), in a palette of "non-threatening" navy bro-wear: down vests over button-down shirts, flannels, hoodies under blazers and the like. 
Molly actually starts her first official day wearing a J. Crew navy and cream-piped dress — mocked as funereal by a young cousin — but joining the assimilating into the herd goes against the point. The new writer starts injecting fresh ideas into the room, and non-navy hues, like bursts of rose and a saffron blazer. Gradually, the male writers embrace Molly, her progressive input and — gasp — subtle colors, like "some French blue" and oxblood.
"When she's trying to blend, it doesn't work," says Travers. "What's actually needed, and welcome in this environment, is change and a fresh concept."
Top photo: Emily Aragones, Courtesy of Amazon Studios
'Late Night' opens in select theaters on Friday, June 7 wide on Friday, June 14.
Never miss the latest fashion industry news. Sign up for the Fashionista daily newsletter.