See All of the Showstopping Red Carpet Looks From the 2019 Love Ball
Highlights include Marc Jacobs in a babushka and Dapper Dan in a glittery purple suit.
Decades ago, nightlife legend Susanne Bartsch put her superb party planning and fundraising skills to work with the 1989 and 1991 Love Balls. They were extravagant affairs that blended high fashion with the best of the ballroom community for a good cause — the first and second installments raised over $2.5 million for HIV and AIDS charities. 
This year, Bartsch teamed up with the Council of Fashion Designers of America for a third benefit to mark the 50th anniversary of the Stonewall riots, and the glittering event went down Tuesday evening at New York City's Gotham Hall. A number of notable figures from the ballroom community were on hand to compete in six different categories for a one-of-kind, artist-designed trophy. 
Tony and Grammy Award-winning actor, singer, director, composer and playwright Billy Porter served as the ball's Master of Ceremonies, and in true Porter fashion, the red carpet was his sartorial playground. He arrived in a vibrant yellow suit with a trailing skirt by Filipino designer Francis Libiran, complete with an esenshel hat. Dapper Dan, who played a big role in the evening's festivities as the trophy presenter, wore a sparkling three piece suit in a calming shade of purple. 
There were also a handful of showstopping looks from the fashion darlings who came to judge the competiton. Patrick Starr made a bold statement with spiked pastel eyelashes that matched the color of his holographic blue and purple stole. Model Amanda Lepore resembled Betty Boop in a body-hugging lip-embellished dress, which she accompanied with overdrawn red lips and dramatic Marilyn Monroe-inspired curls. Then, there was Marc Jacobs, who wore a double-breasted mint suit and a babushka.
See all the over-the-top looks from The Love Ball III below.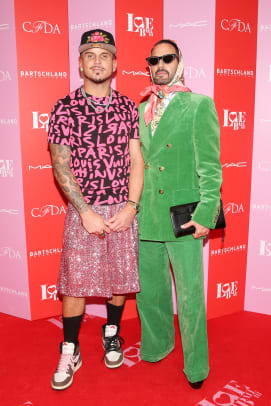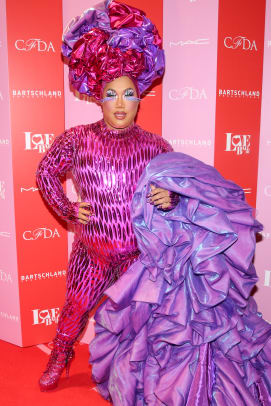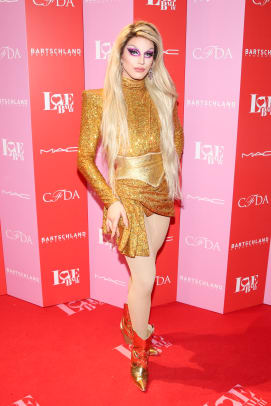 Sign up for our daily newsletter and get the latest industry news in your inbox every day.