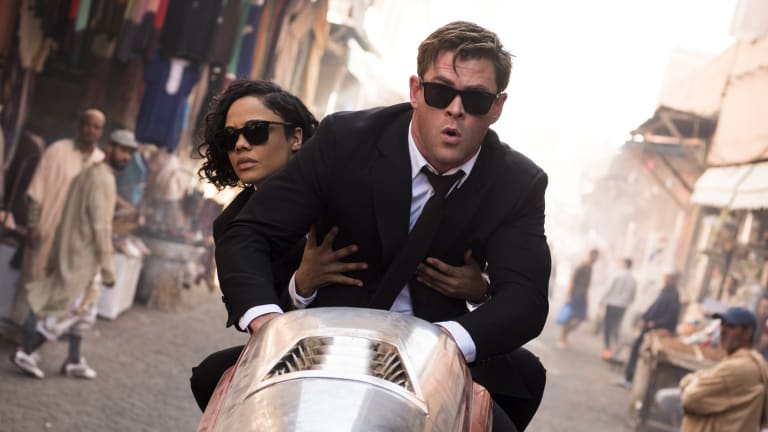 'Men in Black: International' Features Aliens Dressed in Martin Margiela- and Dries Van Noten-Inspired Costumes
And, of course, Chris Hemsworth asked to wear the fun socks.
"Men in Black: International" doesn't just enlist Avengers-approved superstars Tessa Thompson and Chris Hemsworth as Agents M and H, the fourth installment in the 20-year old franchise, also refreshes the universally-recognized black suit concept worn by the iconic intergalactic crime-fighters. 
"I wanted this [movie] to have a really high tailored flavor," says veteran costume designer Penny Rose ("Mission: Impossible," "The Mummy"), over the phone from France. 
In the three previous three films, Will Smith, Tommy Lee Jones and all the other Earth-based agents followed the MIB-mandated dress code and wore the same style suits, costume designed by Mary E. Vogt of "Crazy Rich Asians." But 10 years and two new leads later, Rose jumped on the opportunity to experiment with updated silhouettes to distinguish the characters.
"It was very difficult to get imaginative over black suits," Rose admits. To start, the studio wanted to partner with a designer brand known for tailoring and formal-wear and suggested Paul Smith, whom Rose has known personally for 30 years. Any initial concerns over maintaining creative and story-telling integrity and finding a cooperative brand that could meet the sheer volume of suits required — custom designed ones for the leads, including 18 multiples each, and upwards of 400 for supporting and background players — were immediately assuaged on their initial meeting.
"[Smith] is one of the most delightful people in the world, and his team were fabulously helpful," Rose says. Also helpful: the ready-to-wear collection offered the costume designer a plethora of trousers, skirts, jacket lengths, shapes, cuts and button-details to distinctly outfit the supporting agents.
M, on the other hand, gets a chic and perfectly tailored pantsuit. Rose selected about 50 jacket and trouser options for Thompson to determine the best fit, style and functionality. "Together, we decided that the two-button, double-breasted, longer jacket — with the big kick-pleat at the back — would be far more impressive for all the action work," the costume designer explains. "It moves very well."  
They both also decided on pants rather than a skirt because clever, science nerd M is also tough-as-nails badass who "can do all the stuff the boys can do." Even though the agency's name is still "Men in Black," that doesn't mean the women aren't also the MVPs (as the actress also explained on the red carpet during the New York premiere.)
The 10-inch height difference between Hemsworth and Thompson did require M to wear heels. So Rose searched high and low for a practical and comfortable "work boot" style that would also look "fairly elegant" with tapered suit trousers and landed on the lug-sole, lace-up booties by Naked Wolfe. (Bonus shopping tip: She suggests also visiting Stuart Weitzman for similar ones.)
Hemsworth's height of 6'3" required made-to-measure services from the practically round-the-clock Paul Smith tailors for his single button, notch lapel and slim-fit pants suit. The charming, roguish agent doesn't always play by the books at work, so his suit doesn't, either. First off, Agent H's jacket features clandestine gold embroidered lining — blink and you may miss it — which came at the suggestion of the designer. "Paul Smith said, 'could he have a jazzy lining?'" says Rose. 
Hemsworth suggested wearing the brand's signature multi-stripe socks, which H brazenly shows off during an MIB meeting. "During the fittings, he saw the socks, and said, 'Hey, could H wear those?'" she adds. "I'm like, 'sure, OK, have you got 30 pairs?' And, yes, they did have 30 pairs."
In probably the most fashion/blockbuster movie marketing synergy ever, Paul Smith's signature "A Suit To Travel In" suit fabric both survives long haul flights smashed into a suitcase and stunt-heavy, hand-to-hand combat with alien baddies. Rose says the Loro Piano-manufactured and crease-resistant New Zealand wool suiting didn't require her to sew in sneaky stretch panels to reinforce rip prone spots.
Agent O — played by Emma Thompson, who obviously nails a suit — is so senior, she can break the dress code rules. Rose dressed the big boss in a collarless, and thus tie-less, but still authoritatively chic look: a Paul Smith blazer with a peplum-ed pencil skirt that she custom-designed. "It made her feel a little saucy and a little bit cheeky," Rose says. "We wanted to give it a twist and make it a bit seductive, if you like." 
Following the previous "MIB" films, the "neuralizer"-resistant sunglasses are by Police. Hemsworth and (Tessa) Thompson selected their choice of styles, while the rest of the agents wear the same frames.
While Rose and her team exercised inventive creativity within parameters for the MIB uniforms, they really let loose when it came to dressing the aliens seen in the background at HQ. The extraterrestrial extras are essentially going through immigration checkpoints to enter earth, so the costume team imaginatively devised individual sartorial identities speaking to copious planets of origin, which apparently embraced high fashion.
RELATED ARTICLES:
Tessa Thompson's Look at the 'Men In Black: International' Premiere is Out-of-This-World Good
Emma Thompson's Chic Pantsuits in 'Late Night' Pay Homage to Talk Show Legends Joan Rivers and Ellen DeGeneres
The 'Thor: Ragnarok' Costumes Are Just as Fun as the Movie
For inspiration, Rose and her team first looked to early runways of the Antwerp Six (Walter Van Beirendonck, Ann Demeulemeester, Dries Van Noten, Dirk Van Saene, Dirk Bikkembergs and Marina Yee), plus Martin Margiela. "They were the biggest influence because their catwalk clothes look like they belong to aliens," she says about much of the avant garde, geometric and sculptural layers seen in the background.
Colorful macramé ensembles were inspired by vintage lampshades and knitted mid-century toilet paper covers. "Immediately, I thought, 'ooh, we could make that into a skirt and it could be fabulous,'" Rose says. The Garbage Planet emigrés spoke to sustainability wearing upcycled clothing made from discards. Also look carefully for interstellar outfits made from all zippers or multi-hued buttons. 
"I have some very very clever people working with me, and once we got on the path of alien-wear, there was just no holding us," she says. 
Top photo: Giles Keyte/Sony Pictures Entertainment
Never miss the latest fashion industry news. Sign up for the Fashionista daily newsletter.