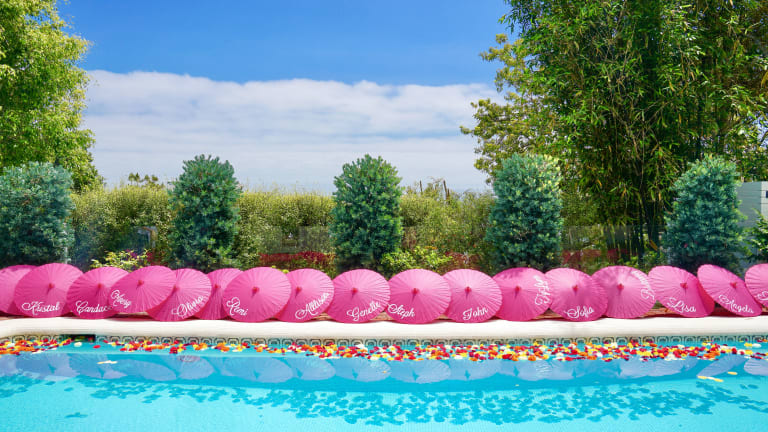 Miranda Kerr Invites Us Into Her Home to Talk Skin Care and (Not) Modeling
"I'm 36, I've got a third baby on the way and I don't want to waste my time with any BS."
It appears that Kim Kardashian started a trend when she launched her cosmetics brand with an event at her own home. Fellow preternatural beauty-turned-beauty entrepreneur Miranda Kerr similarly chose her own Malibu home as the venue to celebrate the debut of a vitamin C product for her clean skin-care line Kora Organics on Thursday afternoon. Well, one of her homes. Kerr explained that while she and husband Evan Spiegel use to live there, they now primarily reside in Brentwood.
"This is like my little treehouse," she said of the charming, rustic and, yes, very tree-filled oceanside property. "I love coming out here and I feel like it's [the right] time of year to just kind of enjoy the sunshine and being by the ocean. It just feels like a good alignment with the launch."
The pool area was decorated with an orange, yellow, pink and red color scheme to represent the natural ingredients used in Kora's new Noni Bright Vitamin C Serum, including Kakadu plum, Acerola cherry, orange peel and lemon peel. Kerr and many of her guests were even dressed in the color palette, with Kerr in hot pink and Katy Perry supporting the mother of her fiancé's child in a sherbet-orange skirt suit.
As she and fellow guests like Sofia Richie, Stephanie Shepherd and Jackie Aina got crystal readings, aura photos and reiki sessions, I caught up with Kerr to discuss why and how she developed an organic vitamin C serum, the growing popularity of clean beauty, how her products have solved all of her family's skin issues, how pregnancy changed her skin and the apparent winding down of her modeling career.
Why was vitamin C the next product you wanted to launch?
I really wanted to create a super powerful certified organic vitamin C. There are many vitamin Cs out there, but I don't know of another one that's certified organic and I really wanted it for two different reasons: for pigmentation and also for anti-aging, just to create that skin firmness, elasticity. I've suffered from pigmentation ever since my first son was born and that was eight years ago. Being pregnant, I wanted a really healthy vitamin c serum that I could use that wasn't going to be harsh on my skin, that I could use every day and really get results from. I spoke with the labs and I said, 'This is what I want. Do you think we can do it? 'Cause I don't know of another one that's out there, like is it impossible?' They're like, 'Yeah, we can do it' and we got it to 12% vitamin C, so it's very powerful and potent.
I know that vitamin C can be unstable, was it tricky make it work with an organic formula?
Ascorbyl glucoside is that water-soluble vitamin C that deeply penetrates into the skin, because some of them that are out there, it's a different type of vitamin C. This is the one that absorbs more effectively into the skin, as opposed to sitting on the surface. 
Kakadu plum, which is in there, is one of the highest forms of natural vitamin c and my mom actually takes Kakadu plum powder and she was always going on to me, like, 'This is the highest form of vitamin c, you should take it.' My whole family, we really believe that health is wealth.
We have some of the best organic chemists in the world that we work with, and I just feel so blessed that they work on our products and I get to be the guinea pig. All the products are tested on me and my friends and family. They're really results-driven and that's, to me, the most important thing 'cause there's no point for me to waste my time with products that don't work. I'm 36, I've got a third baby on the way and I don't want to waste my time with any b.s.
You were pretty early to the clean, organic beauty space. How does it feel to have seen it explode?
The interesting part is, because I grew up that way I didn't really know any different and I was like, 'Why wouldn't someone create a certified organic range?' People are so conscious about what they're drinking or eating, why wouldn't they be conscious about what they put on their skin? It was a no-brainer for me to create products that were clean and certified organic.
I'm excited that people are now becoming aware of what hey put on their skin and I think it's a step in the right direction. I'm all about a balance: I try to be 80% healthy and 20% indulgent.
There's so many things in the world that we can't control, we can't control when we walk outside and the pollution and we can't control when we're flying on an airplane [and there's] radiation, but if we're educated about it, we can then make those choices. I'm trying to create awareness around, that's fine if you want to keep using those [non-natural] products, just be aware of what you're doing. Also, [organic products are] not only [for] while you're pregnant. I use our body wash on our little one-year-old and it's great for him. The products are healthy and get results for the whole family.
Speaking of the family, I read that your husband uses your face oil for dry skin.
He does every day, religiously, morning and night, and he uses the scrub as well, the turmeric two-in-one. We use it as an exfoliator in the shower almost every morning. That, combined with the Noni Glow Face Oil, it's very powerful combination. It's like an at-home facial.
The funny thing is my little one year old, he has skin like his dad and his dad suffers from dry skin if he's not religious about applying the product every day because it's a hereditary thing, but if he applies the product every day his skin's perfect and glowing and it just shows you firsthand how much the products really work. 
Aside from your own products, are there any treatments you swear by for skin?
I've always loved oxygen facials, microdermabrasion I think is good, but that's kind of why I created that turmeric scrub so I didn't have to have microdermabrasion.
It seems like you've cut back with modeling. Any plans to return?
It's not like I've stopped modeling, I still have a few things that I do and I do a lot obviously for Kora, but I also take photos and I shoot the campaigns for Kora with regular women, and I love making them feel beautiful. I really enjoy photography. I'm also still in front of the camera a lot, but I only do it if it's really worth it
I had so many years of working six days a week modeling and three different countries a week and I just got really worn out. It's nice now to be able to have my consistency and the routine. I'm a mama now — of three!
This interview has been edited and condensed for clarity.
Never miss the latest fashion industry news. Sign up for the Fashionista daily newsletter.