Hollywood Horror Movies Got the Jeremy Scott Treatment at Moschino Resort 2020
It's been a big week for fashion shows in Los Angeles.
Fashion shows are pretty few and far between in Los Angeles, but when brands do decide to show on the West Coast, especially those with significant budgets, they make the most of it. That could mean taking over an entire beach in Malibu as Saint Laurent did Thursday, or perhaps the Universal Studios backlot as Moschino did on Friday. In both cases, the setting was extremely L.A.-specific — and a spectacle.
After boarding a tram, a tour guide briefed us on the history of Universal Studios horror films, interrupted by "surprise" visits from Frankenstein, Dracula and the shark from "Jaws," now officially associated with two recent fashion collections. The actual runway show took place on the street of a generic suburban cul-de-sac set best known as Wisteria Lane from "Desperate Housewives," kicking off with a dramatic reenactment of the opening scene from "Scream."
What followed was a clever collection filled with various monsters, ghouls and horror-movie tropes, done Jeremy Scott-style with humor and camp, and to varying degrees of literality. Graphic, almost pop-art-esque illustrations — of sinister jack-o-lanterns, classic monsters, ghosts, stitches (a la Frankenstein), and trompe l'oeil mummy gauze, bones and body zippers — featured heavily on everything from outerwear to sweatsuits to dresses to face masks to shoes and handbags. Some models were also covered in spiderweb embroidery, three-dimensional spider accoutrements and scarecrow straw. A few of the ladies were dressed as old-Hollywood scream queens real and imagined: Charlotte Free as Ann Darrow with King Kong's claws wrapped around her, Suki Waterhouse as a '50s-style "Moschino Prom Queen" and Joan Smalls in a blood-red sparkly bodysuit with "Siren" printed all over, PVC coat and a matching choker meant to look like dripping blood, were a few examples.
It was another instance of Scott doing a theme justice — in his own amusing way.
See every look from the Moschino women's Resort 2020 and men's Spring 2020 collection in the gallery below.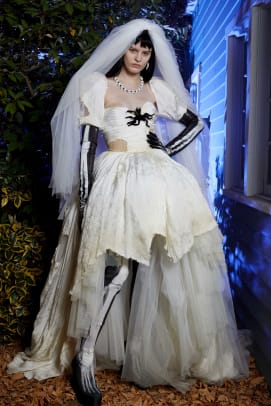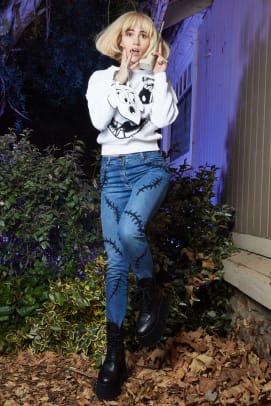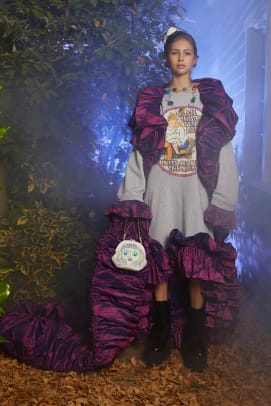 Never miss the latest fashion industry news. Sign up for the Fashionista daily newsletter.