Anthony Vaccarello Shows Bohemian Wares Against Crashing Malibu Waves for Saint Laurent Men's 2020
As Keanu Reeves and Miley Cyrus looked on.
Saint Laurent traded the Eiffel Tower for the Pacific Ocean on Thursday night, staging its Spring 2020 menswear show in Malibu, Calif. And while there may not have been an iconic Parisian landmark lit up in the background, this runway was no less of a spectacle than the French house's usual outings. 
Even in overcast weather (Los Angeles is in the midst of what locals call June gloom), the setting was stunning: Guests were greeted by fire pits surrounded by Persian rugs and pillows, rows of waiters holding trays of champagne and tiki torches lining the shore. A black boardwalk-runway was set up parallel to the water with a tall cliff serving as the backdrop, an industrial lighting rig projecting a faux "golden hour" ambience.
Despite being on the beach, the event had a level of sophistication we don't usually see around these parts: Every car door was opened by a black-clad attendant as the hundreds of guests arrived and left; flip-flops and blankets were passed out to those who hadn't dressed appropriately. Helping guests find their seats was a team of ushers that nearly outsized the audience. Attention had clearly been paid to every detail, including the timing, and what that meant for the light and the tide: By the end of the show, the crashing waves were coming right up to the runway.
And then there was the crowd: Between the employees, the cool French people and the famous front-row guests — Keanu Reeves, Laura Dern, Miley Cyrus, Liam Hemsworth, Evan Peters, Luka Sabbat and 21 Savage, to name a few — there was more black clothing and cigarette smoke (both real and vape-generated) than I'd ever seen in one place in L.A. It all felt surreal, like a dream conflating memories of Paris, a beach day and blockbuster movies, or like an ad campaign come to life.
Creative Director Anthony Vaccarello appears to have had California on his mind for a while: He lined his Spring 2019 runway with palm trees, sending models down a shallow infinity pool. It's unclear if his predecessor, noted L.A. lover Hedi Slimane, had anything to do with that, but it wouldn't be the only cue he took from the new Celine designer, who set Saint Laurent's Fall 2016 show at the Hollywood Palladium.
Per a press release, Vaccarello envisioned L.A. "as the latest Marrakesh" (a favored destination of the house's founder), hence the fire pits and pillows, I suppose. There was also almost a bohemian ease to some of what he sent down the runway, meant to channel "the irreverent allure of Mick Jagger and the Parisian nonchalance of Serge Gainsbourg."
Alongside the brand's typical fitted, black, sometimes sequined suiting, were a number of looser pieces: Breezy tops tucked into billowing high-waisted pants was a common look, sometimes accessorized with a thin, very '70s scarf. There were also embroidered tunics, open blouses tied at the waist, kimono jackets, oversized cardigans and loose vests, usually worn with the brand's typical black skinny pants and oxfords or boots ; a few guys got cut-off denim shorts, sandals and even straw cowboy hats. It was what the Saint Laurent man — you know, those prepubescent musicians who won't get their hair cut but can somehow afford a $2,000 blazer — might wear on vacation.
There were also plenty of looks for a night out, from sequined suiting to a sparkly one-shoulder number that can only be described as a men's going-out top. Gender fluidity is practically engrained in the brand's DNA at this point, and it was certainly present here, and emphasized by the presence by a few of its favorite female models like Lexi Boling, Binx Walton and Mica Argañaraz. While we are unequivocally team #HarryforGucci here at Fashionista, we could easily see Mr. Styles in a few of these looks in the future.
Up until now, Vaccarello has relied pretty heavily on '80s silhouettes to get his super-sexy interpretation of Saint Laurent across — and, for men, sharp, tight suiting. This collection was a nice departure from that, even if it still wasn't too much of a departure from the aesthetic Hedi Slimane established at the brand — or the one he's brought to Celine. Now if only Vaccarello could start to make a departure from exclusively casting waif-like models, that would really be something.
See every look from the Saint Laurent men's Spring 2020 collection in the gallery below.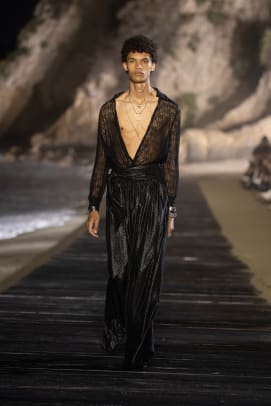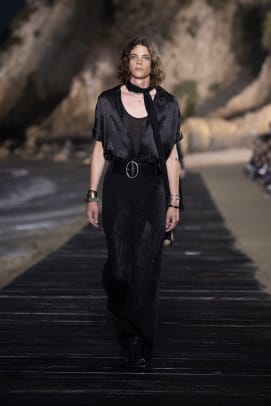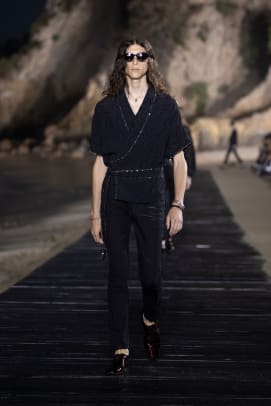 Never miss the latest fashion industry news. Sign up for the Fashionista daily newsletter.