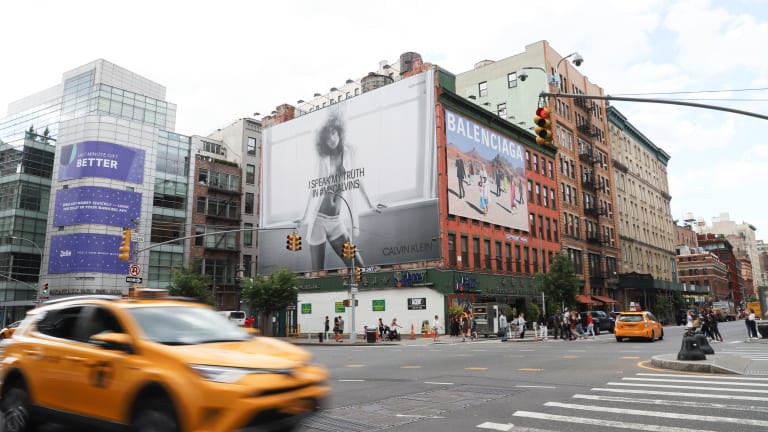 Are These Soho Billboards the Most Coveted Advertising Spots in New York City?
We learned more about this buzzy corner of fashion-focused publicity, the media companies who manage it and the rise of out-of-home advertising.
"Listen, @calvinklein and @shawnmendes, this billboard is a HUGE liability issue. I, for one, nearly stepped into traffic while staring at it. I'm no lawyer, just thought you should know," wrote our very own Tyler McCall on Instagram, regarding a certain advertisement that takes up nearly the entire side of a building on Houston between Lafayette and Crosby streets. Her post has garnered more than 330 likes since February; over the following four months, that same billboard space has shuffled through a number of spokesmodels for tourists, commuters and residents alike to gaze upon, take photos of and, hopefully, not cause any major pedestrian mishaps. (As it stands on Tuesday, the ad features none other than 23-year-old heartthrob Noah Centineo, so we make no promises.) 
Outdoor advertising company Outfront Media has owned the exact location of Calvin Klein's notable billboard since 2015, but the American brand has had the northwest corner of Houston and Lafayette "permed" — that's ad speak for contracted permanent display — for years before that. With Outfront, the billboard, which hangs at a whopping 53 feet by 75 feet, has changed copy a total of 88 times so far. With that type of prolific promotion, it seems like Calvin Klein has no plans of stopping, and why would it? According to a new survey conducted by Nielsen, 81% of adults have noticed a billboard in a one-month period with high levels of engagement to boot: More than 40% searched for a brand online after seeing an out-of-home advertisement, while 74% of people who visited a business after seeing a directional out-of-home advertisement made a purchase.
The building that's home to Calvin Klein's billboard showcases another bulletin overlooking Lafayette and measuring 30 feet by 46 feet, which Balenciaga has been publicizing its latest seasonal ad campaign since the beginning of June. Before that, brands like Gucci, Isabel Marant, John Hardy and Equinox have taken over that very same spot. But wait, there's more! Across the street, a trio of billboards hover over the opposite corner of Lafayette and Houston. Owned by Skyline Outdoor Media, it's dubbed "Soho Spectacular," "the champion of bulletins in the lower Manhattan area" and currently features a Rimowa luggage campaign starring the likes of LeBron James and Dior's Kim Jones. (Just last week, the boards featured Cara Delevingne toting her new handbag collaboration for Balmain, pictured below.) With a jam-packed corner of promotional fashion in a buzzy shopping, dining and nightlife area, are these Soho-based billboards the most coveted ads in New York City?
Related Articles
12 Ad Campaigns That Have Become Iconic in American Fashion
See All of the Spring 2019 Ad Campaigns Here 
How a Jenni Kayne Breastfeeding Billboard Went Viral Online
"I always knew of this corner and I always wanted to get my hands on it," says Eric Forman, Skyline's creative director and president of sales with 20 years of experience in out-of-home advertising. "Soho is probably the most desirable area for advertising for fashion and entertainment — not only New York but the entire country." By March, "Soho Spectacular" booked permanent displays for the entirety of 2019 — past clients include Moncler and Ray-Ban — and in the next few months Forman says there will be "very high-end fashion clients from Europe going up," as well.
"I can tell you though, definitively, it's a high-demand location," says Jodi Senese, Outfront's executive vice president and chief marketing officer. "One of our big buckets of advertisers is the fashion category, and locations like the one in Soho is one that they find very appealing." (Both companies would not disclose proprietary information on its clients.)
As fashion brands shift their advertising dollars towards digital platforms and influencer marketing, out-of-home strategies like billboards continue to thrive, possibly more than ever before. "There's all this negative energy going on in the traditional media space: Readership has fallen off in newspapers and magazines, radio listenership is off, TV is constricting," claims Senese. "Meanwhile the online digital space is exploding but kind of fraught with their own issues: fraud, brand safety, bots, the small two-inch screen." She continues: "When you look at out-of-home, you see huge canvases in real life — unavoidable, no fraud, no brand safety — and then you layer the ability to amplify through social channels, and there's a new interest from advertisers who traditionally might not have used the medium."
Which brings us back to the aforementioned Instagram post, where a shirtless Mendes in Calvin Klein underwear still lives on. When Kendall Jenner had her own billboard this spring, she shared a snapshot of it with her 112 million followers on Instagram. (Interestingly, the model once received flack for blurring out a billboard promoting Kacey Musgraves's "Golden Hour" album in one of her Instagram photos in 2018.) Bella Hadid, another face of Calvin Klein, posted a photo of herself standing in front of her Soho billboard in the summer of 2017, which reached over 800,000 likes. 
"Once you post [a billboard] on Instagram, Facebook and Twitter, it lives and lives and lives. So you get more bang for your buck than what it used to be," says Forman. (Generally, billboards or bulletins are contracted for 28-day periods at a time.) "Before social media, the campaign would end and you take a photo, which gives you proof of performance, but now the proof of performance is on the internet and as it's shared it keeps going and going."
Giving billboards additional (and free) promotion, as well as a second life, is what advertisers call "earned media." Another Nielsen report from 2017 found that out-of-home advertising that's posted on Instagram — which one in four U.S. adults surveyed have done — are seen by three times as many people. During our conversation, Senese quoted Publicis Chief Growth Officer Rishad Tobaccowala: "Even a static billboard is like Instagram on steroids." In a time where "wall scouting" has become Instagram content gold for the fashion space — see Paul Smith's pink wall in Los Angeles, for example — it's no surprise that billboards are acquiring the same type of attention.
Aside from seasonal campaigns, how else can these billboards push forward one of the oldest forms of advertising? Skyline plans to experiment with pop-up shops, starting with an available space on Lafayette and directly underneath "Soho Spectacular," which the company plans incorporate into sellable package for clients in 2020. "You can really have a whole activation on that corner that can live forever and the amount of impressions are second to none," says Forman.
Outfront is looking into drop culture, using its billboards to help promote something as brief as a flash sale or a highly anticipated, limited-edition release. "The amplification that gets ignited on out of home kind of sustains that particular product or brand," says Senese. "It's a short life cycle but that's by design, and that's kind of interesting, too."
Homepage image: A Calvin Klein billboard and Balenciaga bulletin in Soho, New York City. Photo: Courtesy of Outfront Media
Sign up for our daily newsletter and get the latest industry news in your inbox every day.