See Every Look from Sterling Ruby's Debut S.R. Studio. LA. CA. Runway Show
The artist-turned-fashion designer presented his first ready-to-wear collection at Pitti Uomo.
Back in March, Sterling Ruby announced that he would be launching his own ready-to-wear line, named S.R. Studio. LA. CA., and soon after, Pitti Uomo welcomed the Los Angeles-based artist as a special guest to debut his collection with a runway show, which took place in Florence, Italy on Thursday.
"Pitti's invitation to be their special guest presents the perfect moment for me to realize a project that I've been privately exploring in my studio for nearly 10 years," said Ruby in an official statement. And while S.R. Studio. LA. CA. has only been in the works for a decade, Ruby's interest in fashion spans much longer than that: He's been sewing since he was a teenager while growing up in Pennsylvania, a trade he learned from his seamstress mother. Plus, he's been associated with the fashion world since the early 2000s as a longtime collaborator of Raf Simons, both for the Belgian designer's namesake line and his tenures at Dior and Calvin Klein. In fact, the two worked together for Simons's Fall 2014 collection, and in 2016, Ruby turned (his own) clothing into an artistic medium for an exhibition in London. In an interview with Guy Trebay of The New York Times ahead of the show at Pitti, the artist admits that much of his personal wardrobe consists of clothes he's made himself.
But let's get back to the present day, specifically Ruby's first full collection, consisting of apparel, outerwear and accessories for men and women — all of which are divided into an "umbrella collective" that's made up of four different lines: S.R. Studio. LA. CA. is the core collection, while ED. 50 consists of limited-edition pieces that rotate and are produced in quantities of 50. Garments under the Soto line are handworked by Sterling Ruby Study, and Unique offers one-of-a-kind items, like an asymmetrical caftan made up of collaged artwork and matching wide-leg pants.
At first glance, one can already notice Ruby's artistic signatures — a blend of industrial and Americana aesthetics — in the form of bleached tie-dye denim, utilitarian silhouettes, chunky knitted sweaters and custom graphics, some of which are derived from previous artworks. Hints of Ruby's previous collaboration with Simons are also apparent, like a gradient of neon stripes at the hem of a coat, or an outfit adorned with the American flag — similar to motifs that covered the aforementioned Fall 2014 runway show's catwalk.
As for the women's pieces, Ruby offered a slew of on-trend maxi dresses in tie-dye and plaid, as well as colored denim and more casual separates emblazoned with the brand name's logo. Meanwhile, the accessories could be considered artistic objects in their own rights, such as a rectangular-shaped handbag made entirely from silver metal, complete with a thick coil chain, or oversized tote bags emblazoned with printed graphics. The shoes, however, had a more utilitarian feel, with men and women primarily wearing chunky boots in neutral hues.
If you're wondering how Ruby's debut collection will do on the sales side, that's already covered. The day before the runway show, Montreal-based retailer Ssense announced that it will be an official retail partner, and pieces from the inaugural collection's first delivery are already available worldwide on its website, as well as S.R. Studio. LA. CA.'s own website.
See every look from S.R. Studio LA. CA.'s debut collection in the gallery below.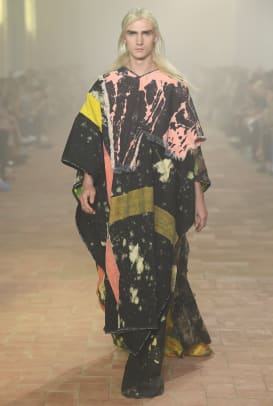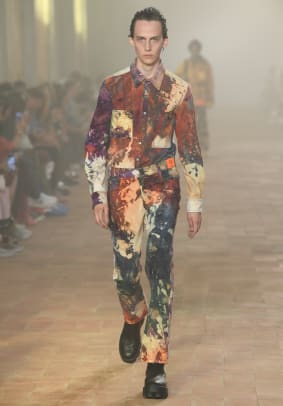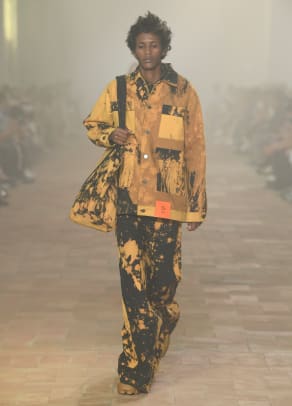 Sign up for our daily newsletter and get the latest industry news in your inbox every day.