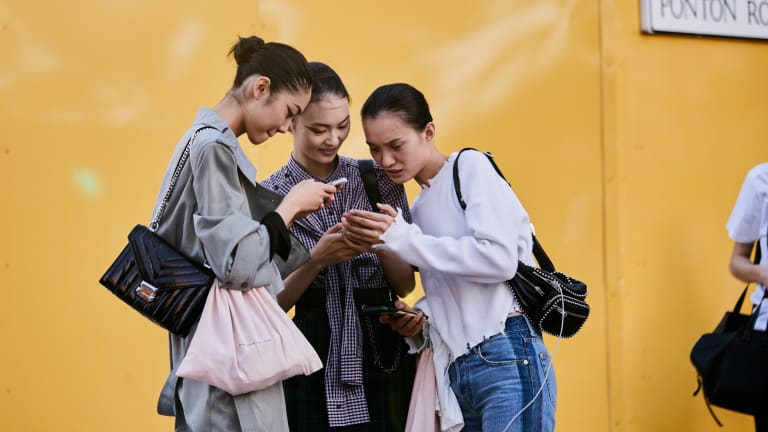 Do We Really Need Any More Sustainable Fashion Brands?
If addressing the climate crisis is our priority, we need to consider the answer very carefully.
Maxine Bédat had, in many ways, the perfect startup success story. 
As co-founder of Zady, Bédat helped build a brand that would come to be described as "the poster child of the ethical fashion movement" and "the Whole Foods of fashion." Zady's launch was covered by Vogue, the New Yorker and the Wall Street Journal; it was backed by the same VC firm that invested in Moda Operandi and Goop; it landed collaborations with Emma Watson and earned Bédat invitations to speak at the White House and on the TEDx stage.
But four years into the endeavor, with very little fanfare, Zady disappeared. Fan comments on the brand's final Instagram post, asking why Zady's website hadn't been updated in ages, went unanswered. 
It wasn't that Bédat gave up on her dream of making the fashion industry more ethical and sustainable, and it wasn't that the brand was struggling financially. It was just that Bédat had become convinced that if she wanted to facilitate real change, she should pursue it another way.
"We can't buy ourselves out of the problem," she tells me over the phone. "A big part of the sustainability question is just how many garments are being produced, and having to slow that down. There will always be a natural tension for a fashion company between sales growth and addressing these issues."
So she pivoted. This spring, Bédat unveiled her latest venture, the New Standard Institute, a non-profit data hub intended to "right misinformation wrongs" in the ethical fashion space by supporting research and publishing findings on best practices. (In the spirit of full disclosure: I believe in this mission deeply enough to have joined NSI's advisory council.)
Bédat's not the only notable name in the ethical fashion space to move away from a brand she founded to devote her energies elsewhere. Orsola de Castro formerly ran her own upcycling label before her work as co-founder of Fashion Revolution — now one of the world's best-known ethical fashion advocacy groups — took over. Céline Semaan used to ethically manufacture accessories and garments before deciding to focus on organizing Study Hall, the UN-backed sustainability-centric conference series she started. 
Related Articles
Fashionista's Complete Beginner's Guide to Ethical Fashion Certifications
Why Does so Much Ethical Fashion Look the Same?
It May Be Time to Reconsider All That Glitter in Your Beauty Products
When I asked them in interviews whether there was any reason to keep starting new "sustainable fashion brands" in 2019, none of the above gave an unequivocal "no" in response. All claimed, in one way or another, that such companies could have a role to play. But it's telling that when asked what the sustainable fashion movement most needs to make progress, not a single one answered "more brands."
Rachel Kibbe, who ran a multi-brand ethical fashion e-tailer before turning her company Helpsy into the Northeast's largest used clothing collector, helps articulate why. "You can create as many small-label collections as you want; that's not going to solve the environmental problem of most clothes going to the trash," she tells me. "I think people need to start thinking about these systems in a really large-scale way and start looking at the numbers and really considering — does the world need me to design a new organic cotton dress collection? Or does it need something more scalable?"
To say that clothing swaps or niche ethical labels aren't the answer doesn't mean that they're worthless. Shannon Lohr — founder of Factory45, an ethical brand accelerator program born out of her prior experience as a brand founder — argues that small brands have helped spread the message about sustainability, have given customers more sustainable options and have proven to bigger companies that customer demand for consciously-made clothing exists.
Despite the fact that Lohr has devoted her career to helping launch sustainable labels, she admits, "it's not necessarily like we need all this new clothing" and says that the kinds of brands she mentors are "not going to have the hugest impact in terms of supply chain."
It's hard to blame Lohr, or anyone really, for thinking that starting a new ethical brand could be for the greater good. After all, it fits in with the many oft-repeated phrases that the movement has clung to for years: No action is too small. Progress, not perfection. A bunch of little, incremental changes will add up.
However, the gentleness of that logic seems at odds with the research that sustainable fashion enthusiasts also claim to believe — research that has been provoking climate protests all over the world. Scientists are saying we're less than 12 years away from not being able to undo our mistakes when it comes to the climate; that we need World War II-scale mobilization around the globe to actually turn the tide; that if we don't heed all of the above, we will live on a planet plagued by droughts and floods and climate refugee crises and wars fought over access to water in the not-too-distant future.
If we were honest with ourselves, we'd admit starting a new brand of linen pants is almost certainly not the most efficient, effective way to address that. And yet such brands are still popping up every day. But why? 
The current moment's reverence for entrepreneurs might have something to do with it. We're living in an age that birthed #girlboss culture and puts startup founders on glossy magazine covers. (Think of the way people use the Kardashian-Jenner family's numerous businesses to justify their hold on pop culture: Whatever you might think of reality TV, the reasoning goes, you can't argue with entrepreneurial success.) Starting your own venture has become an almost unquestioned virtue.
Combine that with the fact that business has increasingly framed itself as the ideal avenue for "doing good," and you have an irresistible magnet for would-be sustainable entrepreneurs. But what if, as reporter Anand Giridharadas argues in his groundbreaking 2018 book "Winners Take All: The Elite Charade of Changing the World," business isn't necessarily the best route to creating positive change?
"Often, when people set out to do the thing they are already doing and love to do ... and they promise grand civilizational benefits as a spillover effect, the solution is oriented around the solver's needs more than the world's — the win-wins, purporting to be about others, are really about you," Giridharadas writes.
A slightly less cynical take might be that the constant founding of new "sustainable" brands does stem from people thinking it's the best way to address climate change, a conclusion that might seem reasonable when you consider how often brand representatives are cited as sustainability leaders on panels and in the press. But the fact that brands get to shape the narrative about sustainability through conferences they sponsor, research they commission and ads they create is more of a problem itself than evidence of a solution.
Ayesha Barenblat, founder of ethical fashion advocacy non-profit Remake, compares this pattern to the coal industry funding climate change research.
"When reports are driven by the likes of Asos, Nike, PVH, H&M, Target and Kering," she says in an email, "they focus on 'circularity' rhetoric which is all about new materials and recycling, while paying scant attention to unchecked growth and fashion's overconsumption problem, which has to be a part of the circularity discussion." 
It might be a harsh critique to make of folks who are at least taking action toward some kind of positive impact (which is more than could be said for many corporations), but the constant founding of new brands seems like an indication that too many would-be entrepreneurs have bought into the idea perpetuated by those major players that brands are the actors best equipped to create positive change. That doesn't seem to square with the fact that brands themselves are often asking for extended deadlines to meet sustainability goals because of the difficulty of shrinking their environmental footprints.
Rebecca Burgess, founder of a non-profit called Fibershed that advocates for de-centralized textile supply chains and regenerative farming, has seen brands make these claims over and over. To her, this inability to reform quickly is not a reason to demonize brands so much as a call to recognize their limitations and shift the balance of power.
"They act like the changes that they need to make are so hard," she says on the phone. "It makes me want to ask: 'Are you telling us you're an inadequate body to do the work?' If so, then you may need to step aside and have policy makers regulating you, and you need to stop trying to be the ones to set the sustainability course."
Those still eager to start new brands might point out that the sustainable fashion sphere is not serving all the people it should be, and smaller companies could be more nimble in addressing those gaps. They would be at least partly correct: Plus-size and adaptive clothing are both still remarkably difficult to find in sustainable fabrications, and apparel production processes that push the lion's share of capital and opportunities into the hands of those most likely to bear the brunt of climate change — namely, low-income communities around the globe — are more scarce than one might hope. 
Perhaps some of these problems really would be best solved by the creation of new brands. But it's also worth considering other potential solutions, like working with existing brands to expand their offerings or using non-brand entities to better support vulnerable communities. 
It's not that starting a new label is always wrong, it's just that it may not be the best use of one's creative potential, money or time if addressing the climate crisis is a serious priority. Even if one is most concerned with the potential social impacts of environmental devastation, it's worth remembering, as Giridharadas says, that "sometimes humanitarianism and entrepreneurship are actually distinct things."
If new brands aren't what the movement needs most to progress, what roles does it need filled? The variety of answers to this question proves the diversity of options still available for those who care about making the fashion industry more sustainable. Semaan mentions clothing rental models; Kibbe thinks the future lies in creating better waste management systems; Lohr dreams about recycled fiber tech; Bédat and de Castro talk about media that better communicates the problem; Barenblat envisions support for garment worker-led efforts; Burgess dreams about resources for the kind of cotton and wool farming that can sequester excess carbon.
Many of them also mention policy change. Tabitha St. Bernard-Jacobs, who brings a unique perspective to the space as someone who both founded a zero-waste clothing line called Livari and served as an organizer for the 2017 Women's March — aka the largest protest in US history — underscores the importance of engaging with environmental issues politically. Though organizing the Women's March took immense amounts of effort, she asserts, it's a reminder that political action shouldn't be abandoned even if one is unhappy with the current state of national politics.
Being overly prescriptive about how others ought to respond to the current ecological breakdown is dangerous when not everyone is cut out for the same kind of work, and to say that no one should ever start a new sustainable brand again is probably too reductive. But what is clear is that with a timeline this short to combat the climate crisis, in a world that already contains more than enough apparel to clothe every human alive, would-be brand founders need to make sure they're starting with the right set of questions.
"I say this in the most loving way," St. Bernard-Jacobs says, "but when the reason a designer is starting a new brand is because they've always wanted to, then it's time for them to examine whether their new sustainable fashion brand is a project for themselves or one that can actually add value to the environment, the marketplace and the world."
Homepage photo: Imaxtree
Stay current on the latest trends, news and people shaping the fashion industry. Sign up for our daily newsletter.