See Every Look from Virgil Abloh's Spring 2020 Collection for Louis Vuitton
Just in from the runway in Paris.
On Thursday afternoon in Paris, nestled inside the scenic, blocked-off public square Place Dauphine, surrounded by the Seine, Virgil Abloh presented his Spring 2020 collection for Louis Vuitton men's. Inspired by the nostalgic summer days of boyhood, the carnival-like set included an Instagram-ready bouncy castle, crepe stands, branded toys like Eiffel Tower miniatures and soapy blowing bubbles, red LV balloons carried by select runway models and an invitation that was a functional kite. The beauty (and intricacy) of flowers also served as inspiration, and the colorful show provided guests with a much-appreciated dose of optimism. (According to Tim Blanks, the balloons were a nod to the film "The Red Balloon," as it's "a film about a little boy chasing a balloon 'round Paris: Abloh thought it was a metaphor for his still-new career at Vuitton.")
With a sweet color palette that ranged from lavender and salmon to seafoam green and buttery pastel yellow, there was a focus on lightweight, loose-fitting suiting and sporty performance gear, including anoraks, ponchos and cargo pants. In typical Abloh fashion, casual items like hoodies, crewnecks, T-shirts and basketball shirts were given the luxury treatment; this season, that meant presenting them in high-end fabrications like leather, with interesting textures (embossed croc, quilting, fuzzy knit) and in statement hues like fuchsia and cerulean. Crisp white suits were accented with carabiner rope belts; garden-style gloves, rain boots and straw hats accessorized much of the collection. Floral motifs sprouted up throughout, from a print on a logo tie-dye hoodie and a checkered flower graphic on a shiny plastic raincoat, to artful embroidery on a series of suiting pieces and a DIY-style crochet knit worn over a button-down shirt.
Abloh also made sure to include the iconic Louis Vuitton monogram in several clever ways: The brown leather LV material lined a transparent yellow rain slicker; a bib of metal LV logos was worn over a plain sky blue T-shirt as an alternative to Abloh's staple chest harness; a sheer, gauzy pale green shirt and trouser set was covered with a subtle allover LV pattern; and, of course, it covers a whole new collection of interesting leather handbags, including some wild utility bags that made up the show's finale.
Oh, and there are new rainbow sneakers, too, if you'd like to get your name on a waiting list near you now.
See every look from the Spring 2020 Louis Vuitton men's show in the gallery below.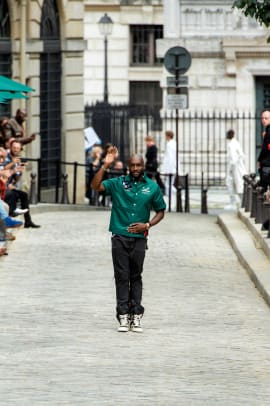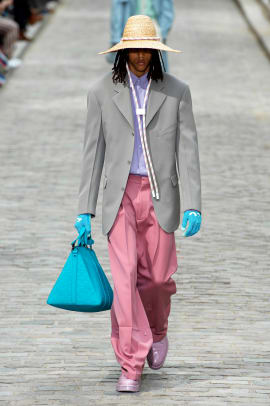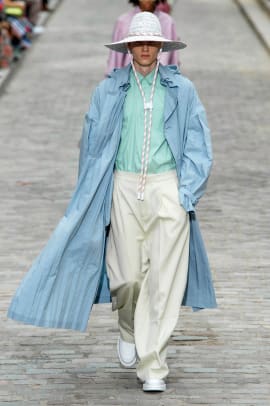 Never miss the latest fashion industry news. Sign up for the Fashionista daily newsletter.