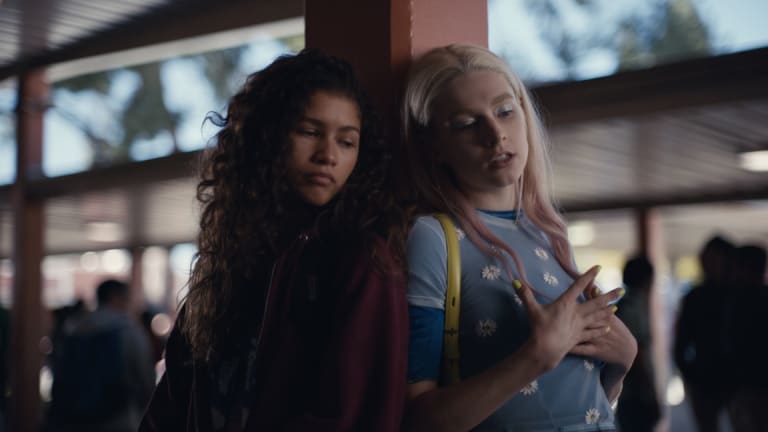 How Costume Designer Heidi Bivens Captured Gen-Z, Cool-Teen Style in 'Euphoria'
It involved a lot of Instagram DMs, vintage shopping and on-the-ground research.
Since the premiere of its debut season in June, "Euphoria," created by Sam Levinson (of "Assassination Nation"), has been receiving its fair share of praise and criticism — what with its heavily-on-display drug use (mainly from the 17-year-old addict Rue, played by Zendaya), sex, porn and violence. But what viewers can most likely agree on is how clued in and fashion-forward each character's wardrobe is. Every distinct look comprises a fine balance between custom pieces, vintage and indie labels, which costume designer Heidi Bivens hopes not only aligns with how Gen Z currently dresses, but also inspires a new sense of style for today's Cool Teens™.
"There is a conversation that can be started about creating a safe environment for young people to be able to express themselves with the way they dress, and the way they look," says Bivens. "And hopefully this show will [encourage them to do so]."
Related Articles
Jonah Hill's 'Mid90s' Replicates Skate Style From the Era in the Most Low-Key, Authentic Way
The 'Assassination Nation' Costumes Turn the Concept of 'Male Gaze' on Its Head
Matthew McConaughey Wears Custom Two-Piece Sets as Florida Man Moondog in 'The Beach Bum'
While Bivens was able to push the envelope aesthetically for "Euphoria," she still had to base her designs on real teenagerdom. As a result, she did on-the-ground research: "I was looking at real teens," she says. "I would go to high schools — not to be a creep — but I'd sit outside and watch teens when they would get out of school, just to see what was really going on with how they dress, how they have access to clothes and where they shop."
With nostalgia and uniqueness at the root of most Gen-Z wardrobes, vintage pieces made up the majority of the girls' costumes. Though, Bivens made sure that the items had a timeless quality to them. "In using vintage that doesn't necessarily look like vintage, like it could be from today, that helped with the overall look of the show to make it feel original," she explains. Instagram was a huge reference, too, as Bivens was able to deep-dive into individuals' different personal styles from all over the world, as well as access a slew of indie designers.
"I was able to find a lot of cool, new stuff that isn't necessarily something I can just go into a store and buy, or go online and buy. And that was exciting to me to be able to give a platform for young designers," she says. Bivens would reach out to these new labels — based from South Korea to Italy — via DM, providing lead actor Zendaya's name and attachment to the show to pique their interest. "While social media is often demonized these days, I will say that I had a lot of positive experience creatively with social media and Instagram on this particular show, primarily because it's such an important part of teenagers' lives today." she adds.
The new HBO series happens to be the first television gig for Bivens, whose past work includes films "The Beach Bum," "Mid90s" and "Spring Breakers." Designing for a show that's longer in format — and therefore requires more weeks to prep and shoot than a feature film — allowed Bivens to really develop and evolve each cast member's wardrobe to help create their respective character arcs.
She also got to collaborate more with the actors, thanks to multiple, regularly scheduled fittings, applying their input and ideas towards certain costumes and sometimes using their own personal clothing on set. "With a film, sometimes you only get one fitting with an actor and one character could just have one look for the entire movie," says Bivens. "There's all this weight behind this one look for the film, and this was quite the opposite. We were able to explore and keep experimenting, and keep trying new things."
Below, Bivens breaks down a few of the characters' costumes and inspirations in "Euphoria."
Rue Bennett (Zendaya)
"In real life, I very much dress and look like Rue," said Zendaya of her starring character's style during a panel discussion at ATX Television Festival. In fact, Rue's go-to Converse sneakers throughout the show belong to the actress herself. Originally, Bivens wanted to channel Zendaya's more designer-heavy style, which always catches our attention during red-carpet and public appearances, but she recalls: "it just didn't work. We quickly turned to vintage." Some notable looks so far include an oversized striped cardigan, a tie-dye T-shirt and plenty of printed button-down shirts. While some pieces that Rue wears are new, the costume team made sure to over-dye or customize them to better align them with the character's style.
"I really just saw her as someone who wasn't necessarily interested in frivolous dressing. She definitely has a good balance of masculine and feminine," says Bivens. "We really pieced her wardrobe together from a lot of different places." In addition to some of Rue's hero pieces, like her Chucks and maroon hoodie (the provenance of which we'll find out later in the show), the rest of her wardrobe is a mix between workwear from Dickie's and streetwear (Gosha Rubchinskiy, Sci-Fi Fantasy). With Zendaya's height — 5'10" — younger boys' styles appeared slightly shorter on her in a way that worked. (See her Hawaiian print shirts and cropped pants.) "In a later episode she wears a tuxedo that's actually a little boy's tuxedo," reveals Bivens.
Jules Vaughn (Hunter Schafer)
The looks worn by Hunter Schafer's Jules — a trans girl who's new to her high school and the best friend/love interest to Rue — were truly a collaborative effort between the actress and Bivens. At the same ATX Television Festival panel discussion, Schafer mentioned sending pages of mood boards (her personal beloved hobby) to the costume designer for inspiration. "Sam had written her characters to be inspired by anime," says Bivens. "I always saw her in candy colors, to be like eye candy on camera."
Indeed, Jules certainly stands out among her peers in a pastel-colored babydoll top or floral-embellished turtleneck, pleated skirts, platforms sneakers and playful backpacks. (Multiple pieces spotted throughout the show were from Eckhaus Latta.) Her makeup looks coordinated perfectly with her outfits, too, for which Bivens credits makeup department head Doniella Davy. ("Every time Jules is wearing a new outfit, she has new makeup," Davy explained in a recent Instagram post. "If there are 15 quick clips of Jules, there are 15 different makeup looks.")
But as the character's arc develops through the show, her wardrobe changes along with it: "As we were receiving the scripts and learning more about who Jules is and who she was becoming, we quickly began to understand that, although she was looking for approval from men in the beginning, she quickly evolves into this more independent-thinking person and is empowered," explains Bivens. "So she starts dressing less in a way that tries to get attention from men. You'll see that throughout the progression on the show where she's not as cutesy."
Nate Jacobs (Jacob Elordi)
Nate, played by Jacob Elordi, visually portrays the jock archetype, which made costume designing quite the no-brainer for Bivens. (However, we soon learn that Nate, on the inside, is a lot more complicated and twisted than meets the eye.) "We couldn't really think too much outside the box with him because he is supposed to be this all-American figure. In our social consciousness, we all know who this guy is," she says. "It was more about just making him look really handsome, really comfortable." That called for timeless, basic pieces — Champion Ts, flannel shirts, blue jeans — and not-at-all-flashy sneakers, like a pair of white Reebok Classics.
Maddy Perez (Alexa Demie) 
If you noticed that Alexa Demie's character Maddy (Nate's on-and-off-again girlfriend) has a strong penchant for matching sets, you're right. The style choice was decided from the very beginning of filming the show, says Bivens, who built the two-piece looks for the pilot and then started sourcing as many sets as she and her team could find for the remainder of the season. While our favorites of Maddy's are the salmon-and-purple Chanel-esque outfit and purple and daisy-embroidered bustier and jeans from Miaou, her most notable getup is the one she chooses to wear at the local carnival (much to Nate's dismay): a bra top and pants with cut-outs at the hip, replicated from the influencer-favorite label I.Am.Gia. "I wanted it in purple and they couldn't make it for me," says Bivens. "So I got their permission to copy it, and I made it in purple. That outfit is outrageous."
Maddy's signature style is something that Levinson hopes will transpire in real life, too. "He said that by the time people had seen the first season, he wanted girls to be able to see someone wearing an outfit on the street and say, 'Oh, that's so Maddy,'" says Bivens. "I really just try to keep her look strong. We have something she wears to the winter formal that I think is going to excite and surprise a lot of people."
Kat Hernandez (Barbie Ferreira)
Within the first four episodes of "Euphoria," Kat, played by Barbie Ferreira, goes through the most dramatic wardrobe transformation in the show. "Our starting point with her was bookish. We were very inspired by Thora Birch in 'Ghost World,'" says Bivens of the virgin-turned-camgirl who's Tumblr famous for her "Larry Stylinson" fan fic. In the beginning of the season, we see Kat in plenty of vintage-inspired pieces, primarily stylish eyeglasses, collared tops and high-waisted bottoms. But once she becomes more comfortable in her own skin while also exploring her sexuality, Kat goes full-on punk. Think plaid skirts, fishnets, band T-shirts, corsets and layered chokers — topped off with a bold red lip, heavy eye makeup and tousled hair.
Kat's camgirl looks, on the other hand, were mostly a collaborative effort between Ferreira and the costume designer, and include a black lace bralette and tank top covered in a large red heart.
"We raided the costume houses in Los Angeles," says Bivens. "I don't know what's going to happen for season two because we used all of the vintage we were pulling."
Additional reporting from Fawnia Soo Hoo.
Homepage image: Zendaya and Hunter Schafer in "Euphoria." Photo: Courtesy of HBO
Sign up for our daily newsletter and get the latest industry news in your inbox every day.