Gucci Tells the Rich Behind-the-Scenes Tale of Its Collection for the Fall 2019 Ad Campaign
This time around, the clothing and accessories are the characters that take center stage.
Throughout his time at Gucci, Alessandro Michele has seen the Italian house's seasonal ad campaigns as opportunities to transport fans and consumers to fantastical places and surreal situations: Whether models are hanging out around town with wild jungle animals or in ancient ruins, clothing is worn by aliens from another dimension, glossy photographs are traded in for digital paintings or classic Old Hollywood films are Guccified to reflect the brand's current aesthetic, the resulting campaigns never fail to delight and surprise. 
For Fall 2019, Michele and co. decided to take a more pragmatic route than usual, not only giving Gucci shoppers something of a fashion history lesson, but also depicting the full behind-the-scenes process of making clothes, from ideation to production to the runway to editorial — finally culminating in the street style moments created once customers make the goods their own. 
Shot by frequent Gucci collaborator Glen Luchford and art directed by Christopher Simmonds, the #GucciPrêtÀPorter campaign takes retro inspiration from the mid-to-late 1900s era of the ready-to-wear business. According to a press release, the images illustrate "an evolution from the immaterial to the material," or a collection's journey from its start inside a designer's workroom and the trial-and-error fittings period to its big debut on the runway in front of important clients and industry types. Finally, the pieces make their way onto magazine covers and into print advertisements, inciting international desire in the days before the internet.
To put it succinctly, the Fall 2019 campaign is a "tale of objects, not characters, with wordings intentionally old-world, because the clothes' true tale will be told by their wearers." Despite the lack of out-there sets, concepts or casting choices this time around, Gucci is still able to tell a rich — and somewhat educational — story through its ad imagery this season better than anyone else in the game right now.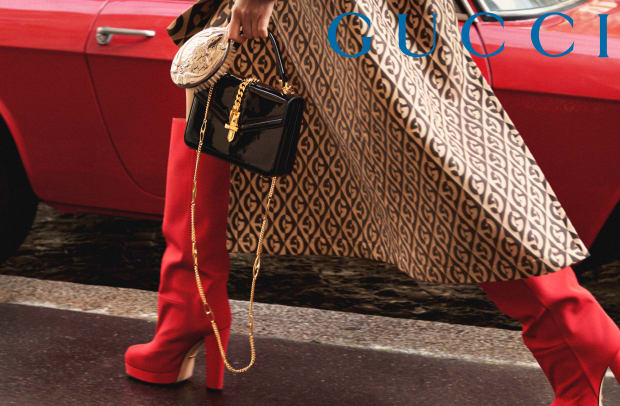 Never miss the latest fashion industry news. Sign up for the Fashionista daily newsletter.