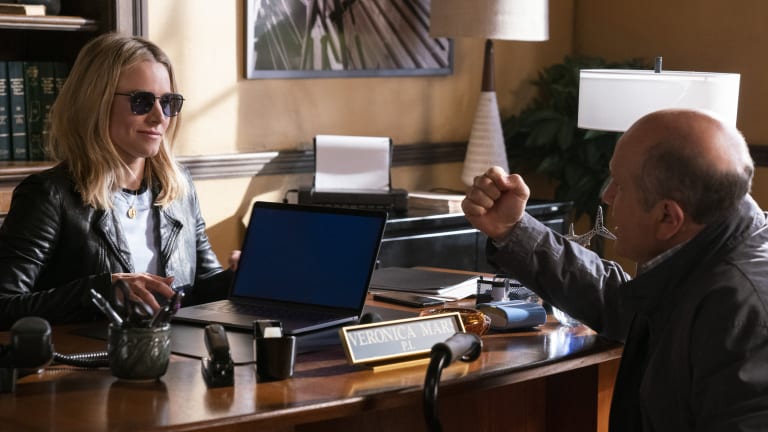 The 'Veronica Mars' Costumes Include a Rotation of Tough Moto Jackets and Logan's Tiny Swim Trunks
Everything you need to know about the looks in the long-awaited fourth season on Hulu. But beware of spoilers!
Warning: spoilers for 'Veronica Mars' season four below.
The premiere of season four (or the revival, depending on semantics) of "Veronica Mars" kicked off a series of bombshells with a release one week early, as announced by the titular star herself, Kristen Bell, at San Diego ComicCon. Rejoice Marshmallows! 
It's so wonderful to see the hard-boiled teen P.I. all grown up and back in episodic (and binge-able) form; sleuthing and trading quips with dad Keith (Enrico Colanti) and the rest of the Neptune denizens. This time around, however, there's a jazzed up theme song, saltier language and non-mid-aughts fashion. With Veronica taking names back in Neptune, a SoCal oceanside town now infested with spring breakers, evil 09er real estate developers (welcome back Big Dick!) and a serial bomber, an evolution in costumes was also in order.
Related Articles:
The 'Stranger Things 3' Costumes Include Eleven's '80s Mall Rat Makeover and Steve's New Sailor Outfit
The 'PEN15' Season Two Costumes Will Include Even More Early 2000s-Era Nostalgia
The Costumes in the Return of 'Big Little Lies' Reflect the Fallout From Last Season's One Major Lie

Mindy Kaling's go-to (and sometimes stylist) Salvador Perez and Jennifer L. Soulages designed the original series, but new blood in the form of Diane Crooke jumped on board for the revival. Coincidentally, she previously worked with the lead and Mr. Kristen Bell, Dax Shepard, on the 2017 movie "CHiPS," but Crooke was brand new to the "Veronica Mars" universe. 
"I'm a semi-Marshmallow only having worked on the show now," she admits. But fresh eyes proved to be an advantage when taking the beloved characters into their next stage — and introducing new ones.
"I wanted to have my own take on it, but also honor what they've done in the past," says Crooke, who, of course, binged the early seasons to learn the histories and, understandably, "got hooked" after watching the movie.
Bell has said that she'll play Veronica Mars "until everyone in Neptune is dead," which maybe isn't so inconceivable considering what goes on there. But as we're slowly working toward the acceptance part of the five stages of grief, we do need to have some questions answered. Well, costume questions, anyway, and Crooke was happy to oblige.
Veronica's Updated P.I. Aesthetic
Initially, Veronica has settled into her own office at Mars Investigations — an official promotion from answering phones for dad back in high school. So she's back to the familiar, but with an update, just like her outfits.
"I just did my a contemporary spin on who her character was in the past," says Crooke, who referenced Veronica's signature and on-trend in the mid-2000s, like the low-rise boot-cut jeans. "I was like, 'woooh.' For the time period, Veronica was contemporary," says Crooke. "So I just wanted to take her into an adult and dress her in more of a casual, but professional way; a little edgy and not so serious." 
Hence, Veronica's baby Ts, skater stripes and slouchy denim evolved into fine knit tops and long-sleeve sweaters paired with dark skinny jeans by Levi's, Mother and L'Agence. 
"Rob really wanted the series to have a film noir quality about it," adds Crooke. So Veronica's palette is mostly dark blacks, navy blues and grays, but she does wear brighter hues, like a violet sweater and striped red and blue long sleeve sailor knit, while relaxing at home on the couch with trusty pooch Pony or dad.
Veronica's Impressive Coat Collection
Despite all the scantily clad spring breakers (and a certain someone's surfer hot pants, which we'll get to in a sec), Veronica always layers up — especially in a series of leather jackets. "Kristen has said quite frequently that Veronica's leather jacket is really her armor," says Crooke. "When she was on a case or going into a particularly possibly bad scenario, she would wear the leather jacket."
Veronica rotates a trio of leather jackets based on the "degrees of toughness" required (and whether or not the she may need roominess to conceal her presumably licensed firearm). So, the lineup includes a distressed Billy Reid motocross to investigate the seemingly rodent-infested grocery store, a streamlined Veda moto to greet Logan Echolls (Jason Dohring) on the beach, and a badass Joie (top) to double as a security blanket while suffering through a hangover and Dick Casablancas's (Ryan Hansen) movie premiere. ("Catalina Heat!" lol)
Although, for other scenarios, like meetings with potential clients or lurking about a crime scene, Veronica dons tailored blazers or a vintage Dries van Noten short trench (above). "That kind of softened her up," says Crooke.
Veronica's Iconic Accessories
One fashion signature that will never change: Veronica's iconic slouchy and studded-strap Rebecca Minkoff  bag, which was initially bought off-the-rack from Nordstrom. The original "disappeared," so Crooke searched high and low and even contacted the brand, which no longer had the style in its archives. So she commissioned a designer in Canada to meticulously create two copies of Veronica's "bag full of clues," per Leo (Max Greenfield).
Veronica may start out wearing chunky stacked heel ankle booties, but quickly reverts to her Converse Chuck Taylors. "[Bell] loves the heels and how she looks, but really the Chucks are just more functional for her and all the action that she has to do," says Crooke. But beyond practicality, the beat up sneakers also speak to Mars family values (and bank account numbers). 
"Since Veronica and her dad don't have a lot of money — and money issues came up quite frequently — holding onto a well-worn pair of tennis shoes was her way of connecting with that and making her feel, like, well, at least she's not buying new shoes all the time," adds Crooke.
You may have also noticed that Veronica wears a new signature accessory literally close to her heart: a 14-karat gold coin pendant embossed with Joan of Arc by Awe, which Bell has worn off the set at least twice. 
"It makes sense for Veronica to have a strong female saint to wear," says Crooke. "[The necklace] was not in the original series. It's original to us."
Nicole's "Eclectic" Club Owner Style
The revival also introduces new personalities (and suspects) to Neptune, including including Bell's very in-demand "The Good Place" colleague Kirby Howell-Baptiste as Comrade Quack's owner Nicole, who brings a street style aesthetic — inclusive of sap gloves — to the mix.
"Because she's a bar owner — especially the spring breaker favorite bar — we just wanted her to have a quirky fun look," explains Crooke. "Her character and personality was just kind of perfect for it. We actually wanted to go a little further with it, but Rob was happy where we landed." Wardrobe highlights include a pink and red kimono (above) — over a "Get Your Duck Wet" T, of course — and a persimmon puff sleeve shirt and camo paper-bag waist pants to save Veronica during Wallace's yuppie-filled party.
"With so much film noir on the darker side, we wanted her to pop with some color a little bit more and just be eclectic and fun," adds Crooke. 
Matty's Mini-Mars Outfits
Matty (Izabela Vidovic from "iZombie") didn't just give us young Veronica déjà vu with her penchant for wandering into dangerous Fitzpatrick-occupied situations and skill with listening devices, she also dresses like her accidental role model, too.
"It was another note from Rob," explains Crooke, about her discussions with the creator. "We wanted to give her a contemporary look and still have her own little personality, but has a little bit of early years Veronica Mars influence. She wants to help and in her own right starts to do investigative work. So that was the intention right on the nail, as they say." (Yikes, unintended pun.) 
Matty's stake-out-ready hoodies, looser-fit jeans and slightly-cropped casual tops all bring a Neptune High-era Veronica to mind. "We just wanted her to be a little mini Veronica Mars in the making," Crooke adds.
Logan's Tiny "Blue Trunks"
While Veronica covers up for a sunny day at the beach, a swole Logan goes minimal — emerging from the ocean in slo-mo in the tiniest of swim shorts, catching the attention of two spring breakers and prompting the wry mischievous humor we adore in our heroine.
"It's a scripted note from Rob," says Crooke, about the "blue trunks," as Veronica quips. "He really wanted Logan to look like Daniel Craig in ['Casino Royale']. And it does, right? It's an homage to the Bond movies."
Crooke also "elevated" Logan's off-duty outfits "a little" with tailored suiting for his bodyguard side hustle, plus visits to Comrade Quack's. In a gift to #TeamLogan members, he appears in another commanding military-issued uniform, but this one more rugged than his "Officer and a Gentleman"-esque Navy dress whites in the movie. 
"It's an official uniform — a real uniform," says Crooke, about his just baggy-enough camo fatigues. "But we did do a little nip and tuck here and there to show off his fabulous physique."
Veronica's Defining Looks of the Season
Veronica goes through a roller coaster (if not frustrating at times) arc of self discovery — with and without the help of Logan's therapist played by Mary McDonnell. And her two memorable costumes in non-noir white symbolized pivotal emotional moments starting with her courthouse wedding dress. I'm not crying, you're crying. I'm definitely crying. 
"It was a big deal. It was not easy to find, let me tell you," says Crooke, who worked with the writers and Thomas to land on an Old Hollywood-reminiscent, delicate puff-sleeve dress by Paul & Joe.
"They wanted something that could have possibly been in her closet and elegant, but on the simple side," explains Crooke. "I liked the fact that it had a 1940s feel to it. Both Kristen and I loved the way it look and the way it hung on her. We just felt it was really appropriate and a beautiful dress for the occasion."
In the closing scenes, Veronica's Madeleine Thompson white track jacket with red and blue trim hint toward the future, despite the heartbreaking tragedy. "Maybe there's hope and light at the end of the tunnel," explains Crooke. "She's leaving to start a new beginning and none of us or her know what that's going to be. So instead of it being depressing, we wanted to lighten her up and indicate maybe there's hope for new happy beginnings."
Never miss the latest fashion industry news. Sign up for the Fashionista daily newsletter.