Meghan Markle Wore a Thing: Editing British 'Vogue' in Gucci Edition
The Duchess of Sussex collaborated with Edward Enninful on a September issue that spotlights female changemakers.
Ever since announcing her engagement to Prince Harry, the world's eyes have been fixed on Meghan Markle — and her style. We'll be following the Meghan Markle Effect™ with our column, "Meghan Markle Wore a Thing."
After months of speculation, Buckingham Palace confirmed the rumors that Meghan Markle, the Duchess of Sussex, took part in editing the September issue of British Vogue. The announcement was accompanied by a previously unseen photo of the new mom wearing an embellished tweed dress by Gucci, which will appear inside the issue. 
The edition, entitled "Forces For Change," highlights an impressive roster of trailblazing female changemakers — from activists to artists, prime ministers to climate change campaigners. The cover was photographed by Peter Lindbergh and features a diverse cast of 15 women, all of whom have made a positive impact on modern life. Actresses Jane Fonda, Salma Hayek Pinault, Laverne Cox, Jameela Jamil, Yara Shahidi and Gemma Chan star on the black and white cover, alongside models Christy Turlington Burns, Adwoa Aboah and Adut Akech. Boxer Ramla Ali, diversity advocate Sinead Burke, Royal Ballet principal dancer Francesca Hayward and author Chimamanda Ngozi Adichie also front the magazine's fall fashion issue. The unfilled space on the cover, a mirror, is included to encourage the reader to use their own platforms to drive change. 
The selection of women was a highly personal process for the Duchess and for the magazine's Editor-in-Chief Edward Enninful, and the result of a collaboration that began in January of this year. "These last seven months have been a rewarding process, curating and collaborating with Edward Enninful, British Vogue's editor-in-chief, to take the year's most-read fashion issue and steer its focus to the values, causes and people making impact in the world today," the Duchess said in an interview with British Vogue. 
The September issue also comprises a guest editor's letter by the Duchess and an interview with the former First Lady Michelle Obama. Other highlights include a conversation between The Duke of Sussex and Dr Jane Goodall, as well as inspirational articles written by Brené Brown and Jameela Jamil. 
"Through this lens I hope you'll feel the strength of the collective in the diverse selection of women chosen for the cover as well as the team of support I called upon within the issue to help bring this to light," the Duchess told British Vogue. "I hope readers feel as inspired as I do, by the 'Forces for Change' they'll find within these pages." 
See more things the Duchess of Sussex has worn in the gallery below: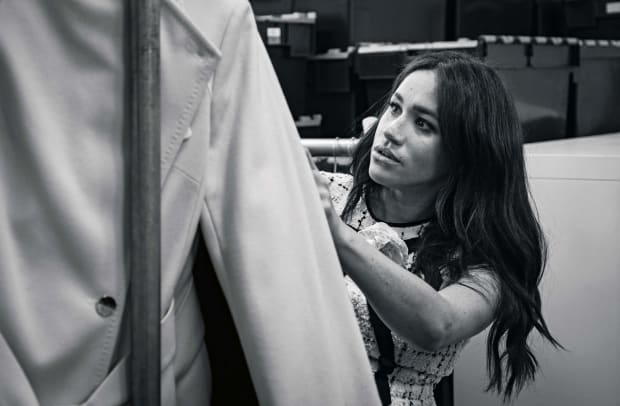 Sign up for our daily newsletter and get the latest industry news in your inbox every day.