Natasha Tonić Is a Sustainable, Hemp-Made Swimwear Label to Watch
The Los Angeles-based brand made its Miami Swim Week debut at Paraiso.
One would assume while looking at Natasha Tonić's garments on a rack — which I first encountered while backstage at Paraiso Miami Beach during Miami Swim Week — that the Los Angeles-based designer's line isn't traditionally considered swimwear. But it is swimwear, actually, and a few other things, too, thanks to Tonić's very specific fabric choice and the foundation of her namesake brand: hemp, a sustainable material that's anti-microbial, durable, breathable, biodegradable and UV-resistant. (The pieces are soft to the touch and are not only meant for the beach or pool, but also for everyday wear and even the gym.) It's also a more eco-friendly option than swimwear's historic use of synthetic fabrics, as well as those made from recycled polyester or plastics, which can still contribute to microfiber pollution. 
"It's amazing that we're recycling polyester to make another swimwear or activewear brand, but at the end of the day, it's still polyester going back into the water," says Tonić. "I was trying to find a solution."
Related Articles
7 New Swimwear Brands for Earth-Loving and Style-Conscious Beach Bums
New Label Kitty & Vibe Is Attempting to Fix the Worst Part of Shopping for Swimwear
Fashionista's Complete Beginner's Guide to Ethical Fashion Certifications
Well before she started a career in fashion, Tonić studied molecular biology in her native country of Serbia, which she fled because of the war, then went on to study art and business in Prague. She finally ended up in LA where she studied fashion marketing. In 2008, she founded a sustainable ready-to-wear line, but having her first child prompted her to take a break from the business and figure out her next venture. In 2017, Tonić started designing hemp-made swimwear, but faced the challenge of introducing such a non-traditional fabric to the space. "Everyone wears polyester, so how do I convince people that hemp swimwear works? It sounds very 'hippie'," she admits.
So Tonić took the high-end route, designing a $148 sleek one-piece swimsuit with a high neck, low back and cutouts at the hips. It's now one of the brand's signature styles, and a low-impact tie-dyed version (for $168) is also a favorite. The collection has expanded to bikinis and some apparel, too, including a catsuit and jumpsuit. A portion of every sale is donated towards efforts against plastic pollution, and the brand has partnered with such organizations as 5 Gyres and Basta con la Plastica.
As for convincing customers that hemp swimwear does indeed work as well as any other swimsuit fabrication, Tonić took it upon herself to test her own designs in various environments, from the ocean to a hot tub. For a month she stayed in Croatia (where she's been visiting since she was a child) and went swimming in the sea. "Every day I used the same bathing suit," she recalls. "Sometimes I didn't rinse it at all and would let it dry out in the sun, just to see what would happen. It was like brand new." Next, she tried the swimming pool, and while her pieces can withstand harsh chlorine, she suggests a quick rinse with natural water afterwards to prevent wear. In a Jacuzzi, there was no problem, says Tonić, and while she prefers to hand-wash and hang-dry her swimwear, the suits do just fine in a machine.
Over the past two years, Tonić's brand has been embraced and championed by the tight-knit sustainability community, as well as picked up by eco-conscious retailer Rêve En Vert. However, Tonić aims to have the majority of her retail business run direct-to-consumer. "I purposely didn't want to try to sell to stores because I want a lot of people to really understand the product to purchase it," she says.
But after the label's Miami Swim Week debut with Paraiso, Tonić is ready to take her brand to the next level — across reach, offerings and sustainability techniques. (In addition to runway models, the designer also hired performers from the Miami City Ballet, which helped showcase just how versatile and functional her pieces can be.) For her latest collection, Tonić applied a closed-loop system to dye and print a gold hemp leaf motif on swimsuits, a jumpsuit, a tank top and a slip dress. "The water and ink that's used is being recycled, so it doesn't go back into the ground and it's used for always printing," she explains. "That's very new [for me] and I'm very excited about that."
Another challenge that Tonić took on was making her first-ever bathing suits in white, which, for hemp, often turns sheer once it's wet. So she applied a smocking technique, preventing the gathered fabric from being so see-through n the water. And while it's clear that Tonić's brand has made progress, she still believes there's more work to be done. For example, she's still figuring out how to successfully digitally print the color black on her hemp pieces — "it doesn't come out as strong as it should be," she notes — and she's experimented with textiles made from mushrooms as a possible alternative for padding in bathing suit tops. (Unfortunately, it loses its shape in the water, but Tonić hasn't lost hope just yet.)
"I feel like the more buzz I have, the more power I have to change things because I just think it's necessary," she says. "This planet is too beautiful to be wasted on."
See Natasha Tonić's latest collection from Paraiso at Miami Swim Week in the gallery below.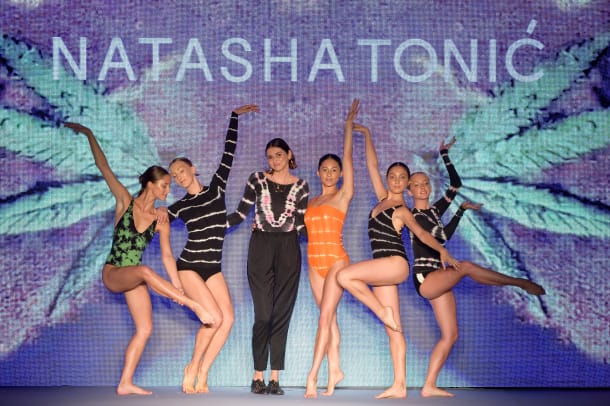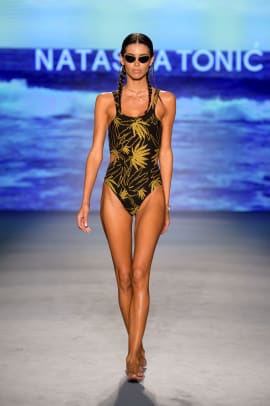 Disclosure: Paraiso paid for my travel and accommodations to attend and cover the event.
Sign up for our daily newsletter and get the latest industry news in your inbox every day.