Burberry's Fall 2019 Campaign Celebrates the Importance of Self-Expression and Identity
Nick Knight and Danko Steiner captured a diverse cast of 17 models for Riccardo Tisci's second ad with the British heritage brand.
Riccardo Tisci's sophomore collection for Burberry celebrates the contrasts and contradictions in British culture — from the structured to the rebellious and free — and how these elements coexist. The Italian designer continues this conversation in the heritage brand's Fall 2019 ad campaign, in which photographers Danko Steiner and Nick Knight use their masterful lenses to explore and represent the breadth of who the brand appeals to.
Since replacing Christopher Bailey as Chief Creative Officer in 2018, Tisci has presented a more democratic vision for the 163-year-old house; he wants people to come to the British label to buy a beautiful trench, just as much as he wants them to come for a hyped pair of trainers.
"At the core of what we are doing at Burberry is a passion for the house to become an identity and a lifestyle — one that transcends barriers and is inclusive to all." said Tisci in a statement. 
With inclusivity at the top of his agenda, the campaign stars a somewhat diverse cast and features a bunch of first-timers: Finn Rosseel, Maxwell Annoh, Freja Beha Erichsen, Anna Ross, Benji Arvay, Heejung Park, Junior Vasquez, Kacie Hall, Mammina Aker, Shayna McNeill and Xie Yunpeng all make their Burberry campaign debuts this season. The ad also stars models Gigi Hadid, who starred in Burberry's monogram collection campaign, as well as Irina Shayk, Fran Summers, Sora Choi, He Cong and Alexis Chaparro. 
In going along with theme of contradictions, the campaign is divided into two juxtaposing scenes: One, which was shot by Steiner, features a calm sea as the background; the other, which was captured by Knight, takes place in a photo studio. The former feels posed and calm, while the latter feels chaotic and much more real. 
"We focused on the raw and unpolished energy of youth," said Knight in an official press release. The goal, he explained, was to make it look like the models could have shot the campaign themselves. "With the culture of the selfie and how images proliferate through social media, young people provide their own outlets and platforms rather than looking to centralized media outlets." 
The clothes in Knight's images are more relaxed and free — see Tisci's bold interpretations of the icon stripe, reconstructed Rugby uniforms and youthful track tops. While the garments Steiner photographed are more classic and refined — see trench coats with shearling and English-fit suits. When put side-by-side, the photos by Knight and Steiner perfectly express the two distinct viewpoints of Burberry's cold-weather range. 
See more images from the Fall 2019 Burberry campaign in the gallery below.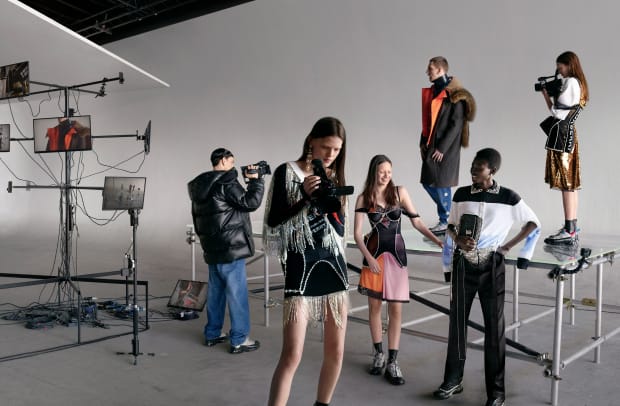 Never miss the latest fashion industry news. Sign up for the Fashionista daily newsletter.