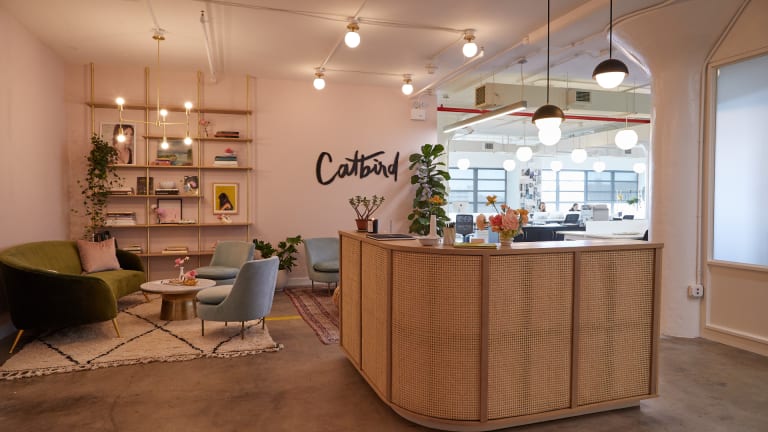 Factory Tour: Inside Catbird's Hybrid Office and Jewelry Studio
The 15-year-old indie brand and retailer moved its headquarters from Williamsburg to growing business hub Brooklyn Navy Yard.
Welcome to our series Factory Tour, where we take you inside the manufacturing facilities of some of our favorite brands to find out how the clothes we buy are actually made. Next up: Catbird, a Brooklyn-based indie brand that makes some of your favorite dainty, delicate jewelry.
In 2018, Catbird left its headquarters in Williamsburg, just a few blocks from its flagship store on Bedford Avenue, for the growing business hub that is Brooklyn Navy Yard. It's no surprise that the company outgrew its original space: Since 2004, the cool-girl jewelry brand — known for its dainty, stackable rings and delicate necklaces, bracelets and anklets — has been steadily growing, especially online. Finally settled into their new, larger digs after a year, the Catbird team has much more room to run (and expand) its business.
"It was an unfathomable amount of space when I took it and we filled it really quickly," recalls founder Rony Vardi on finding Catbird's new home. "And we feel really strongly about keeping everything in house. It's a small carbon footprint as far as how little we have to outsource."
Related Articles
Factory Tour: Why 3x1 Maintains a Mini Factory in the Heart of Soho
Factory Tour: A Look Inside Reformation's Bright, Shiny, Sustainable Los Angeles Factory
Factory Tour: Inside the Denim Factory Your Favorite Sustainable Brands Use Loyally 
Figuring out the best layout, which turned into a two-year process, was important when it came to turning so much square footage into an efficient hybrid of business office meets jewelry studio. "We really thought about how to divide the space into a flow that works really, really well for us," says Vardi. Upon entering Catbird's HQ, guests are greeted by an aesthetically pleasing front desk — ooh, rattan — and waiting area plucked from Instagram: pink walls, brass and marble fixtures, plush velvet chairs, cozy carpets and plants aplenty, including a fiddle leaf fig that is thriving indoors.
Further inside is where the marketing, art and merchandising departments work alongside one another, surrounded by mood boards, bright-pink couches and more plants. There are also multiple conference rooms — of various sizes and privacy — that also serve as a photo studio and nursing room. Since a good amount of Catbird's business is done via e-commerce, the brand's web department has its own area comprised of customer service, fulfillment, shipping and a small warehouse setup to stock inventory. "Our jewelry is tiny, so there's a lot that can be done in a small space, which has proved to be really nice," says Vardi.
Catbird's newly located jewelry studio allows for the brand to "really, really expand," notes Vardi. "We can make things we couldn't make before. On every level of expansion, not just volume, but also, storefront." Inside the studio, there's what the company calls the "Golden Room," which is essentially a giant safe to house all of the jewelry work for the week. Since Catbird maintains almost everything in house, a large amount of infrastructure management is implemented, from making single made-to-order pieces to creating hundreds of pieces for its own jewelry line.
Alongside the brand's design and production teams are about 20 jewelers who work from their own personal benches every day, taking on different tasks and projects while clocked in. (Fun fact: Catbird is dog-friendly, so we spotted a few pooches nuzzling up to their owners as they were cutting diamonds for stud earrings or polishing wedding bands.) Other jewelers work with the company's four benchtop laser welders, which Vardi calls their "secret weapon" that connects metal to metal on fine, tiny pieces, which pretty much make up almost all of Catbird's offering.
While touring Catbird's tiny factory, one can't help but notice the circular tubes that sit at every jeweler's bench and along the walls and ceiling — a state-of-the-art ventilation system that's specially made for the studio. "Jewelry studios generally are very dark with very bad air, and you certainly would not have managers working with jewelers because they don't want to be breathing the same air or they're wearing masks," she says. "It's not particularly that it's toxic, but it's metal. You are breathing these particles."
A new addition to Catbird's jewelry studio is the "Wet Room," which Vardi notes is a constantly evolving system. While the room is now managed by two team members, it was originally an extra step for the jewelers once they were assigned onto a project. "We took it out so they could be just making jewelry and be more efficient," she says. The "Wet Room" is where every jewelry piece's life cycle begins and ends, from initial processing and cleaning of castings (metal in its original form) to final tumbling and polishing for a shiny finish.
Directly next to the laser welders is the quality control team, who inspect every single finished item from each jeweler according to a fairly regimented system. Afterwards, each jeweler is given a QC percentage, which Vardi says will help inform their work for next time. "Maybe we didn't train them well enough on this, let's work on it," she explains. "That way everyone can be efficient and productive and [ensure] that customers get stuff that has been tested. Because jewelry, no matter what you do, breaks, so we try to minimize that." Once the QC process is complete, the jewelry is allocated by Catbird's inventory control team.
After touring Catbird's headquarters, we got the sense that working in a space that allows you to see, touch and feel a tangible result of your own creative process must be very rewarding. And that's something that Vardi hopes to maintain in order to prevent the studio from turning into, as she puts it, a "soulless factory."
"Think about making a car in a factory. It's not like one person is making a car, right? One team is doing this assembly and then they pass it off, but it can really burn people out," says Vardi. "You never get to see your car that you made. So we really believe in letting people work on whole pieces as much as possible because it's just more satisfying."
Homepage image: Catbird's front desk and waiting area. Photo: Courtesy of Catbird
Sign up for our daily newsletter and get the latest industry news in your inbox every day.