Cecilie Bahnsen's Spring Collection Proves She Does Much More Than Just Cupcake Dresses
This season, the LVMH Prize finalist introduced her take on tailored suiting, complimenting the feminine, airy silhouettes she's become famous for.
Perhaps Copenhagen Fashion Week's most buzzed-about designer Cecilie Bahnsen wanted everyone at Wednesday's Spring 2020 runway show to know she's capable of more than just the airy, cupcake dresses that have taken over street style, one tiered ruffle and sheer sleeve at a time. Sure, the LVMH Prize finalist's name has become synonymous with all things feminine, but against the backdrop of Copenhagen's industrial Refshaleøen, a rustic-turned-hipster area that used to be a shipyard but now houses a cafe-meets-sauna and sports facilities, Bahnsen gave us a peek at what lies beyond her flowing frocks and balloon shorts. Specifically, her runway show featured her first takes on tailored suiting, as well as a more relaxed four-pocket cargo jacket and matching pant.
"Before [my design team and I] even got to discussing inspirations, we discussed the idea of adding some masculinity and getting closer to the body," Bahnsen explained to Fashionista post-show. For a designer who often seems to let fabrics float as far from the body as physically possible — and consistently opts for a hyper-romantic aesthetic than a tailored one — this was a notable change of pace. However, it was far from a full-on departure, and was re-rooted in Bahnsen's easily recognizable vision through airy embellishments, such as stringy, floating feathers and prim, powder-pink ribbons tied at the hip.
Of course, the suiting looks wouldn't truly have been Bahnsen without a sheer, flowing overlay to add her signature movement to even those more masculine silhouettes. As for the suits that stood their own sans overlay, she let her obsession with couture techniques shine by utilizing fil-coupé organza, which gives the illusion of a fragility almost comparable to first-aid gauze. Somewhat surprisingly, these fit right in with the collection's latest takes on the architectural silhouettes we've come to know from this Danish talent, which were inspired this season by the often-voluminous artworks of husband-and-wife artists Christo and Jeanne-Claude. The black rubber sandals with each and every look helped ground the entire collection further into her idea of wearable fantasy.
The collection could be described as a logical evolution without digging too deep into repetition of proven styles, or departing too far into alien territory. Though the suiting is a welcome next step from Bahnsen, one can't help but wonder why exactly she chose this season to introduce something for those not so fond of looking like a coffee filter. Could it be the pressures from buyers around the globe that are swiftly and intensely taking notice of Cecilie's designs, and trying to reach a wider audience with them? Possibly, but it's also fair to acknowledge the designer's genuine curiosity toward slimmer creations. "This is my most romantic collection yet, I think, which is really saying something. But I felt a pull towards a little leaner, longer line. I also wanted to try tailoring, to see how we could make sense of it in our universe," Bahnsen stated in a press release, reiterating the idea of stepping slightly outside of the lines while staying close to home.
After all, that very universe she's created the past few seasons is clearly doing something right — so why abandon it? She's giving the people what they want, while tossing out just enough of a taste of something more to keep them wanting to come back. Perhaps sooner than later, she'll be willing and able to further tackle the various categories of a woman's full wardrobe, but as we now know, not without her weightless, heavenly touch.
See every look from the Spring 2020 Cecilie Bahnsen collection in the gallery below.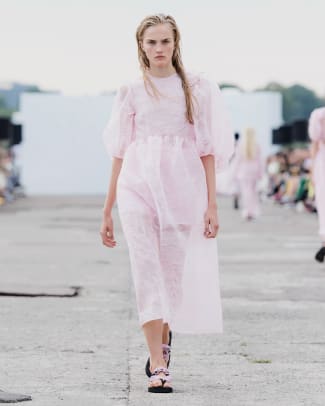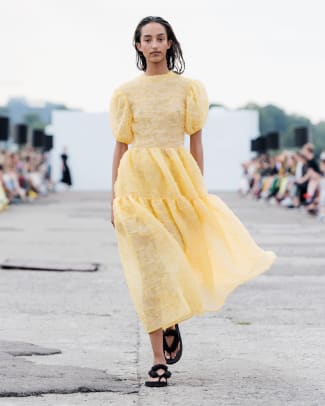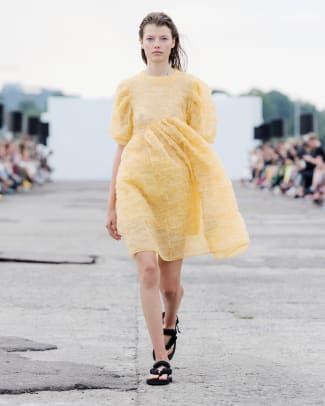 Never miss the latest fashion industry news. Sign up for the Fashionista daily newsletter.