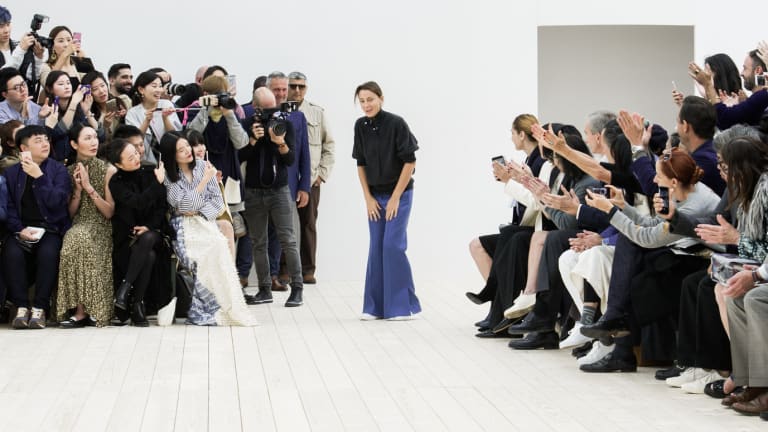 9 Phoebe Philo Protégés Who Are Keeping Her Aesthetic Philosophy Alive
Philo's influence is still felt throughout the industry, perhaps most so at the brands where former members of her design team are plying their trade.
Phoebe Philo had a transformative impact on the fashion landscape for the duration of her career — that much is undeniable. But while her aesthetic was hugely influential, the true mark of her influence can be found in how far her roots extend. Designers who worked under her at both Chloé and Celine (back when it still had the accent) now hold some of the most important positions at brands both big and small, based from Spain to Germany.
In order to build a family tree of sorts, we laid out where some of her brightest pupils are now plying their trade. Unsurprisingly, many of their creations will probably seem familiar to the legions of Philophiles still looking to fill the void the British designer left when she suddenly exited Celine in 2017.
The Chloé Years — 2001-2006
Much of Philo's design team during this time lurked in the shadows at Chloé. Her reign at the house occurred in the nascent days of the internet, and while there has always been a thirst for fashion-related content, members of her design team weren't posting on Instagram, nor were they the subjects of online profiles. But there was an important exception when Philo took a leave absence after giving birth to her first child in 2004.
Sara Jowett, Stella McCartney
Sara Jowett was a key member of Philo's design team at Chloé, where she was head of knitwear and jersey for nearly five years. Jowett was part of the quintet that took the bow after the Fall 2005 collection, with Philo instead sitting front row. To this day, it stands as a rare moment in fashion — a designer taking an extended leave of absence before showing a collection — and is a testament to the important role that the designers behind the scenes play in the creation of collections.
Following that show, Jowett was a key part of the in-house team that steadied the proverbial ship at Chloé after Philo's departure in 2006. She then spent two years at Stella McCartney, before joining back up with Philo at Celine in 2008, again as head of knitwear and jersey. In 2011, Jowett left Celine for Stella McCartney, where she has been ever since — first as the head of the designer collection and now as the design director for menswear.
There are, of course, deeper ties between Stella McCartney and Philo than Jowett. Philo worked under McCartney at Chloé, before the latter left to launch her eponymous label; it's no coincidence that a number of designers have gone on to work under both women.
Adrian Appiolaza, Loewe
Adrian Appiolaza was another member of the quintet that relieved Philo after the birth of her daughter and after she stepped away from fashion altogether in 2006. Surprisingly little was written about the quintet in the aftermath of the Fall 2005 show, with the fashion press only mentioning that Philo was sitting front row while her team took the bow. Their names were rarely mentioned and few journalists delved into their actual roles.
Officially a senior designer at Chloé from 2002 until 2006, Appiolaza appears to have played a key role in the design process with Philo having stepped away — at least judging from photos from the Fall 2005 showing.
After leaving Chloé, Appiolaza plied his trade at Prada and Louis Vuitton, before returning as design director for ready-to-wear collections at Chloé, a position which he held until 2014. Since then, Appiolaza has been design director for women's ready-to-wear at Loewe, working closely with Jonathan Anderson. And, while distinct, there are some similarities between Loewe's ready-to-wear and the aesthetic that Philo popularized.
Appiolaza's name is increasingly known in industry circles, and it's likely now a matter of when — not if — the Argentine designer will have his chance to shape a label on his own.
Valeska Duetsch, Belize
Valeska Duetsch was another member of the aforementioned Chloé quintet — and another designer who worked under Philo before going on to work at Stella McCartney in the late aughts. But, unlike other designers that were part of the quintet that relieve Philo at Chloé, Duetsch is not currently employed by an established house or label.
Instead, Duetsch is directing her own brand — well, co-directing. Duetsch and Fiona Bansal, a fellow Stella McCartney alum, launched Belize in 2017, which has shown in both Berlin and London. At the heart of Belize is an aesthetic that is not unfamiliar to those who are fans of early-2000's Chloé. Collections feature a wide range of chic-but-casual pieces ranging from silk dresses to printed crewnecks to playful swimwear and, while not yet a household name, Duetsch has positioned Belize in a small, but potentially profitable niche. Especially in a post-Philo fashion landscape.
Annabelle Volaire Levassor, AVL
Phoebe Philo is often credited with launching Chloé's leather goods business in the early aughts and her track record of creating "It" bags at both Chloé and Celine is nothing to scoff at. That being said, Annabelle Volaire Levassor played a crucial role in getting Chloé's bag business off the ground — and in introducing the Paddington, amongst others — working alongside Philo as the house's leather goods manager.
Unlike the rest of the Chloé team, Volaire Levassor actually stepped away from the brand before Philo resigned, moving to German brand Rena Lange in 2005, where she worked for four years before returning to Chloé as the head of accessories from 2010 until 2011. In 2011, Volaire Levassor left Chloé once again, this time to launch an eponymous leather goods consulting business, through which she has had an influence on number of labels including Lemaire, Paco Rabanne, Ports 1961, Haider Ackermann and, yes, Chloé.
The Celine Years — 2008-2018
While Philo enjoyed tremendous success at Chloé, she will always be synonymous with Celine. Much like at Chloé, Philo was very much the face of the design team at Celine — as is the norm at luxury houses. But, unlike in 2006, there has been such a thirst to fill the void she left that those who once worked under her at Celine are now well-known names amongst the fashion cognoscenti.
Daniel Lee, Bottega Veneta
Arguably Phoebe Philo's most celebrated pupil — at least among Philophiles — Daniel Lee served as the ready-to-wear director at Celine. He also spent time at Balenciaga and Maison Margiela, among others. Someone who was so closely aligned with Philo's vision for the brand was never going to be a key component of a Hedi Slimane-led Celine, but it didn't take long for him to find a new landing spot.
In June of 2018, Lee was announced as the new creative director for Bottega Veneta, the Italian house most well-known for its intrecciato leathergoods. With Lee at the helm, Bottega Veneta has been injected with fresh blood and more contemporary ideas. There's a good chance that Kering knew what they were getting with Lee — or that they even nudged him towards not breaking too much from the Philo aesthetic engrained in him at Celine: The pieces seem to defy logic, featuring strong, tailored lines but with a decidedly soft silhouette; there are high-neck knits and low-neck dresses; colors and textures abound across collections.
With a few collections under his belt, Lee's Bottega Veneta is seen as the heir apparent to Philo's Celine, and with good reason.
Rok Hwang, Rokh
Rok Hwang was one of the first of Philo's pupils to leave the nest. Recruited to Celine in 2010 after he won the L'Oréal Professionnel Creative Award for his Central Saint Martins M.A. graduate collection, Hwang spent three years as a ready-to-wear designer under Philo. In 2013, Hwang went out on his own, working as a freelance designer for both Chloé and Louis Vuitton, before launching his own label, Rokh, in 2016.
Along with Appiolaza and Lee, Hwang is another Philo acolyte who has garnered industry recognition: Rokh was an LVMH Prize finalist in 2018 and took home the Special Prize. Philo's influence on Hwang is readily apparent, something he admitted to T Magazine earlier this year. Hwang has carefully built an all-female team — an idea Philo was reportedly fond of, with the thinking being that women best know what women want to wear. And, of course, there are the "subtle [aesthetic] Philo-isms", though Rokh is perhaps best thought of as a hybrid between Old Céline and Sacai.
Yuni Ahn, Maison Kitsuné
Yuni Ahn is somewhat unique among those that have worked under both Stella McCartney and Phoebe Philo. Rather than starting at Chloé, Ahn began at Stella McCartney in 2001 as a designer for printed and embroidered garments. In 2003, she began freelancing as a design consultant for a number of labels, before ultimately landing at Celine as Phoebe Philo's design director.
In late 2018, Ahn was appointed creative director of Maison Kitsuné. While the French label has always been popular, it has taken a slightly more mature turn with Ahn at the helm and, like many of the other brands helmed by Philo pupils, there are some similarities between contemporary Kitsuné and the Celine of yore. The silhouettes are billowy, the textures more wide-ranging, and there's a certain swagger that emanates from the lookbook for Ahn's debut collection.
Johnny Coca, Mulberry
To label Johnny Coca a student of Philo would be to undermine some other canonical names in fashion. Before working under Philo, Coca cut his teeth under Marc Jacobs at Louis Vuitton, at Bally and at Celine — specifically, as design director under Michael Kors, whom he followed out the door. Coca eventually returned to Celine as Phoebe Philo's design director of leather goods, shoes and accessories. In other words: Coca played an integral role in the ideation and creation of some of the most iconic pieces of Old Céline — including the Trapeze bag.
Like Hwang, Coca didn't wait for the curtain to come down on the Philo era to leave Celine. But, unlike Hwang, Coca already had a stacked résumé; something which ultimately landed him the job as creative director of Mulberry. More so than any of the other Philo acolytes, Coca's aesthetic inspirations appear varied and far-reaching, drawing, surely, on the many designers and creative directors he has had the chance of working alongside — and you'd be forgiven for seeing a little Marc Jacobs in his own personal style.
Abnit Nijjar, Jil Sander
After obtaining her M.A. from the Royal College of Art, in 2011, Abnit Nijjar worked as a ready-to-wear assistant for Stella McCartney. In 2012 she joined Celine as a ready-to-wear designer for the runway collection.
In 2018 Nijjar joined Jil Sander as the design director for womenswear. Despite the relatively high-profile gig at a label enjoying something of a renaissance, Nijjar has not received the same coverage as some of her more senior former colleagues from the Celine days. But, given the thirst for talented designers who have worked under Philo — and given the success of Luke and Lucie Meier's Jil Sander — it would be surprising if Nijjar didn't start to attract more attention. Along with Appiolaza, Nijjar is probably among those to watch for when the next house decides to appoint a creative director from Philo's stable of designers.
Homepage photo: Céline Spring 2017 via Imaxtree
Never miss the latest fashion industry news. Sign up for the Fashionista daily newsletter.