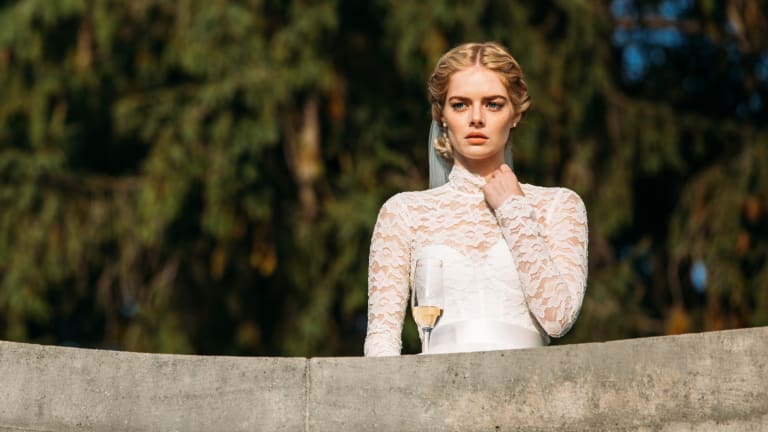 The 'Ready or Not' Wedding Dress Was Inspired By Commoners-Turned-Princesses Kate Middleton and Grace Kelly
Plus, "lace reads blood really beautifully," says costume designer Avery Plewes.
As a reporter obsessed with costume design and bridal, I pretty much jumped at the chance to cover "Ready or Not." I also literally jumped a few times while watching the new comedy thriller, with bits of horror thrown in, as the heroine — and her very chic wedding gown — endure a lot, shall we say.
Grace (Samara Weaving, excellent in "Picnic at Hanging Rock"), a young woman of modest means, meets her new husband's wealthy, estranged in-laws for the first time on her wedding day. The Le Domas family made their fortune through an old time-y board game empire, and therefore engage in a related post-nuptials tradition passed down through generations. Only their version of grown-up Hide and Seek involves a newlywed trying to survive a night in the eerie Le Domas mansion, which is straight out of an Agatha Christie murder mystery.
"In my first meeting with Sam [Weaving], we talked a bit about Grace Kelly or Kate Middleton," says costume designer Avery Plewes, on a call from Toronto, where the movie filmed. The two found parallels between Grace, with her hardscrabble background, joining an old money dynasty and the two, albeit glamorous, commoners marrying into official royalty. 
The corset on the gown references Middleton's Alexander McQueen wedding dress and the high-neck, long-sleeve silhouette speaks to Grace's vulnerability entering the Le Domas domain and serves as an armor of sorts. "She's presenting herself as who she thinks they would want her to be," adds Plewes.
While lace has been consistently on-trend for weddings for the past few seasons, the texture also helps illustrate what Grace experiences during this bonkers game. "Lace... uh, reads blood really beautifully," says Plewes. "The lace started with Grace Kelly and ended with how well the blood would photograph on camera." 
The 12 or so tulle layers on the skirting help augment moments of suspense and action, like when the sweep train catches in a door — RUN! — and Grace rips about a foot off the hem when she really needs to move. Plus, the sash: It's scripted and you'll find out why. 
Plewes, who assisted mentor Christopher Hargadon on Netflix's "The Umbrella Academy" and the serial killer series "Hannibal," understands firsthand the costume requirements for sequences involving blood and other internal-bits splatter. But she needed to convince the directors (and producers managing the budget) that the production needed upwards of 24 dress multiples. Thinking strategically, Plewes created and presented a color-coded flow-chart.
"We sat down and ironed out every single scripted thing that could happen to the dress and then we reverse-engineered the design," explains Plewes. Spoiler though: The gown isn't actually a gown, but instead a series of five modular pieces: a lace shirt, a corset, a skirt lining, a skirt overlay and a belt. Various combinations allowed Weaving to perform quick changes on set and create specific looks needed for points in the story. 
Related articles:
Kristen Stewart and Laura Dern Wear Early-2000s Costume National and Jean Paul Gaultier in 'J.T. Leroy.'
'The Umbrella Academy' Superheroes and Assassins Wear Vintage, Custom-Designed Suits and a Lot of Leather
The Meghan Markle Effect is Still Going Strong on the Spring 2020 Bridal Runways 
One of the composites transforms the gown into more of a pretty badass and deconstructed tea-length dress, which Grace accessorizes with an ammo strap, slung around one shoulder like a belt bag, and Converse Chuck Taylors. The sneakers prove more versatile than heels for crawling, climbing and running from her hunters, but also subliminally contrast Grace's socio-economic background against the "opulence" of the Le Domases.
The Chucks were scripted, but Plewes was "hellbent" on finding a pair in yellow, which would pop on camera against the dark hallways and grassy estate grounds during night shoots. Oddly, the popular color-way wasn't available in stores or online, so Plewes went to the brand — which also provided Kristen Stewart's footwear in "J.T. Leroy" — for their last remaining stock in the shade. Then a breakdown artist color-matched and dyed a few gray pairs to fill out the remaining multiples needed.
As for the Le Domas family's retro-influenced through-line, Plewes first looked to the lavishly creepy Surrealist Ball thrown by Baroness Marie-Hélène and her banking heir husband Guy de Rothschild. The legendary gala, held at a 19th-century French chateau in 1972, featured the hostess wearing a stag's head encrusted with real diamonds and Audrey Hepburn donning a cage filled with birds. 
"I wanted this heightened glamour that didn't necessarily feel like it would be set in today," explains Plewes. "I wanted everything to feel a little bit period. Every character has an influence that doesn't feel contemporary." 
Patriarch Tony's (Henry Czerny, born to play distant, possibly evil, rich dad, see: "Revenge" and "Sharp Objects") ultra-dandy, three-piece suit and cravat-tie look is based on the Fall 2012 Prada collection — which Miuccia Prada described to Tim Blanks of then-Style.com as "a parody of male power." Plewes custom-made his shirts with extra-starchy pointed collars to demonstrate that he's "strong and domineering." 
But looking deeper at the details on Tony and his icy sister, Aunt Heléne (Nicky Guadagni), reveal how both elders "have no boundaries" between family and business (or family money, specifically). The print on Tony's Dolce & Gabbana jacket resembles the back of a playing card and his tie-pin is similar to a Monopoly piece. Heléne's custom-made purple velvet cape links back to the matching cloaks that the Le Domases wear for family customs that don't involve holiday photos. "Because she's so far gone into the family tradition," says Plewes.
Grace's brother-in-law and eldest son Daniel (Adam Brody) wears a '20s-reminiscent suit accented with a bow-tie and suspenders inspired by Jay Gatsby. "Because he can't really get it together," says Plewes. His open collar reveals vulnerability and his monk-strap shoes indicate perhaps he's questioning family ethos. His purple tones also signify his higher level of wealth within the one percent.
Of course, born with a silver spoon — or game piece — in his mouth, Tony would also employ an army of maids. But his are dressed in untraditional uniforms that are actually based on classic servant attire. The scalloping on the plunging necklines and ivory chokers reference the "principles" of formal black-and-white maid uniforms. But the boss's aesthetic also influences his staffers' looks.
"Tony is stuck in the '80s and 'Addicted to Love' was a reference that I was given," says Plewes, about the 1985 Robert Palmer music video featuring tight LBD-wearing models with slicked-back ponytails and dark makeup. Although, the provenance of the dresses is more local mall than Beverly Hills. Plewes bought the dresses online at Urban Outfitters. (Sorry, they're sold out.)
Those aren't the only pieces that fashion fans of "Ready or Not" can't purchase. "Someone messaged me on Instagram and asked me where I bought the wedding dress," the costume designer says. "I was like, 'I designed it. I'm sorry you can't buy it in real life.'" Plewes, who originally held ambitions to design eveningwear and bridal, should maybe consider a side hustle. After all, bridal separates are in high demand. 
Follow Avery Plewes on Instagram @averyplewes. 'Ready or Not' opens in theaters on Wednesday, Aug. 21.
Never miss the latest fashion industry news. Sign up for the Fashionista daily newsletter.