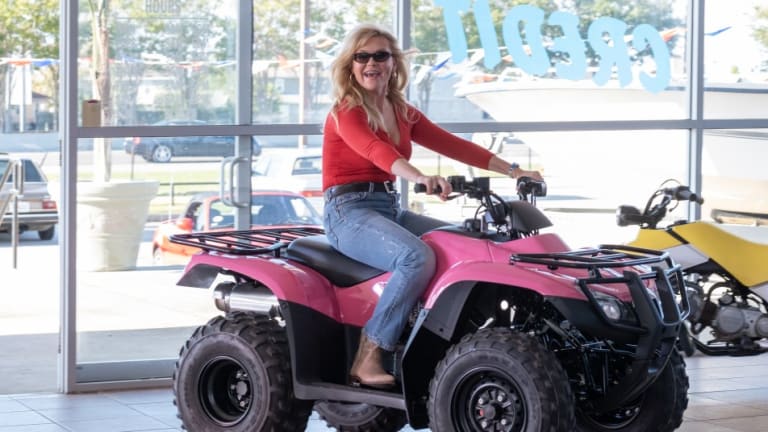 In 'On Becoming a God in Central Florida,' Kirsten Dunst Wears Vintage Levi's, Bongo, and a $10 Hawaiian Shirt
"Krystal's definitely, for all intents and purposes, in 1987," says Stacey Battat, about the lead's 1992 wardrobe.
Period dress (and fashion) icon Kirsten Dunst returns to the small screen in throwback costume, but this time in 1992 — with some holdover late '80s — in "On Becoming a God in Central Florida." The Showtime series officially premieres on Sunday, Aug. 25, but in a "Veronica Mars"-like move, the network released the first two episodes for streaming on YouTube a week early.
Dunst plays Krystal Stubbs, a dedicated staffer at an "Orlando-adjacent" water park, whose dream porn-stached husband Travis (Alexander Skarsgård) gets the family caught up in a mega pyramid scheme. To save her home and care for baby Destiny, Krystal must strategize and hustle her way up the "Founders American Merchandise" (or "FAM," for short) power-player org chart — all while dressed in her own version of early '90s Central Floridian style.
"Krystal's definitely, for all intents and purposes, in 1987," says Stacey Battat, who is Sofia Coppola's go-to costume designer and worked with Dunst on "The Beguiled." "When I think of the '90s, I think of Winona Ryder in 'Reality Bites,' but Krystal wasn't that person. She wasn't wearing grunge. Her favorite band was still Van Halen."
Instead of sulking around in oversize flannels and Docs, Krystal perseveres in fitted silhouettes, frilly pastel ankle socks with late '80s-style almond-toe pumps or reissued archival white Reebok sneakers. (Plus, a really good vintage Van Halen concert T, but the "1984" tour, of course.) 
Battat made a strong effort to stay authentic to the '80s and '90s, but not be too fashion-forward as the period is hot in fashion right now in 2019. "[I was] trying really hard to not fall into the tropes to create an original character," she says. 
Krystal's wardrobe is full of matched sets, which also prove versatile, like a very '87 acid wash dress and puff-sleeve jacket (above), which she recycles to wear over a fitted white halter dress for a FAM rally. "I wanted her to have a suit or what Krystal would consider a suit. Like what she would think of as something that's professional," explains Battat. "The acid wash — it was a little trashy, which she is kind of a little trashy — she's not the most sophisticated or classy character. But it also is something that can carry her to, say, a FAM rally and it feels like she made an effort and she's wearing a business suit."
In the third episode, Krystal steps up her "suit" game for a turning point FAM moment in a floral matched denim set by Bongo. "Those Bongo ads from the '80s and '90s were very inspiring to me and I did look to Bongo quite a bit," says Battat. "It was slightly more put-together than her usual thing. She feels like she's dressing up and is being professional."
For more day-to-day moments, such as pulling into to Buzz Motorsports in a Barbie pink four-wheeler (top), Krystal opts for more casual fare, like a red long-sleeve shirt paired with faded mom jeans. "There's something about that location that also spoke to the red shirt and vintage Levi's because it was All-American, Americana," says Battat, while also admitting that throwback Levi's are currently in high demand.
While she found most of the costumes via vintage sources online and in-store, including The Way We Wore in Los Angeles, Battat also enjoyed customization and custom-design moments. While Rebel Rapids and FAM take up most of her professional time, Krystal holds aspirations of launching a bedazzled swimwear line. She's obviously her own best branding, so Krystal upgrades her one-piece halter and high-cut leg swimsuit with colorful statement rhinestones that maybe wouldn't fit into a legit Bedazzler.
"I didn't want small bedazzles," says Battat. "I wanted big ones so they stood out a little more because the swimsuit itself is probably a lot chicer than something that Krystal would usually wear." 
The '90s being currently on trend helped the costume designer in this case, as the black suit, needed in multiples, is from the ASOS Design line, which runs based on bra size. Battat and her team hand-sewed the colorful stones along the neckline and the criss-cross back straps, which Krystal wore with acid wash shorts and a red belt.
Going full sparkle, Krystal later wears a two-piece mermaid costume, which is more ideal for posing in a clamshell than walking full steps. And if a blue, yellow and sea-foam green tulle tail and shoulder puffs look a little DIY, that's the point. 
"I did really want it to be something that felt a little bit handmade because Krystal supposedly made it," says Battat. "I was like, 'OK, what would that woman have access to and what would she buy?'" The costume designer avoided more elaborate material while keeping Krystal's tight budget in mind. "I found that blue stretchy sequin one that was super prevalent in '70s and would have definitely been at a Jo-Ann [fabric store] in 1992," she adds.
Related articles:
The Civil War-Era Costumes of Sofia Coppola's 'The Beguiled' Tell Their Own Story
The 'GLOW' Season 3 Costumes Feature 'Dynasty'-Style Sequins, '80s Power Suits and a Bob Mackie Tribute
The 'Beverly Hills, 90210' Cast Gets a 'Heightened' Wardrobe Update From the 'Pretty Little Liars' Costume Designer
In the second episode, Krystal opines to Rebel Rapids colleague Ernie (Mel Rodriguez) and his wife Bets (Beth Ditto): "I want a new wardrobe. I'm tired of the same three outfits." She repeats quite a few pieces, like variations of the acid wash set, her denim and a really good pastel Hawaiian shirt. 
The $10 thrifted piece looks just as cute with lilac acid wash jeans (and a purple belt bag and mint green headband, above) to shill FAM products as it does a knee-length faded denim skirt on another occasion. Hate to tell Battat, but I'd wear both those outfits in a hot second — and she had a similar reaction about the palm-tree print shirt at first.
"It was a big deal for me. Am I willing to give this [shirt] up for the show, instead of keeping it for myself? I was like, 'I love this shirt, but it's really good for Krystal.' Is it worth giving it up? But I did," she says, with a little laugh (and I may have heard a tiny sigh). "I feel like I regret it on a daily basis." And, in case you were curious, Battat couldn't take the shirt back once filming wrapped — because it belongs to the studio now.
Never miss the latest fashion industry news. Sign up for the Fashionista daily newsletter.