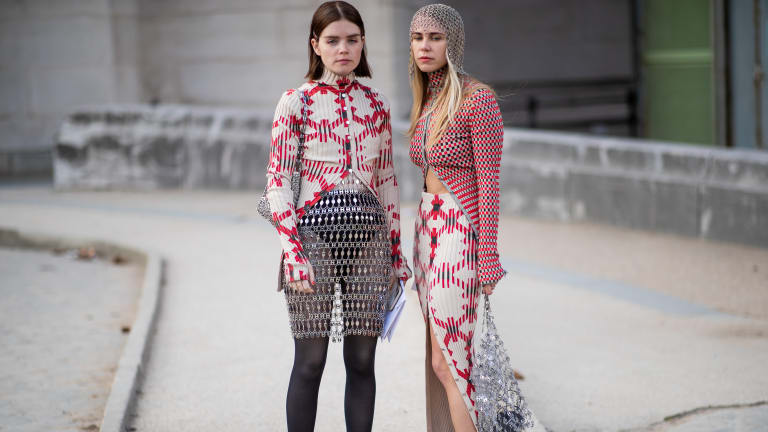 Influencers Are Teaming Up With Their Sisters and Best Friends for Maximum Street Style Impact
The two-for-one phenomenon is becoming increasingly popular as both audiences and brands place more value in content — and relationships — with authenticity.
Fashion month is almost upon us, and with it comes a new deluge of street style photos to keep the internet sated for the next several months. Having spent the better part of the past decade bearing witness to the phenomenon (was that "Circus of Fashion" essay really six years ago?) I've seen it all, from the skinny denim and leather jacket devotees of the French Vogue pack, to the couture-clad peacocks, to the seven-looks-per-day super-influencers.
One of the better trends to come out of recent years — aside from Céline Dion at Paris Couture, of course— is that IRL friends and sisters are getting photographed together more frequently, and they tend to look like they're actually having fun on the show circuit.
Outside of the venues, you'll see pairs like Shea Marie and Caroline Vreeland, Reese Blutstein and Courtney Trop, or Camila Coelho and Aimee Song dressed in expertly coordinated ensembles. Usually, this isn't an accident: Brands generally invite front-row influencers to their showrooms to borrow pieces before a show, knowing they'll be photographed extensively. Some, including Vreeland and Marie, as well as Cailli and Sam Beckerman of Beckerman Blog, make it a point to match, embracing the opportunity to play dress up — and making the limited number of samples most designers have on hand work to their advantage.
At Collina Strada's New York Fashion Week show the past two seasons, Trop, Blutstein, and Blutstein's twin sister Molly have arrived in some of the most memorable outfits of the week: First, coordinating hot pink plaid and organza, and next, slouchy tie-dye sweatshirts over velvet slips. Not coincidentally, the resulting photos are now among some of the brand's most-liked Instagram posts ever.
This often holds true for influencers' own pages, too. For example, Trop has worked with Miu Miu on paid campaigns over the years, but according to the influencer marketing company Tribe Dynamics, her best-performing post for the brand this year in terms of earned media value wasn't sponsored at all. Rather, it was one of the tributes she posted to the Blutsteins on their birthday, in which she wrote that Reese "took me to my first Miu Miu show."
"Broadly speaking, fans enjoy seeing influencers that they know interact with one another in an authentic way," explains Leah Adams, head of marketing at Tribe Dynamics. "As a result, content featuring influencers who have an established, genuine rapport with each other — whether as siblings or friends — tends to generate high engagement from these influencers' followers, benefiting the brands that both bloggers favor."
Of course, as Trop's caption also illuminates, having a friend or two along for the ride isn't just good for business. "After so many years of a career based around 'capturing moments,' the number of work pictures in my phone outweighs anything else, and I'm so happy that I have someone in this industry that I can share all these experiences with," she wrote.
In March, Zara tapped the trio for the launch of a new Instagram account, @livingzara, giving them free rein over the production and styling. "Zara was a wonderful partner because they really gave us all the tools that we needed to deliver them something that would work for them, but didn't try to be very prescriptive about what the content was," says Max Stein, who manages the Blutsteins as founder and CEO of Brigade Talent. "It seemed like a fun project for the three of them to all do together because it really allowed them to bounce ideas off each other."
The twins have also paired up on campaigns for brands like Chanel Beauty, Chloé, Calvin Klein and Gucci, as well as fashion spreads for Atlanta magazine and Who What Wear (the latter alongside Trop), but Stein says he's clear on handling their careers separately. For one, Molly is — as her Instagram handle spells out — an "accidental influencer"; she was away at the University of Georgia while Reese was building a following as @double3xposure, and she still posts relatively infrequently (though it's picked up since graduation). Plus, despite the family resemblance, says Stein, they're different people with individual goals and interests.
This isn't a hard and fast rule throughout the industry, however: Many influencer twins — particularly those that share social media accounts — are managed as a unit. The Clermont twins, who have 1.4 million Instagram followers, told Women's Wear Daily last year that they turn down opportunities offered to just one of them because that wouldn't be "true to [their brand]." The two-for-one phenomenon seems to be especially common among influencers that get their start young: The Merrell twins, who launched their YouTube channel when they were 16, have landed television roles and started a clothing line as a duo in the decade since; others, like the 6-year-old McClure twins, amass millions of followers before reaching grade school.
Even for siblings with distinct personal brands and careers, it can be valuable to have a space to showcase shared work. That was Danielle and Gabby Prescod's thinking earlier this year when they launched a joint Instagram account under the handle @theprescodsisters. There, the editor sisters — who work at BET.com and Bustle, respectively — post photos from modeling gigs and press trips they've taken together alongside high school throwbacks and FaceTime screenshots.
"Gabby and I realized that we were getting hired to work together for influencer stuff and for modeling so much that we thought that having a place to put all of that content would be easier," says Danielle. "Also, we spend a lot of time together anyways, so [the account is] somewhere that we can talk about the things that we do as sisters."
The brand is decidedly about family and sisterhood, setting it apart from their individual social media accounts, which are more connected to their day jobs. "There are certain things I don't necessarily feel comfortable with talking about or doing at work, but I would love to do on social media, so it's kind of like a creative outlet," adds Danielle.
Every week, they host a #SisterSunday dispatch on Instagram Stories, and ultimately they want to find different ways to highlight other sets of sisters who are doing cool things. "Our most immediate goal coming up is to build this so that we can get to having a podcast," says Gabby.
Clearly, having a sister in the industry has its perks — but, as Alyssa Coscarelli and Lauren Caruso prove, blood relation isn't always necessary. The pair have been best friends since they met working at Refinery29 in 2013 (at the time, Coscarelli was Caruso's intern), but in the years since, they've also become each other's photographers, collaborators and all-around hype-women. In the fall, Coscarelli left Refinery to pursue writing, consulting and influencer work full-time, while Caruso juggles these with her full-time job as site director of The Zoe Report (disclosure: we worked together at Stylecaster in 2016).
Three years ago, a Canadian shoe brand approached the friends to appear in, style and creative direct a campaign, in what would turn out to be the first of many such projects for companies like Club Monaco, Away, J.Crew and John Hardy.
For brands, these campaigns give them access to two separate followings. "It's great because we both clearly have different audiences: Alyssa's audience is a little bit younger, they're very excitable… Whereas my audience is a little bit older, they know their style, they're probably not going to run out and buy everything that I tell them to, but they just like to look for inspiration. So if you come to us together, you get the best of both worlds," explains Caruso.
It helps, she says, that they both have backgrounds in editorial and an understanding of what brands want out of campaigns. "Club Monaco has become a recurring client of ours, and they just send us a bunch of clothes and have us post together and use the photographer of our choice," says Coscarelli. "We take detail shots, we take product shots, we take shots together and shots separately, and it kind of just allows a brand like that to use their marketing budget in a different way that's really low-lift for them, and they get a lot of content they can use out of it."
Another bonus, according to Caruso? Their similar stature. "We're both really petite, so we photograph well together," she adds. (This may sound silly, but go look at a picture of Karlie Kloss next to anyone under 5 feet 10 inches tall and you'll see why it's a consideration.)
Most of the work they do together, though, is behind the scenes: meeting for early-morning breakfast dates to take outfit shots and hash out brand partnerships, weighing in on business and shopping decisions over text and encouraging one another to ask for what they're worth compensation-wise. When Coscarelli launched a capsule collection for Petite Studio earlier this summer, Caruso took all of the lookbook photos.
"I think I probably am more indecisive than Lauren is, but we definitely use each other as kind of a gut check as far as like, how does this amount sound for this project? Or what do you think of this brand? Is this project worth it?" says Coscarelli.
Between them, though, they've never exchanged money for projects. "It's definitely a feedback loop," notes Coscarelli. "We're constantly helping each other out in any way that we can, and nothing's really expected in return except that the other person does the same."
Homepage image: Reese Blutstein and Courtney Trop in Paco Rabanne. Photo: Christian Vierig/Getty Images
Sign up for our daily newsletter and get the latest industry news in your inbox every day.