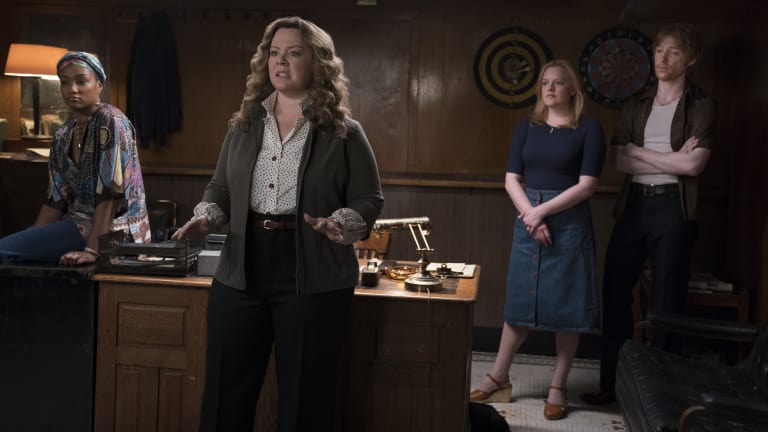 Melissa McCarthy, Tiffany Haddish and Elisabeth Moss Take Charge in '70s Vintage in 'The Kitchen'
"Ocean's 8" costume designer Sarah Edwards talks us through the trio's power wardrobe evolution.
Based on a short Marvel comic series and directed by Anna Berloff ("Straight Outta Compton"), "The Kitchen," follows Kathy (Melissa McCarthy), Ruby (Tiffany Haddish) and Claire (Elisabeth Moss) after their mid-level gangster husbands botch a robbery job and land in jail. Previously mob wives with no income streams of their own, the enterprising women are left to pick up the pieces, take over and, ultimately, eclipse the fragile men. Naturally, their late '70s Hell's Kitchen wardrobes flourish along with their confidence, power and back accounts. (Or, perhaps more accurately, cash stash since, you know, paper trail.)
To chart the trio's sartorial arc, Sarah Edwards started by delving into photographic research of similar socio-economic neighborhoods in the '70s. "It's interesting, New York City in general is pretty well-documented, but Hell's Kitchen is not so well-documented," says the costume designer, who also notably dressed another set of industrious women in "Ocean's 8," on a call.
But, the native New Yorker's father was a production designer, who coincidentally, did some location scouting all over New York City in the summer of 1978, when the movie takes place. "I found a whole stack of photographs he had taken in the basement," explains Edwards. "So I used a lot of those images and I shared them with the production designer and the director as well." She also looked to movies and print magazines from the time period to "round out" the fashion part of her research process.
With two young children to feed and clothe, Kathy becomes the de facto leader of the group as they get down to business and navigate the city's underworld politics. She evolves from intentionally frumpy plaid shirts, drab turtleneck knit layers and a worn-in cornflower blue thin puffer to what her incredulous husband refers to as "dolled up" looks: silk pussy bow blouses, jewel tone button-downs, tailored trousers, metallic lamé pieces and a very chic cape-style wool coat (above) for an important meeting in an outer borough.
"This is the first time she has the money and the power. There's more money and because she's in charge of it, we thought it was important to see they're spending some of it," explains Edwards, who also delved into Kathy's mindset to illustrate where the formerly budget-constrained, stay-at-home mom would look for style inspiration and to drop some of her newfound wealth. 
"Maybe she's not quite going to Bergdorf's or the equivalent, but she's gone to Macy's or Bloomingdale's," adds the costume designer.
Because she had such specific ideas in mind, Edwards custom-built most of McCarthy's costumes, including her gorgeous knee-high black leather boots and, for a pinnacle moment, a puff-shoulder pastel pink-and-white-piped pant suit. "We're almost to 1980 at that point in the story, so it was like Kathy was really wearing something that was really on the edge of fashion," she says.
Seeds of Ruby's wardrobe ambitions, soon to be fulfilled by her professional accomplishments, are introduced early in the movie. The uptown transplant starts out in intentionally dated paisley and floral wrap dresses, rusty hues and a mid-thigh-length brown leather jacket. "I wanted it to feel like she didn't really have new clothes at that point," explains Edwards. "They were all earlier dresses from '74 and '75. She had things that were hand-me-downs or, at least, not things that she was spending a lot of money on."
With her meathead husband in the slammer, Ruby's looks transition into elevated wrap dresses, printed tops with really good high-waisted jeans and a perfect ruffle-trimmed, off-the-shoulder party dress (below) worn for an occasion that's only celebratory for her. Haddish wears the most authentic vintage in the film, sourced from all of Edwards' extensive contacts, including dealers around the country, rental houses in California, New York's Stella Dallas and the now-online-only Rue St. Denis. Although, Edwards did custom build the dopest longline python coat that sartorially symbolizes the trio coming into their own (above).
Related articles:
The Costumes in 'Ocean's 8' Helped the Cast Steal Jewels in the Heist Thriller Franchise
Costumes Transform Elisabeth Moss, Cara Delevingne and Agyness Deyn Into '90s Riot Grrrls in 'Her Smell'
The Complete Breakdown of Brie Larson's Costumes in 'Captain Marvel'
Ruby also enjoys the perks of the group's illicit job through her accessories: chunky gold rings, layered pendants and statement necklaces and stacks of bracelets. "We decided, when they steal the jewelry, she's the one who would really want to wear it and show it off at all times," says Edwards. "She would always be wearing maybe one too many things."
As for Claire, "out of the three, she was the least interested in clothes," explains Edwards, about discussions with Arnold about Moss's character. "She's the least changed by the money on the exterior." 
With her abusive husband in jail, a free Claire undergoes the most significant emotional journey, but her wardrobe arc is more subtle. She transitions from muted and understated outfits to an also-minimalist, but tough aesthetic. Before crossing the bridge to Brooklyn, she asks her crew with a wry smile: "What do you wear to something like that?" Answer: a custom-built black leather jacket and vintage knee-high boots.
"As she becomes more empowered by her ability to handle her own problems, shall we say, she does become tougher," says Edwards. "But it's less about all the sort of feminine trappings that come with the new money. She was more interested in taking charge and being powerful and being able to protect herself and her friends." 
'The Kitchen' opens in theaters on Friday, Aug. 9.
Top photo: Alison Cohen Rosa/Courtesy of Warner Bros. Entertainment
Never miss the latest fashion industry news. Sign up for the Fashionista daily newsletter.