Altuzarra Makes Handkerchiefs and Crochet Sexy for Spring 2020
Not that we're surprised.
It's well established by now, both at home in New York and in Paris, that Joseph Altuzarra is the King of making things sexy. Whether it's a pencil skirt or a cocktail dress, he makes clothes that women want to wear when they want to feel their sultry best.
So it comes as no surprise that Altuzarra was able to put a sensual spin on – wait for it – crochet and handkerchiefs for Spring 2020. His inspiration was the knitting done by his grandmother in the South of France, which resulted in slinky dresses and crop tops tied back with leather straps. Has anything inspired by quilting ever been so desirable? And for suiting, one of Altuzarra's strongest areas season after season, there were brightly colored blazers paired with bell bottoms or Bermuda shorts. Suede poncho capes with buttoned up shoulders provided a flexible outerwear option for transitional weather.
Altuzarra loves an undone moment, and this season that comes in the form of buttoned (or rather, unbuttoned) sleeves on knit polos and splits up pencil skirts in suede and cotton, paired with sleek, thigh-high leather boots. The real stars of the collection, though, were the handkerchief dresses and skirts with adorable scalloped details. These are precisely the kinds of pieces women want in their closet to look polished when temperatures rise. At the end, a darling white dress with crystals is begging to be worn by an Altuzarra bride for a chill summer wedding.
See every look from the collection in the gallery below.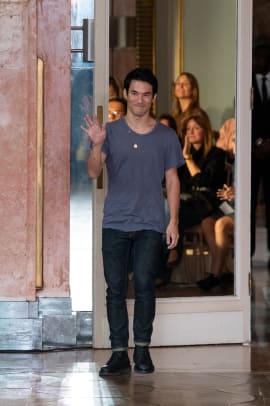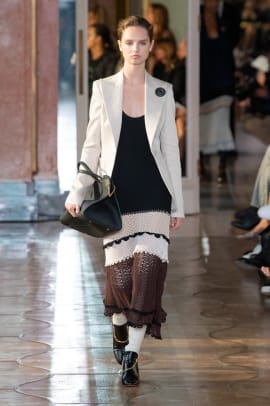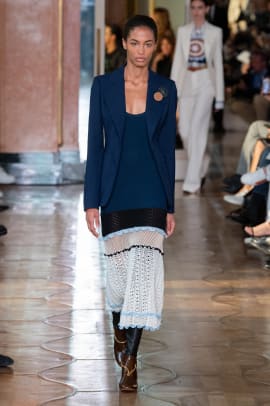 Stay current on the latest trends, news and people shaping the fashion industry. Sign up for our daily newsletter.