Olivier Rousteing Pays Tribute to Celebrities of the Aughts for Balmain's Spring 2020 Collection
If anyone can make the 2000s cool again, it's him.
By now, Olivier Rousteing has established himself — and, by proxy, his vision for Balmain — as a fan of the flashier parts of fame. Whether that's through casting the Kardashian Klan in his ad campaigns, collaborating with Kylie Jenner on a cosmetics collection or throwing his very own music festival, if it smacks of flash and glamour, Rousteing adores it.
And truly, what era exemplifies the celebrity-obsessed side of our culture more than the early aughts? Between the rise of blogs like Perez Hilton and the fervor around tabloid culture, paparazzi were raking in the dough chasing famous people around the world. It's this era that has captured Rousteing's imagination for Spring 2020. The soundtrack kicked off with a Lindsay Lohan's "Rumors" and progressed through Britney Spears, *NSYNC, Christina Aguilera and... Coolio?
His show notes questioned why it's considered "cool" to mine the '60s, '70s and '80s for inspiration, but not the '90s or the 2000s. One has to imagine it's because we're still cringing at photos of ourselves in its shapes, like dresses with strategic, thong-revealing cutouts at the hips or handkerchief skirts flapping around our thighs. But Rousteing wasn't afraid to mimic those pap-documented styles, whether in stark black and white on tube tops, paired with pleated sheer maxi skirts or in oversized denim blazers and silver lamé leggings. Pants got voluminous, flowing bell-bottoms, and there were more high-shine pailettes and sequins than you could shake a stick at — clothes made for the camera flash.
There were also moments meant to mimic well-known imagery from the era, like Grace Jones in a dramatic hood with strong sunglasses and models in matching pastel denim sets that called to mind an iconic Versace ad from the '90s. One particularly clever detail was a VIP velvet rope handle on handbags. As for the rest, well — let's just say Balmain didn't make a particularly strong case for bringing back the early aughts style. But you can't fault the man for trying. 
See every look from the collection in the gallery below.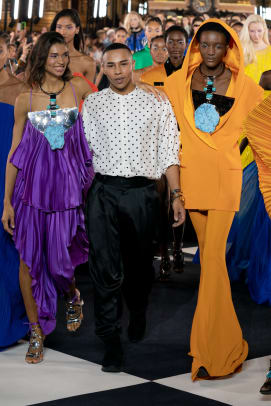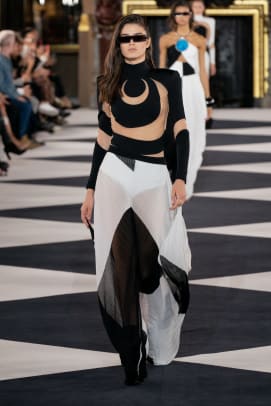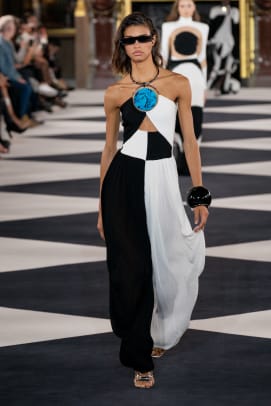 Stay current on the latest trends, news and people shaping the fashion industry. Sign up for our daily newsletter.