Daniel Lee Doubles Down on His Bottega Veneta Muse for Spring 2020
The designer made waves with his debut runway collection, now he's sticking with what works.
With his sophomore runway show on Thursday at Milan Fashion Week, all eyes were unsurprisingly on Daniel Lee, who took on the creative director role at Bottega Veneta in June of last year. At the time, he was generally under-the-radar, known by some for his previous gig with Celine — Phoebe Philo's Céline, that is — but by February, his debut runway show for Fall 2019 officially put Lee on the fashion map. Reviews were overall positive and retailers are seeing sold-out success with his newest stock of collections, too. So much so that that Bottega Veneta's square-toe shoes and leather handbags became street style "It" items, spotted nearly everywhere during New York Fashion Week. (Of course, this may or may not have been the result of an influencer marketing strategy.) 
Lee's work is obviously striking a chord with the current fashion zeitgeist, so for Spring 2020, he's sticking with what works and doubling down on how he would dress his Bottega Veneta muse.
The newest collection opened with a first look that's nearly identical to his debut show: a little black dress (now knitted and one-shouldered, rather than made from leather), a much, much larger crossbody bag and a pair of Intrecciato weave slide heels that look like an updated version of what everyone's wearing this fashion month. Some of his now-signature elements are enforced even more: experimental outerwear, strong silhouettes, intricate knitwear, leather and party-ready sequins. Lee's newest assortment of leather goods will likely attract fans yet again, especially the oversized purses, art-piece clutches and square-toe pumps.
Jewelry boasts a strong role for spring, too, as models (and handbags) were adorned with chunky gold and silver chains. Lee seems to be keeping the "Matrix" aesthetic alive, as well. Last year, he sent models clomping down the runway in boots fit for Neo, but this time, he created his own sci-fi-inspired version of (not tiny, thank god) sunglasses. It's clear that Lee has a knack for coveted accessories, so we're excited to see which ones will take hold and stand out next year.
Milan Fashion Week often feels like a string of days seeing some of the biggest, historic fashion houses and their longtime leading designers' latest collections: Miuccia Prada, Donatella Versace and Giorgio Armani, to name a few. Hell, it even feels like Alessandro Michele has already spent centuries at Gucci by now. It's refreshing to feel such anticipation and excitement for a rising designer like Lee at a heritage brand like Bottega Veneta. We'll be back for more next season.
See every look from the collection in the gallery below.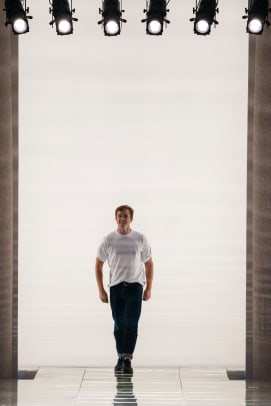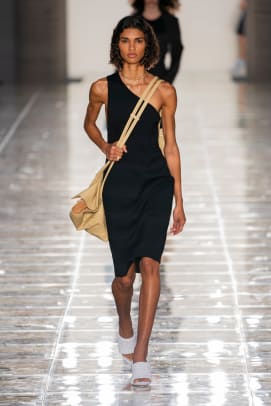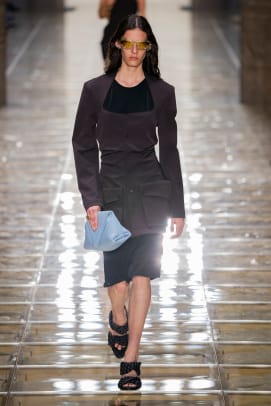 Sign up for our daily newsletter and get the latest industry news in your inbox every day.