Brandon Maxwell Tries His Hand at Menswear for Spring 2020
The runway was a joyous celebration of all things Americana, football stars included.
For anyone whose origins lie somewhere in the heart of American football country — located from the South to the Midwest — the setting for Brandon Maxwell's Spring 2020 show on Saturday night certainly felt familiar. From the metal bleachers lining the runway to the (reusable!) solo cups, it was like entering a time warp to Friday nights spent cheering on your local team. (Well, almost: My high school concession stand didn't carry Shake Shack. Maxwell's version did.)
The Texan native loves to give nods to his roots, and this season was no exception. TVs behind the bar played home videos of Maxwell as a child and the music ranged from '80s classics to '90s pop hits. But what the designer does best is make the personal feel universal — and the style staples of his past feel modern. 
Take, for example, Maxwell's spin on classic football mom dressing: simple jeans, button-down shirts and sweaters. By making tweaks here and there — distressing the denim and serving it up in oversized shapes, mixing in leathers and silks, cinching blazers with contrasting belts — it made the simple feel sublime. The going-out top, that staple of millennial wardrobes in the early aughts, makes a comeback the Brandon Maxwell way in slinky silk paired with jeans and a bejeweled belt. Seersucker stripes get a turn at eveningwear in a lush ballgown.
Eveningwear, of course, is where Maxwell excels the most, and Spring 2020 is no exception. Didn't think a polo shirt could be sexy? Let Maxwell prove you wrong with his down-to-there coral top paired with a high-slit skirt, knotted to look as though it was just thrown on. The designer also played with a cummerbund motif for women, putting it at the bustline of strapless gowns or even using it, quite effectively I might add, as a kind of halter top.
The real surprise was menswear, with Maxwell throwing his hat into an ever-growing ring of womenswear designers making the leap into designing for gentlemen. It was an impeccable and tightly-curated debut, with sharply-tailored yet relaxed suiting, a luxurious take on streetwear in plush camel and thick, mock-neck knits. In just 10 looks, Maxwell managed to set the tone for the type of man who would buy into his vision. 
By the time confetti exploded all over the runway and Maxwell brought his whole team out to take a bow, half the crowd was already on its feet ready to greet him, smiles on their faces — his own personal cheer squad.
See every look from the collection in the gallery below: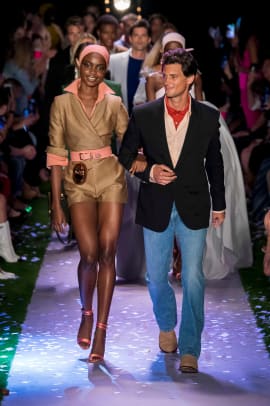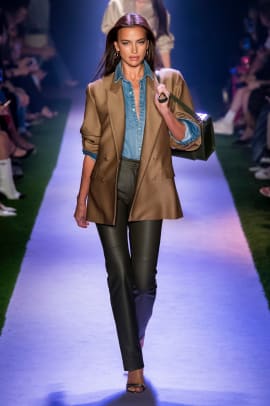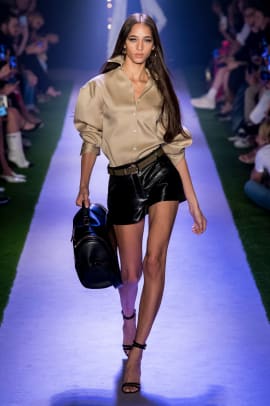 Want the latest fashion industry news first? Sign up for our daily newsletter.