Wes Gordon Beautifully Hits His Stride at Carolina Herrera for Spring 2020
He's finally achieved a balance between the old and the new at the classic American fashion house.
There's no question that taking the reins at an established fashion house — especially when tapped to directly replace the person whose name is on the door — is an intimidating process. It usually takes a few seasons for a designer to really hit their stride; the first couple are spent carefully mimicking the brand's original designer, the next one or two attempting to take things in a completely new direction, followed by, hopefully, finally reaching stasis.
That seems to be the case for Wes Gordon, who officially took the top job at Carolina Herrera for Resort 2019. It was perfectly pretty, as was his runway debut for Spring 2019. Each was a masterful tightrope walk between the tension of maintaining the status quo and injecting new life into the brand. Then, for Fall 2019, Gordon went full-throttle against the grain for a collection which, while still excellent, was perhaps less what the Herrera customer might be looking for.
And now, cue the stasis: For Spring 2020, Gordon once again pulled back to the brand's roots, packing in plenty of white shirting and big ball gowns (signatures of Ms. Herrera herself), oversized belts and pretty, red carpet-ready dresses. But he did it his way, adding texture via velvety polka-dots placed on floating tulle and playing with the proportion on sleeves. Gordon's florals were so blown out, they almost looked like ikat, and he gently replicated the shape of flowers with soft folding and draping techniques on everything from shorts to gowns. 
The Herrera woman is unabashedly feminine, and here, menswear stripes and plaids were balanced out by brightly-colored Mary Jane pumps from Manolo Blahnik. Oversized, black-and-white polka dot prints propped up in the middle section, refreshing the eye for the grand finale: Gordon's absolutely masterful pieces for evening, be they heavily beaded, short-sleeved gowns or bright-neon mini-dresses. 
All I could think of while watching these clothes come down the runway is: Wes Gordon is so damn talented. The house of Herrera is lucky to have him leading the brand into the future.
See every look from Carolina Herrera Spring 2020 below: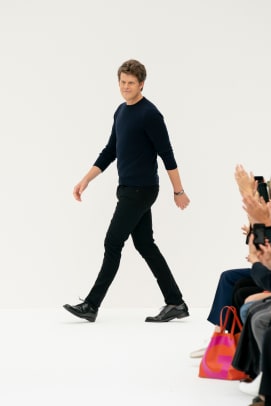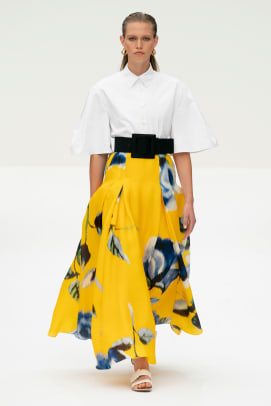 Never miss the latest fashion industry news. Sign up for the Fashionista daily newsletter.