Hedi Slimane Mines the '70s for His Celine Spring 2020 Collection
There were more than a few passing similarities to the season's Saint Laurent show.
On Tuesday, under the lights of the Eiffel Tower, Anthony Vaccarello presented a collection for Saint Laurent inspired by some of Yves's most iconic moments, from dressing muse Betty Catroux to his '76 Russian collection.
On Saturday, at Celine, Hedi Slimane did... just about the same thing? Perhaps there was something in the air in Paris over the summer, but there were more than a few passing resemblances between the two collections. Primarily, there were the same turban-wrapped lurex scarves, but there were also peasant blouse shapes and flowing, embellished prairie dresses. Slimane also went for fur coats and gold-embroidered jackets which hearkened back to the Ballet Russes collection; of course, Slimane notably clocked several seasons at Yves Saint Laurent, it's no surprise that the works of the late, great Yves are probably stored away inside his brain.
The primary difference here is that Slimane's take on '70s YSL is much more wearable for the average woman. (Well, the average woman under a size 10; Slimane isn't completely reinventing his wheel here.) The denim was more relaxed and paired with practical white sneakers, the pleated dresses at midi-lengths were office-ready for the powerful women paying luxury prices for Celine ready-to-wear and the sparkling jackets would work with just about everything in the customer's closet. There was even a sweatshirt! Floral embroidered denim Bermuda shorts! A basket bag!
Overall, it wasn't revolutionary, but it was deeply covetable. No doubt women will be flocking to these high-end pieces which nail that Parisian "je ne sais quoi" style.
See every look from the collection in the gallery below.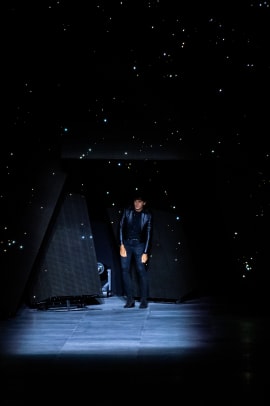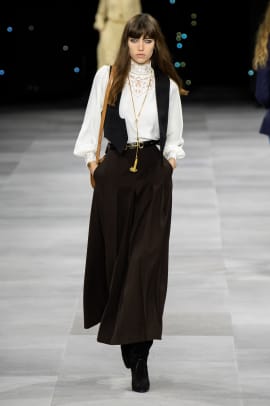 Stay current on the latest trends, news and people shaping the fashion industry. Sign up for our daily newsletter.