Coach's Signature 'Prairie' Aesthetic Flees to the City for Spring 2020
Stuart Vevers is exploring a new kind of Americana now.
Since Stuart Vevers debuted Coach's first-ever ready-to-wear collection at New York Fashion Week in February of 2014, the designer has been steadily building upon a signature "prairie" aesthetic for the then-ailing brand — a look that would eventually become one of the fashion industry's favorite trends nearly four years later, in 2018.
And while other brands and designers were picking up on what had become Vevers's signature style, he started to dial it down with a darker and more romantic Fall 2019 collection. By Spring 2020, which debuted on Tuesday night, Coach's muse has officially fled the countryside for the city streets.
Vevers, according to a recent interview with WWD on his sixth anniversary with the brand, is currently "really obsessed with the urgency of New York City itself." That inspiration was certainly felt on the runway, set outdoors on The High Line near the Coach headquarters. While previous show locations have been elaborately decorated with glitter or a spooky forest set, what better backdrop for Vevers's ode to the city than the city itself?
As for the clothes, models looked like they were plucked from an iconic New York film. A faint hint of Coach's Western-style dresses were still present, but instead of plaids and neutral hues, they were emblazoned with eye-catching graphic prints that could have been mined from the racks of a downtown thrift store. Outerwear — the brand's forte — included colorful leather trench coats and flight jackets. One particular look — comprised of a lace camisole and matching shorts, paired with a pink leather jacket and high-top sneakers — piqued my interest the most. It was the sartorial representation of on-the-go city dressing: late bodega runs, morning dog walks or, acceptably, just another night out.
Vevers collaborated with yet another artist for his new collection. This time, it's pop artist and illustrator Richard Bernstein, whose famous portraits graced the covers of Interview Magazine during the '70s and '80s. Now, they're placed front and center — starring Barbara Streisand, Michael J. Fox and Rob Lowe, to name a few — on tanks, crewneck sweatshirts and handbags.
While the clothes ushered in a new era for Coach — and, perhaps, its parent company, with its recent CEO turnover — the accessories seemed to have taken a step back this season. Vevers looked to the heritage brand's archives to revive a number of vintage styles into new offerings, which are available to shop now. Of course, this isn't a bad thing — 70% of Coach's core business is accessories — but it's clear that Vevers has hit his stride after building the brand's ready-to-wear identity over the years. Now he can finally let loose a little.
See every look from the collection in the gallery below.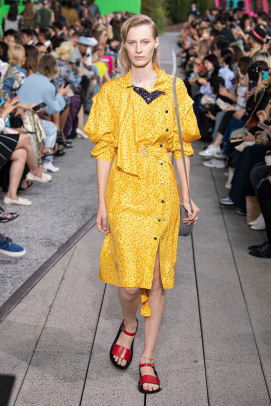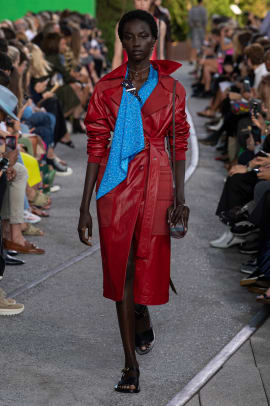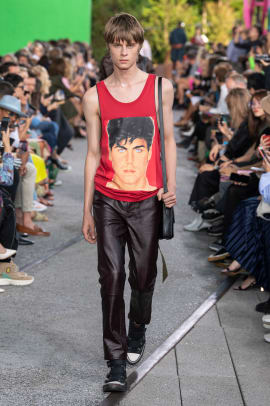 Sign up for our daily newsletter and get the latest industry news in your inbox every day.