At Comme Des Garçons Spring 2020, Royalty Comes Undone
Apparently, Rei Kawakubo heard a recession is coming.
For months, economists have been predicting the arrival of another recession as soon as next year. And as the rich get richer, especially in the United States, more attention is being paid to the uber-wealthy, with people questioning whether it's ethical for anyone to be a multi-billionaire.
It's hard not to see shades of this question in Rei Kawakubo's vision for Comme des Garçons Spring 2020, a collection packed with mismatched, patchworked brocades layered over exaggerated 17th-century shapes. Models emerged from backstage with hair coming undone from elaborate updos, stained red. There were misshapen lumps in the calves of leggings – maybe mimicking gout? – and at the front of dresses. The clothes all appeared worn, fraying at edges or patched up with mismatched fabrics, giant holes in the knees of Bermuda shorts and jackets that were missing sleeves.
All the shapes seemed wrong, giving the appearance of clothes tossed on in a hurry; socks pooled at the ankles, missing the garters to keep them held at the knee.
It's hard to ever truly know what Kawakubo was thinking while designing each collection, but this felt like the bourgeoisie and the elite gathering the last of their great belongings and escaping with their lives, armored chest plates on some and protective coats on others.
A series of looks at the end, all in black, carried a feeling of mourning, the lights dimming slightly as each walked down the runway. Whether it was a commentary on the end of the 1% or not, it was another strong statement from Comme des Garçons.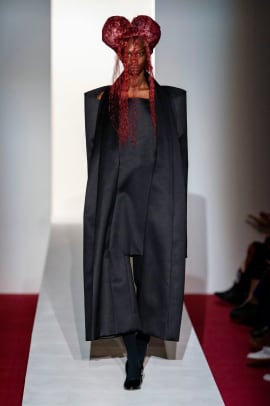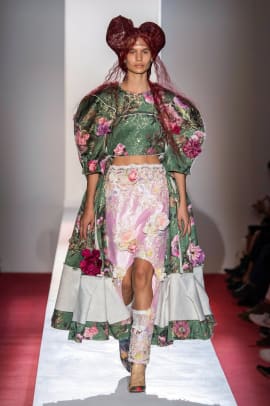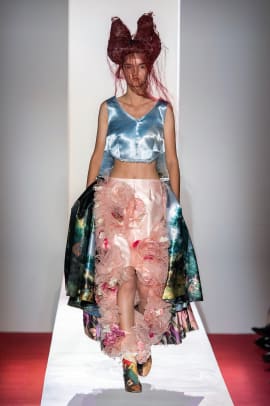 Never miss the latest fashion industry news. Sign up for the Fashionista daily newsletter.