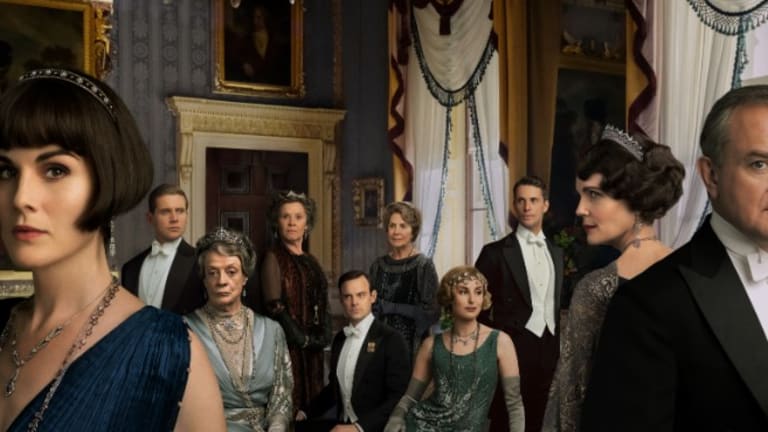 The 'Downton Abbey' Movie Costumes Include Mary's Custom Gowns, Edith's Perfect Vintage and Violet's 16.5 Carat Tiara
"It was the tiara show," says costume designer Anna Robbins, who received two Emmy nominations for her work on the TV series.
Along with anticipating the drama, hijinks and witty, if not salty, repartee of the grand Crawley family and the beloved downstairs staff, ardent fans of "Downton Abbey" are surely excited for the return of glorious period costumes from the much-missed TV series.
Six seasons of the small-screen show left a legacy of memorable style moments emblematic of the early 20th century: a young progressive Lady Sybil (Jessica Brown Findlay) debuting trousers at the tail end of the Edwardian years, Lady Edith (Laura Carmichael) pioneering chic office-wear as a London magazine editor and the trend-setting Lady Mary (Michelle Dockery) chopping her long waves into a Roaring '20s bob to match her higher hemlines.
For the much-anticipated big-screen return, the Downton household is essentially prepping for a weekend visit by far-removed relatives. But, in this case, said relations are King George V and Queen Mary of the United Kingdom (and the British Dominions and Emperor and Empress of India, if we must do the full titles). In other words, the already illustrious family has an even more elevated class of guests to impress.
As Dockery told Vanity Fair in July, the occasion involves "more diamonds and fancier food" and appropriately regal wardrobes to match, courtesy of Anna Robbins. The two-time Emmy nominated costume designer, who came on board for the penultimate and final seasons of the series, happily reunited with Downton and the characters she helped develop. (Susannah Buxton, Rosalind Ebutt and Caroline McCall designed the previous seasons.) 
"It was like coming home," Robbins says, over the phone from London. She and the actors jumped right back into fittings and roles, as if three years hadn't passed at all. "I know the characters inside and out. It's in my bones now, so that process is quite easy. You get to then just collaborate with them and really explore and finesse what it is you want to do." 
So, for Lady Mary, who's now running the estate with brother-in-law Tom Branson (Allen Leech, last in '80s period gear in "Bohemian Rhapsody"), that meant an "extension" of her rustic professional aesthetic last seen on the series. "She is a career woman, but she's working in a man's world," explains Robbins, pointing to Mary's double-breasted tweed vest and skirt set, striped shirt and jaunty ribbon tie (above) worn to breakfast when she hears of the Royal Visit ("what?"). "I wanted to open the film with her in that, so you still recognize that she is working in that capacity."
Mary takes a hiatus from her Downton responsibilities to organize the impending festivities, which entails a wardrobe adjustment, but maintaining that "essence," for a packed schedule of fancy meals, a village parade and, of course, a fabulous ball. For tea with Princess Mary (Kate Phillips), she wears a ruffle tie and drop waist navy dress, which is one of Robbins's favorites.
"[Mary is] representing representing Downton Abbey and the dress has this beautiful print of little churches, hedgerows, trees and fields," the costume designer explains. "It comes from an original '20s dress that I found and the print — it's the estate. It's Downton Abbey."
To remake a new dress to fit Lady Mary's style, Robbins — who's been sharing excellent costume behind-the-scenes on her Instagram — deconstructed the vintage piece, rebuilt the bodice and replicated the delicate print on more fabric. "That's really a key look that is everything I love about Mary's style," she says. "It's striking and feminine without being too pretty or fussy and, at the same time, it embodies the estate that she works so hard for."
Of course, Lady Mary stans live for her glamorous gown moments, as does Robbins. "I would have loved it there were 10 evening scenes, but actually there was only a handful. So I wanted to really make a mark on each character with their evening-wear," she says. For the royal luncheon at Downton, Robbins custom-designed her own couture version of a Prussian blue Fortuny Delphos gown (above) for Mary.
She worked with the Italian textile house on the final season of the series, so she learned the famed (and "top secret") fine-pleating technique created by Henriette Negrin and her husband Mariano Fortuny y Madrazo in 1907. "It's so of the moment," Robbins says of the signature style gown, which was produced until the '50s. "The pleating and the fabric is just luminous."
For the finale ball-gown, Robbins kept Mary's dance scenes — with handsome husband Henry Talbot (Matthew Goode, also dreamy as Tony Armstrong-Jones in "The Crown") — in mind when she customized a vintage silver beaded and black gown (below). "I wanted it to be something that had a bit more weight and easy movement to be more fluid on the dance floor," she explains. "I found the beaded dress, which was very graphic and striking monochromatic and just perfect for her, but I changed the neckline."
Related Articles:
The Most Iconic Costumes From 'Downton Abbey' Are On Exhibit (And Coming Soon to a City Near You)
A Look Back at Six Seasons of Amazing 'Downton Abbey' Costumes
The 'Downton Abbey' Series Finale Was Doubly Fashion-Packed
To make the gown floor-length, Robbins hired a beader to continue the intricate pattern and added loosely tied long ribbon "tabs" to drape and flow at the back. "Just adding drama and it's just beautiful when she's waltzing around the dance-floor — costumes for different ends and had to satisfy different settings, so the colors worked accordingly," adds Robbins, who mostly custom-designed for Mary, while sourcing exquisite authentic '20s vintage for Lady Edith.
"I tended to find original pieces that would usually fit Laura Carmichael like a dream," she says. Now married to Bertie Pelham (Henry Hadden-Paton, in another "The Crown" crossover) — or Lord Hexham, excuse me — Edith outranks her family in title as Marchioness. "The thing about Edith is that she's always complicated and she blossomed in series six. Her fashion blossoms as much as her personal life. I wanted to take that on into the film, because she's found herself," adds Robbins. 
However, Edith's office days are behind her and she's living on a palatial estate in the countryside. "So that working wardrobe that I developed for her, alongside Lady Mary's, didn't exist in the same way."
Edith's first appearance is quintessential Edith — referencing back to her confident tractor commandeering skills in season two — as she drives her convertible toward Downton, wind blowing through her hair topped with a chic hat matching a teal cashmere coat. At Downton — and discussing a ball gown "buying spree" over the phone, like a boss — Edith stuns in an orange velvet, floral printed and asymmetrical midi-dress. 
Her divine vintage coat collection also includes a terracotta-hued silk grosgrain coat with inlaid embroidered patterns (above), which Robbins layered over a "chiffon cream" silk blouse with delicate navy wool embroidery at the neckline. (The skirt, hat and shoes were built to match.) "I always just tried to make sure there was a real beautiful craft within the textiles that she wears. There's quite often embroidery, beautiful prints stenciled velvet or really interesting pussy bow by her neck," says Robbins. "There's always something with real flair. I still looked to do that."
Of course, the younger Crawleys inherited their impeccable sense of style from their mother Cora (Elizabeth McGovern). In the movie, the Countess of Grantham charms in exquisitely detailed and gorgeously draped gowns, like one of Robbins's favorites worn to the royal ball. 
"It started off as a length of turquoise silk with silver leaf lamé," Robbins says, about the fabric she originally bought for Edith. "So my amazing dyer, Ryan Kearney, stripped the color out and dyed it this very, very Cora mauve." She then created the "tabard dress" with diamanté-embellishment, sheer cape-like sleeves, an ethereal train, plus cartridge-pleated and original silver lamé low-slung at the hip. 
The gold and silver-detailed black blouse (below) that Cora wears for the King and Queen's visit is another work of Robbins's costume genius. "I found this silk tulle scarf with the most amazing deco embroidery in metallic thread and normal silk thread," Robbins says. "The colors are gorgeous. She wears very intricate blouses, so I turned this scarf [into a top]."
Royal etiquette fun fact: Tradition dictates that only married women are allowed to wear tiaras — which meant copious amounts of bejeweled headwear were required for the movie. "It was the tiara show," laughs Robbins. "I had to cast my net a lot wider because I needed so many of them." 
But she wanted to stay authentic to real and "recognizable" royal jewels for Queen Mary. "It couldn't be something that was generic. It had to feel like you've seen it. You've seen our Queen Elizabeth II wearing it," explains Robbins. So she had her model maker create exact replicas of the famed Cambridge Emeralds: the crown, necklace, brooch, earrings and bracelet worn by Queen Mary (Geraldine James). "The jewelry is rooted in reality for the characters that are real," she adds.
Speaking of real, heritage jewelers Bentley & Skinner loaned the production a trio of precious headpieces for the ball. "Violet [Maggie Smith], Edith and Cora are in tiaras worth an eye-watering sum of money," laughs Robbins. The Dowager Countess's Victorian-era crown totals 16.5 carats of brilliant-cut diamonds, while Cora's Edwardian headpiece is comprised of a more modest eight carats.
"Real diamonds twinkling around the dance-floor set the standard quite high. The rest of the tiaras couldn't feel like you were looking at an imitation when you had the real thing there," adds Robbins. Although, my personal favorite is faux: Edith's stunning starburst circlet worn mid-forehead, like a really expensive flower crown, to the luncheon.
The downstairs staff, now led by Mrs. Hughes (Phyllis Logan) and a promoted Thomas Barrow (Robert James Collier) — well, until Carson (Jim Carter) is summoned back by his favorite, Lady Mary — step up their wardrobe, too. The adorably bumbling Molesly (Kevin Doyle) temporarily returns from teaching and, along with Andy (Michael Fox), enjoys the privilege of wearing uniforms of their royal counterparts (above).
"Really upping the ante and making sure they could stand shoulder-to-shoulder with the royal footmen," says Robbins. "That was really great fun to look at all the estate livery from the grand houses of England and the silver lacing and frogging up the front and on the velvet waistcoats. Then we put them into white breeches, white stockings and patent pumps and they really do look so grand. Downton's done itself proud."
Although some things never change, both on-screen and behind-the-scenes. "Leslie [Nicol], Mrs. Patmore, has had the same cap for six years," Robbins laughs. "I offered to make her a new one, and she said, 'No no, this is my cap. I need my cap.' So there are certain things that are favorites and that's the way it should be."
Top photo: Courtesy of Focus Features
Never miss the latest fashion industry news. Sign up for the Fashionista daily newsletter.