Silvia Venturini Fendi Makes Her Ready-to-Wear Debut at Fendi for Spring 2020
The creative director expanded her duties to include women's wear upon the death of Karl Lagerfeld in February.
The presence of Karl Lagerfeld, who passed in February, was deeply felt at Fendi's Fall 2019 runway show; the sad news arrived at the very beginning of Milan Fashion Week and the legendary designer held a longtime role with the Italian fashion house, totaling 54 years. By his side for decades, however, was Silvia Venturini Fendi, who naturally expanded her duties (originally creative directing accessories and menswear) to women's wear upon Lagerfeld's death. The transition was decidedly so seamless that there was barely any formal announcement.
On Thursday, with Fendi's ready-to-wear runway debut for Spring 2020, she might have used the moment to really make a statement — and start something entirely new. But Lagerfeld's impact is so embedded within the codes of the house, it will likely take some time until we really see how Fendi can evolve her family business. (One noticeable difference was the beauty for the show, as models wore unkempt messy buns and ponytails and sloppy-chic glitter eye makeup, a stark contrast to previous sleek hairstyles and classic makeup.)
Inspired by camping, the outdoors and late '60s films "The Anniversary" starring Bette Davis and "Carry on Camping," Fendi applied her own high-fashion twist to gorpcore: sequined dresses, sheer tops and colorful fur coats in gingham; dark khaki utilitarian-style garments; and quilted coats, skirts and jackets in pretty pastels. Bright, punchy vintage florals were magnified on a number of looks, adding to the groovy, retro vibe that's been trending on the runways as of late. Fendi is responsible for the famous "Baguette" bag, launched in 1997, and while the nostalgic style has experienced a resurgence recently, a slew of new accessories will likely take its place this spring. Some favorites of ours include the oversize frames and matching chains (adorned with a double-F logo), printed tights and wide-brim caps, roomy totes and — yes, they're still alive and kicking — mini bags.
See every look from the collection in the gallery below.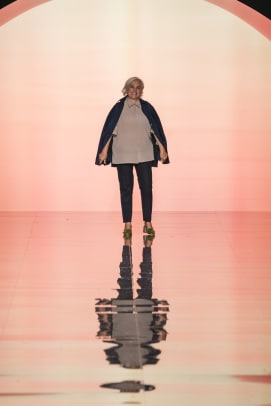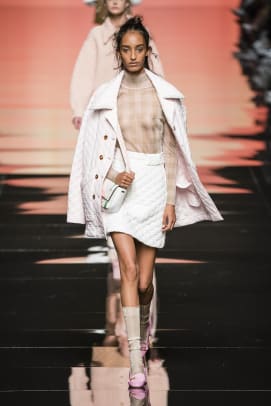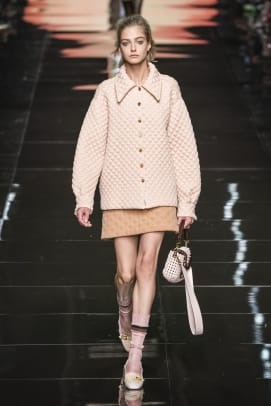 Sign up for our daily newsletter and get the latest industry news in your inbox every day.