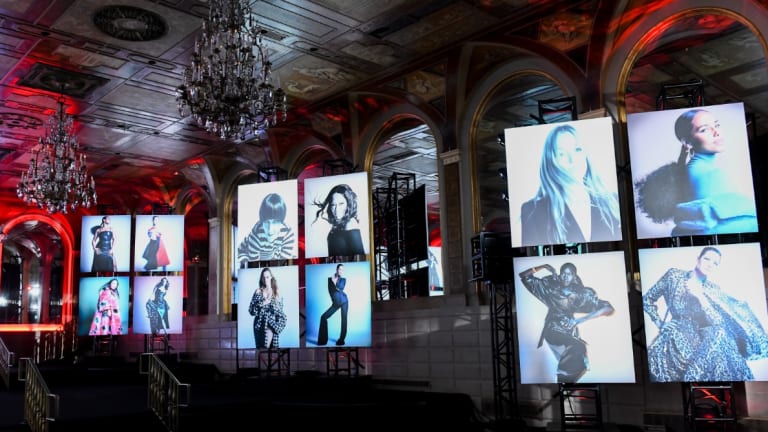 Catching Up With Fashion's Biggest Rule Breakers at the 'Harper's Bazaar' Icons Party
No shoes were thrown this year, but there were some fashion rebels in the crowd, from Zendaya to Lauren Hutton.
Nary a single designer heel flew through the air at Friday night's Harper's Bazaar Icons party at The Plaza. But the star-studded Fashion Week kick-off gala was all about celebrating rule breakers, nonetheless. 
This year, the Carine Roitfeld-curated issue and annual blowout party showcases 10 establishment-bucking and ground-breaking covers stars across industries: Christy Turlington, Regina King, Awkwafina, Shailene Woodley, Lakeith Stanfield, Céline Dion, Kate Moss, Alek Wek, Devon Aoki and Alicia Keys, who gave a powerhouse performance later in the evening.
Earlier announced guest Cardi B was a no show (and PR said that last year's sparring partner Nicki Minaj was also invited, but had another commitment). But, the diverse guest list included cover stars Turlington and Woodley, Zendaya, her "Euphoria" co-star Sydney Sweeney, Aquaria, Janelle Monae, Ashley Graham, Slick Woods, Dapper Dan, Christian Siriano, Saweetie and Quavo (who enjoyed a canoodle-y moment for the paparazzi and gawking guests upstairs), Heron Preston at the DJ booth and Lauren Hutton. 
"Just thinking I could be a model was breaking a pretty big rule because I was 22 when I started. That's when girls were stopping back then. This was 1964 or '65," the fashion and cinema legend told Fashionista, as she entered the party. "I had a funny nose, a space between my teeth and slight cross eyes. Everything was wrong." 
"I was unskilled labor and I hadn't finished school and I needed to see the world. That was my most important thing because I was a little southern girl, that was all I knew," continued Hutton, who recently walked the Valentino couture runway in Paris (and once received an assist from Gigi Hadid on the Bottega Veneta catwalk at Milan Fashion Week). "So I found out who was making the most money — and I made myself much taller." 
Also breaking boundaries in the slow-to-change fashion industry currently: body-positivity activist, model and author Tess Holliday, who's at New York Fashion Week to attend Rebecca Minkoff's presentation and walk the Chromat 10th anniversary show. "Literally by existing," she said, about her biggest rule-breaking achievement. "The fact that I'm able to be plus size, fat, whatever you want to call it, and I get to work in the fashion industry and be in high fashion events — like in the room where typically people my size wouldn't be able to go to is incredible — so yeah, by existing."
After her NYFW commitments, Holiday will fly to London, for soon-to-be confirmed "stuff with the British Fashion Council." But, she won't be continuing to the final two weeks, where progress has been even slower when it comes to size-inclusivity on the runway — and in the stores. 
"Everyone always asks me if I'm doing Milan or Paris. I'm like, 'They don't really include plus size yet.' I work a lot more in London than I do in America. I feel like London and America at least kind of get it, but the other two… they don't really get it yet," Holiday says. "But that comes with the designers that are in both places. They don't really design for plus size yet but we'll get there eventually. I'll make it happen."

Upstairs on the landing, where last year's infamous shoe incident occurred, guests star-gazed, schmoozed and sipped champagne out of oversize coupes — which were not conducive to fighting one's way through the well-heeled crowd without spillage, btw. Oscar de la Renta co-creative directors and Monse co-founders Fernando Garcia and Laura Kim shared their biggest fashion career rule-breaking moments, which led to their success in the industry.
Related Articles:
The Annual 'Harper's Bazaar' Icons Party Featured Cardi B Throwing a Shoe at Nicki Minaj and a Christina Aguilera Concert
We Partied With Kim Kardashian, Jared Leto and All the Victoria's Secret Models at 'Harper's Bazaar' Icons
How Model and Activist Tess Holliday Keeps on Fighting Fashion Industry Standards
"I always spoke my mind since I was an assistant for Oscar," said Garcia. "I was told by the very few people outside of the industry to watch my mouth because I was always very outspoken and Oscar encouraged me to say what I thought." But now that he and Kim are in charge, would he give the same advice to his underlings?

"We applaud people that have the courage to speak their mind, but sure. There is a time and a place for everything, don't get me wrong," he added. "But it takes guts to be able to say what you think."
Inside the ballroom before Keys took take the stage, we found civil rights activist, author and "Pod Save the People" podcast host DeRay Mckesson, hanging with Ricky from "Pose," Dyllón Burnside. Mckesson regularly wears his advocacy for change via his signature Patagonia vest. He's been steadfastly sporting the blue down layer, which spawned its own Twitter account, since it kept him warm during the 2014 Ferguson protests following the police killing of Michael Brown.
"You can wear your values. That's what I think about Pride and the rainbows," Mckesson said. "There is a part of it that's a commercialization of identity. The other part is: When I was a kid growing up, I wish that I had seen black men in rainbow t-shirts, you know? I wish I had some marker that people cared about me and I didn't have that."
The NYFW veteran will also be on hand this week to show support for two designers he respects for their activism: Prabal Gurung and friend Kerby Jean-Raymond's Pyer Moss show at the historic King's Theater in Brooklyn. "They're two designers who use their platforms not only to diversify the runway — and just diversify the way they think about clothing — but also to highlight messages," said Mckesson. 
"We are living in a wild time and to ignore that means that you just live in a different world," he continued. "So the brands that pay attention to that, and responsibly enter the conversation, will always be my favorites."
Click through the gallery below for more scenes, on the red carpet and inside the party, at the 2019 Harper's Bazaar Icons by Carine Roitfeld event.
Top photo: Joe Schildhorn/BFA.com/Courtesy of Harper's Bazaar
Never miss the latest fashion industry news. Sign up for the Fashionista daily newsletter.