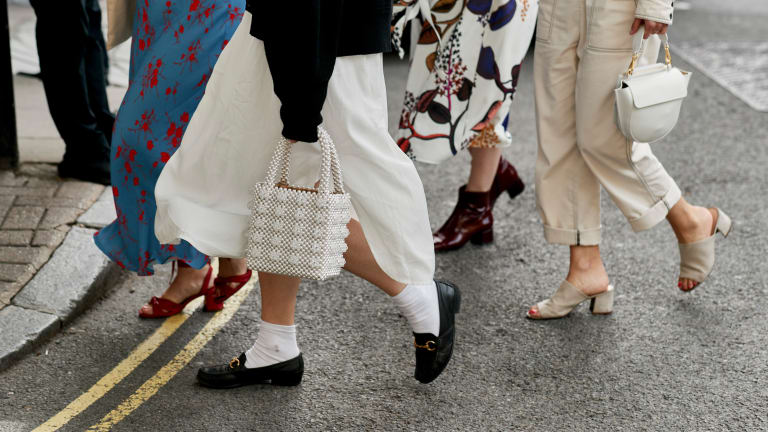 Every New York Fashion Week Event That's Open to the Public
All are welcome.
Well, folks, it's that time of year again: A mass of models, stylists, influencers, creatives, editors and other general multi-hyphenates are getting ready to touch down in the Big Apple for New York Fashion Week. And while they're busy meticulously planning their front-row outfits, we thought we'd treat you to a list of fashion- and beauty-focused events that are open to the public. From interactive panels led by top designers to gatherings focused on embracing sustainability in the industry, these events are destined to fulfill any spring collection cravings. Read on for all the details.
11 Howard Designer Revival
Thursday, Sept. 5, 10 a.m.-6 p.m.
11 Howard St. 
Shop a high-end consignment boutique that specializes in selling new and pre-owned designer, vintage and contemporary clothing and accessories inside 11 Howard's library.
Magnum x Saks Fifth Avenue Dipping Bar 

Thursday, Sept. 5 to Tuesday, Sept. 17
Saks Fifth Avenue, 611 Fifth Ave., 5th floor
Head to the Saks Fifth Avenue flagship store for a cool treat from Magnum. The store will have a make-your-own custom ice cream bar station on the fifth floor, where customers can create indulgent Magnum bars in Belgian milk, dark or white chocolate, with a selection of toppings such as unicorn gems, mermaid pearls, salted caramel crisp pearls and gold glitter confetti. 
The House of Flamin' Haute Style Bar 
Friday, Sept. 6 to Saturday, Sept. 7
135 W. 18th St. 
Cheetos fans in NYC can make an appointment to get a one-of-a-kind Cheetos look at The House of Flamin' Haute Style Bar. Services include a sparkly claw manicure, a wild cheetah cat eye and dangerously cheesy brows. Make your reservation to look like the orange-dusted snack here.
Wolf Circus Pop-Up
Friday, Sept. 6 to Sunday, Sept. 15
171 Elizabeth St. 
Canada-based jewelry line Wolf Circus is setting up shop on Elizabeth Street for a little over a week. The pop-up store will open on Friday, Sept. 6 from 12-6 p.m., followed by a party from 7-10 p.m to celebrate the brand's first-ever retail experience. Shoppers can also browse its covetable gold chains and pearls over the weekend from 11 a.m.-7 p.m., and then again on Wednesday, Sept. 11 through to Saturday, Sept. 14 from 11 a.m.-7 p.m. On Sunday, Sept. 15, the store will be open from 12-6 p.m. The temporary space will also host a DIY necklace workshop with Rachel Saunders Ceramics on Thursday, Sept. 12 from 7-10 p.m. 
BG Radar
Saturday, Sept. 7, 1-4 p.m.
Bergdorf Goodman, Fifth Ave. at 58th St., 6th floor
Bergdorf Goodman has chosen eight emerging designers to come together to celebrate NYFW with an activation that includes a designer meet-and-greet, custom installations, passed refreshments and a live DJ experience. The designers featured include: Bernadette, Bode, Coperni, Deveaux New York, Khaite, LouLou Studio, Rotate Birger Christensen and Sies Marjan. 
Coach Interactive Pop-Up Shop 
Saturday, Sept. 7 to Sunday, Sept. 15
Coach, 595 Madison Ave.
Coach is launching a experiential pop-up shop at its Madison Avenue store that will sell vintage and new archive-inspired styles. Created in collaboration with Sarah Andelman, founder of creative agency Just An Idea and founder and former creative director of Colette, the pop-up invites visitors inside an experiential exhibition featuring Coach's iconic bags throughout the decades. As part of the experience, visitors will also be able to try new and existing services that are unique to the house. These include Coach Rented, where for the first time ever clients will be able to rent an authentic Coach vintage bag that has been lovingly restored, and Coach Create, an always-on personalization experience, which enables clients to customize bags, and Coach Cares, where they can have Coach bags cleaned and restored on-site. 
Kate Spade New York Elizabeth Street Garden Party
Saturday, Sept. 7, 1-3 p.m.
Elizabeth Street Garden
After its Spring 2020 show, Kate Spade New York is inviting the public to Elizabeth Street Garden to enjoy Van Leeuwen ice cream and fresh lemonade. The brand will also be handing out hundreds of small plants for guests to take home. Guests are also welcome to make donations to help preserve the garden.
Swamp Mami: A Pop-Up Shop by Elle Barbeito
Saturday, Sept. 7, 6 p.m.-12 a.m.
The lobby at Ace Hotel, 20 W. 29th St. 
Elle Barbeito is hosting a pop-up shop showcasing the python skin and leather designs in her new collection in the lobby of the Ace Hotel. The pop-up shop will kickoff with a celebration featuring tunes by Mickey Perez and Raiden. 
Target 20th Anniversary of Designer Collaborations Pop-Up Experience  
Saturday, Sept. 7, 10 a.m.-7 p.m. 
The Park Avenue Armory, 643 Park Ave.
In celebration of Target's 20th anniversary of designer collaborations and the upcoming launch of its limited-edition Anniversary Collection, the retailer will takeover the Park Avenue Armory and offer the public a chance to experience the retailer's past, present and future. The immersive visual journey will bring Target's vision of Design for All to life, and will include a pop-up shop, where guests will have the chance to be among the first to shop the collection before its official launch on Sept. 14.
Telfar Spring 2019 Budweiser Collection Pop-Up Sale 

Saturday, Sept. 7, 10 a.m.-6 p.m. 
38 St. Marks Pl. 
A day after its Spring 2020 runway show, Telfar will host a one-day pop-up shop in the East Village, where it will offer up to 70% off of its Spring 2019 Budweiser collection. 
WWD Style Dimension 
Saturday, Sept. 7 to Sunday, Sept. 8, 11 a.m.-5 p.m.
WeWork Now, 902 Broadway 
WWD editors will give attendees a behind-the-scenes look into the minds of the most well-respected names in fashion through a series of discussions with designers, influencers and stylists. Esteemed fashion guests will include: Karolina Kurkova, Camila Coelho, Tanya Taylor, Chriselle Lim, Kate Bock and more. RSVP here. 
F-it!: Fitness x Fashion x Food

Monday, Sept. 9, 8-9 a.m. 
Moxy Chelsea, 105 W. 28th St. 

Anna Kaiser, the founder of AKT, is hosting a morning panel featuring Tricia Williams, founder and CEO of Food Matters NYC, and Sarah Easily, founder and CEO of MaisonMarché, to discuss the relationship between fitness, food and fashion. Following the discussion, AKT trainer Kate Baldasare will lead an hour-long dance class. 
Primary Wellness Lounge 

Monday, Sept. 9 to Friday, Sept. 13, 9 a.m.-6 p.m.
251 W. 30th St. 
Primary, a co-working and shared office space, is opening a week-long wellness lounge, which will feature showers, personalized IV infusions, guided meditations and assisted deep stretching. The space will also be stocked with vegan snacks and responsibly caffeinated plant-based beverages. 
Private Policy Photo Exhibition and Pop-Up

Monday, Sept. 9 to Tuesday, Sept. 10, 10 a.m.-7 p.m.
345 Broome St. 
New York-based genderless streetwear label Private Policy is collaborating with photographer Shxpir Huang on a visual photography exhibition. The exhibition, titled "Family Dinner," consists of family portraits taken by Huang with subjects all wearing Private Policy's Spring 2020 collection. The images are inspired by the tradition of an Asian-American family dinner, where the dinner table represents a place for the minds of the young and old to come together. In addition to the artistic presentation, Private Policy will open its first pop-up shop, where it will debut exclusive products. 
Wooster Street and MOTHER Mystical Pop-Up Shop
Monday, Sept. 9 to Sunday, Sept. 15, 10 a.m.-7 p.m.
150 Wooster St.
To celebrate the launch of its Mystical collection, denim brand Mother is opening a pop-up shop that will feature a curated selection of one-of-a-kind finds from around the world, including handmade blankets, vintage pieces and crystals. The temporary shop will also hold tarot card readings, astrology readings and intuitive coffee readings throughout the week. 
Future of Sustainable Fashion Panel
Tuesday, Sept. 10, 6:45 p.m.-9 p.m.
Prime Produce, 424 W. 54th St.  
Be Social Change, the largest social impact community in New York City, is hosting a panel and networking event on fashion sustainability. Panelists will discuss everyday practices to support sustainable fashion and career opportunities in innovative fashion. Attendees will be treated to healthy snacks and drinks. Purchase your tickets here. 
Moxy's Fashion Week Oasis at Moxy Chelsea
Thursday, Sept. 12, 5-8 p.m. 
Moxy Chelsea, 105 W. 28th St. 
Moxy Chelsea has partnered with Sundays and Quick Cryo to offer free manicures, an oxygen bar, guided mediation and a self-love poem workshop. 
Zero Waste Daniel Presents Sustainable Fashion Is Hilarious 

Thursday, Sept. 12, 8-11 p.m. 
Ace Hotel, 20 W. 29th St. 
New York-based designer and zero-waste pioneer, Zero Waste Daniel is hosting a one-man comedy show and gallery exhibition entitled "Sustainable Fashion is Hilarious." In lieu of a traditional runway presentation, Daniel will lead visitors through his step-by-step journey leveraging Sanitation's retired attire, materials and hard-to-recycle industrial items once considered trash, transforming them in an artfully crafted, collection of streetwear and accessories. Purchase your tickets here. 
Uniqlo Interactive NYFW Exhibition 

Thursday, Sept. 12- Friday, Sept. 13, 10 a.m.-9 p.m. 
Uniqlo, 666 Fifth Ave., 3rd floor 

To celebrate the debut of its LifeWear magazine and the brand's Fall 2019 collections, Uniqlo is hosting an immersive experience on the third floor of its Fifth Avenue store. The floor will become the LifeWear lounge, which will mimic the imagery found in the pages of the magazine's first issue and will allows guests to relax and flip through the 120-page issue.  
Cloud 19 Pop-Up and Giveaway With Kate Connick Clothing
Friday, Sept. 13, 3-5 p.m. 
The lobby at Dream Downtown, 355 W. 16th St. 
NYC-based Kate Connick Clothing Brand is hosting a pop-up shop in the lobby at the Dream Downtown. Visitors who post from the pop-up using the hashtag #CLOUD19 and tag Dream Downtown and Kate Connick will be entered to win a Cloud Billie Hoodie from Connick's line, a gift card to Benjamin Salon (located in the hotel), a gift card to Philippe Downtown restaurant and an invite to a VIP party that night with Connick at The Electric Room. 
Homepage photo: Imaxtree 
Want the latest fashion industry news first? Sign up for our daily newsletter.