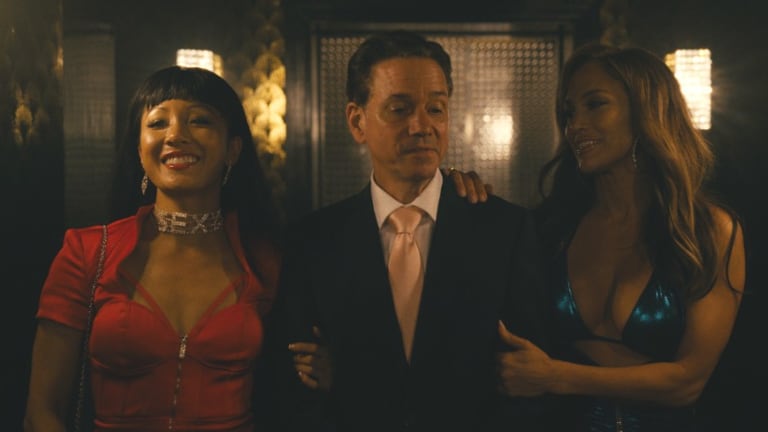 The 'Hustlers' Costumes Pay Homage to 2000s-Era Britney Spears, Paris Hilton and, of Course, J. Lo
"We actually had to sew Jennifer into it," says costume designer Mitchell Travers of J. Lo's silver fringed bodysuit.
My jaw was resting comfortably on the screening room floor during Jennifer Lopez's mind-blowing, and much-discussed, intro pole dance sequence as stripper-scam ringleader Ramona in "Hustlers." (Like, this guy's face = me.) 
The star's intense training, which consisted of  thrice-a-week workouts with a former "Cirque de Soleil" acrobat for two and a half months, definitely shows. Plus, I know it was Lopez the entire time — not just because she's a proven triple-threat, but also because her strappy, fringe-y and cut-in-all-the-right-places and bodysuit leaves zero doubt who's wearing it. And that's the point.
While prepping for the inspired-by-a true-story movie, costume designer Mitchell Travers enjoyed the ultimate privilege of visiting the Lopez's home, where the dedicated superstar had installed a practice pole. "I was just so inspired by her strength and her athleticism that I was like, 'We need to make sure everyone knows this is Jennifer. There is no double here, Jennifer is doing this fully,'" he says, on a call. "Obviously, that leads you to less and less clothing."
After looking at "a million" bodysuit options, Travers realized that a custom-designed look was in order to showcase Lopez's commitment to her role, establish Ramona's confidence and charisma and entice the viewers into the movie's story, based on a New York Magazine article by Jessica Pressler.
"I wanted the audience to be like, 'That is going to fall off. That is going to fall off,'" he adds, while crediting his tailor Annette Lovece for achieving an engineering feat of countless criss-crossed straps staying in-place — and on Lopez — for her physically demanding performance. Well, almost. "We actually had to sew Jennifer into it. Two of her strings burst on her first take and, of course, costume designer nightmare," says Travers. "We're all running with needles and thread to sew her into this costume."
Written and directed by Lorene Scafaria — and with producers and a crew of mostly women — "Hustlers," is, yes, about exotic dancers (or former ones) who scam Wall Street bros in an MDMA-"sprinkled" Robin Hood-esque scenario. But the movie never comes across as exploitative or gratuitous — and the same goes for the costumes. Ramona giving lap dances in a tiny triangle bikini top or Diamond (Cardi B) arguing with a club manager in rhinestone-encrusted pasties and a pink corset doesn't feel icky or male gaze-y, but rather practical and intentional for the characters and story. 
Related Articles:
God Bless the Hustlers Press Tour For Putting Jennifer Lopez and Cardi B on the Red Carpet Together
Emma Thompson's Chic Pantsuits in 'Late Night' Pay Tribute to Talk Show Legends Joan Rivers and Ellen DeGeneres
Kristen Stewart and Laura Dern Wear Early-2000s Costume National and Jean Paul Gaultier in 'J.T. Leroy'
"I studied a lot of how dancers work in a club," explains Travers. "It's all about the seduction. It's not about the reveal. The reveal is almost not as good as the buildup, so I tried to translate that into the language of the clothes. They pull you in and they invite you into the world, in the same way they're trying to get you into the Champagne Room. The whole sequence is a lap dance." 
The director gave her stamp of approval after stopping by the tail end of a four-hour fitting with Constance Wu, who plays Ramona's mentee and (at times) reluctant right-hand woman, Destiny. "'This feels real and authentic and this feels better than I've seen strippers done before,'" Travers recalls Scarafia saying. 
He also committed to making the wardrobe authentic to the timeframe covered in the movie: the excess of 2007 to the Great Recession of 2009 to the early teens, when the hustle peaked and imploded. Travers treated this project like a "period piece" to portray the not-so-far-gone (but yet so distant) era in the nascent days of Twitter and pre-Instagram — back when we consumed all our celeb gossip and street style from US Weekly and Perez Hilton.
"I turned to who I thought these girls would be looking at for style clues," he says, taking inspiration from Paris Hilton, Lindsay Lohan, Britney Spears, Tila Tequila and Tiffany "New York" Patterson of "Flavor of Love" fame. (Aside: The movie also includes the most perfect and time-accurate use of Spears's 2007 single "Gimme More" and Lorde's 2013 bop, "Royals.") 
Travers, who recently paid tribute to Joan Rivers and Ellen DeGeneres through Emma Thompson's pantsuits in "Late Night," also looked to Foxy Brown and Lil' Kim for Ramona's comprehensive fur journey — which includes a plush coat roomy enough to blanket herself and Destiny into during their first meeting. He sourced a mix of vintage and contemporary furs, which also stay true to fashion attitudes prior the faux movement of today. 
"It's all supported by the story and also gives Ramona this pimp-like quality, as we start to get this girl gang together," Travers explains.
As the second-in-command "predator," Destiny also exhibits a consistent animal print theme, including leopard print training hot pants and the too-shiny, puff-shoulder top by Bebe (both above). "Constance and I, we had this obsession with early Nicole Richie," says Travers. "She and I would send each pictures other back and forth because we treasured her. Nicole was doing things at this time that were fascinating." 
He also wanted to differentiate Destiny, who's not as comfortable with the swindle, from the confident and "effortless" Ramona. For instance, the former's oversize rhinestone choker spelling out "SEXY" (top) feels tacky for a reason. "She's trying to get that room in the palm of her hand [in the way that is] easy for Ramona to do," explains Travers. "We just looked for things that were signaling to the audience. We just wanted it to feel heavy and a little suffocating."
Travers also designated Destiny as the character who immerses herself in some of the most regrettable 2000s trends, like a one-shoulder crop-top over an exposed bra, low-riders tucked into over-the-knee boots and a low-slung belly chain. "I looked to some of the cringe-y trends that were happening at that time and really celebrated some of the bad taste of that era," laughs Travers. "No one was in as deep as Constance was with me." 
For wide-eyed recruit Annabelle (Lili Reinhart), Travers looked to a post-"Hannah Montana" and pre-"Bangerz" Miley Cyrus. "We created this backstory that she comes from a big family in the Midwest and ended up moving to New York to try and be a star and ended up in these clubs," he explains. Once Ramona's "fishing" racket takes off and the money rolls in, Annabelle, along with fellow newbie Mercedes (Keke Palmer), completes the crew's "brand" aesthetic in solid-hued, ultra-body-con dresses. (Cue the image of the ladies slo-mo walking into the bar.)
"I looked to Kimora Lee Simmons, who was one of the first women to brand herself," Travers explains "And it gave us the chance to do what I call 'the Hervé Leger parade.'" Along Christian Louboutin, Guess and Judith Leiber, the brand opened up its bandage dress archives to Mitchell, which came in handy for a requisite shopping montage.
Like of the founder of the recently relaunched Baby Phat, her real-life counterpart Samantha Barbash and the woman who plays her, Ramona harbors ambitions of launching her own fashion line: a swimwear brand aptly named Swimona. "The American Dream of 2007 was to have your own line of jeans," says Travers, pointing to House of Deréon, which Beyoncé and her mother launched in 2006. So, of course, the Swimona collection consists of denim for swim, including a one-piece that Mercedes wears to a pool party gone wrong.
"All my designs for Swimona celebrate a bad rhinestone logo," laughs Travers, the real design maestro behind the fictional swimwear line. "Everything is just a little too much." 
To chart the story arcs, he also "leaned into" what he refers to as "logo language" — infusing a fair amount of logomania emblematic of the era. In the leaner days, Destiny wears a rhinestone bedazzled Bebe baby T. In the flush times, the gang splurges on Loubie red-sole heels, multicolored Takashi Murakami Louis Vuitton bags — which were a "Holy Grail" to source — and loads of Gucci double Gs, including an oversize tote that Destiny gifts to Ramona ("so classy!"). 
When Destiny goes on hiatus in between, she's spotted forlornly shopping for groceries with a small Coach bag tucked under her arm. "Logos are just such signals that people send out to the world about who they are," Travers says.
Since the costumes include so many nods to style icons of the late aughts, did the designer pepper in any meta-references to Lopez herself? She has been regularly making headlines even before her Versace at the 2000 Grammys moment, and, in overlapping timelines, released an ode to the aforementioned red soles with her 2009 single "Louboutins." Sure, there are a couple Juicy velour tracksuit moments, and Destiny's jailhouse denim jumpsuit immediately brings Lopez's Frankie B. onesie, worn on the cover of her 2001 album "J. Lo," to mind. 
But the real tribute is a bit of an Easter Egg, which fortuitously happened after Travers struggled to find suitable pair of trousers for a character. "Then this pair of vintage pants from the early 2000s came in and they were [J.Lo By] Jennifer Lopez. We put them on and this woman looked amazing in them," says Travers, who declined to name the actress. ("I can't, because I don't want to embarrass Jennifer.")
"I can't make it up. I was like, 'Wow, she's really taking care of us,'" he continues. "This line Jennifer Lopez released 10 years ago just saved my ass in the fitting."
Top photo: Courtesy of STXfilms
Never miss the latest fashion industry news. Sign up for the Fashionista daily newsletter.