Kate Spade New York Recruited Some of Its Famous Friends for Spring 2020
The runway featured many a familiar face.
When you're having a bad time, as the song goes, you can get by with a little help from your friends. That seemed to be the tactic Kate Spade New York took for its runway show on Saturday morning; set in the sunny Elizabeth Street Garden, the Spring 2020 collection felt far removed from the current woes facing parent company Tapestry, Inc., which announced the ouster of CEO Victor Luis on Wednesday.
Amongst the models – including supers like Grace Elizabeth, Indira Scott and Karen Elson — were some of Kate Spade's favorite influencers. One-time campaign face Karley Sciortino, street style twins Molly and Reese Blutstein, writer and curator Kimberly Drew and actress Debi Mazar alongside her daughter Evelina all made appearances, to name just a few. It was a lovely touch that reflected the diverse spectrum of Kate Spade customers, which will surely help them envision themselves in the clothes.
Not that they need the help, though: These clothes are good. They're that "p" word which helps sell product — "practical" — but with elements of style to set them apart. Designer Nicola Glass shared in the show notes that she was inspired by a "city safari," reflected in the army greens and khakis of the collection, as well as the utilitarian design touches. One would expect trench coats here, and certainly they were in abundance, as were takes on the safari suit in leather, linen and lace. 
To break up the standard-issue basics were prints, which Glass does very well. Florals for spring are, of course, hardly groundbreaking, but here they're large-format and grounded in colors which aren't classically "pretty," like burnt oranges and '70s green. They'll fit in nicely alongside pieces from the brand's Fall 2019 collection in similar tones, and who doesn't love a bit of continuity in their closet? The crochet pieces are a bit more daring, there for the customer looking to set herself apart from the pack. 
The bread-and-butter for Kate Spade is accessories, and here, too, Glass builds on the language she's been steadily establishing since arriving in Spring 2019. Her signature Nicola turnlock bag is done up in leather and wicker; an oversized tote is covered in the spade motif she came up with for her first season. Looks were grounded by flat sandals with either wood or rubber soles. And many models carried floral arrangements or planters bursting with greenery, showing that even if things are gloomy outside, it's always sunny in the world of Kate Spade.
See every look from the collection in the gallery below.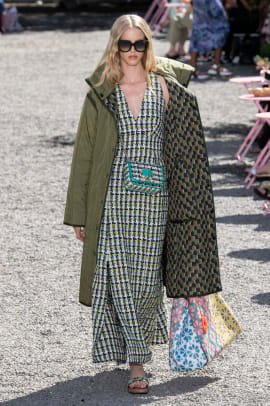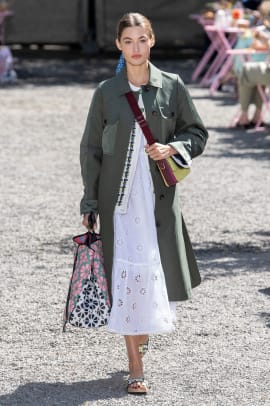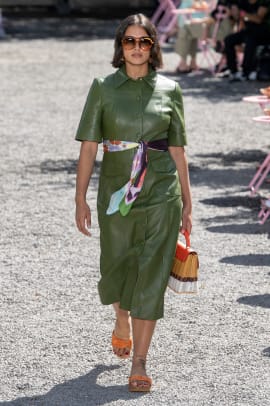 Sign up for our daily newsletter and get the latest industry news in your inbox every day.