Maison Margiela Goes to War for Spring 2020
John Galliano put his spin on army and navy wear.
We live in debatably very scary times, between global politics and climate change, and it seems even the fantastical world of fashion isn't impervious to the general ambiance of dread this season. Many designers are addressing the sustainability issue, but at Maison Margiela, war seems to be at the top of John Galliano's mind.
The clothes were a play on the uniforms of World Wars I and II, whether they be army jackets or nurses pinafores. Coats were flattened into capes with unfinished seams at the sleeves; nurses caps and army helmets came with netted veils. There was an element of the casualties of war in the garments, too, from rips up the front of jeans to a neatly-placed series of holes in military jackets. Belts came with large loops of heavy keys; in the middle, parachute-esque bustles finished short jumpsuits and were layered over preppy sweater vests.
The final look came stalking down the runway on a menacing model who stared down a number of the front-row guests, including Anna Wintour: a black leather coat, a black cadet cap, black knee-high leather boots and a nautical striped naval collar. It was hard not to read into the messaging, especially as a clip from the Simon and Garfunkel song "The Boxer" played over the finale, repeating just the word "lie" — not even Galliano can resist taking on the growing shadow of the American war machine.
See every look from Maison Margiela's Spring 2020 collection in the gallery below.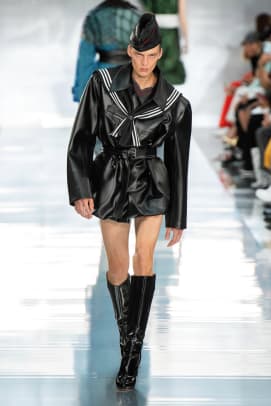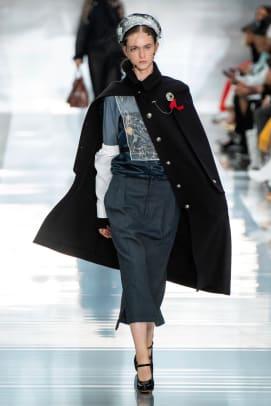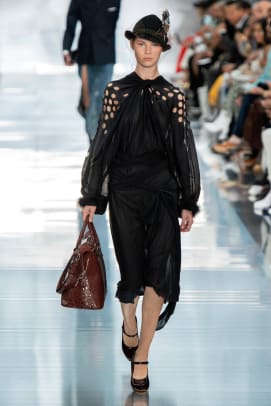 Sign up for our daily newsletter and get the latest industry news in your inbox every day.