Spring 2020 Has Marc Jacobs Feeling Nostalgic
The joyous runway was a tribute to the past, a celebration of the present and a look to the future.
For many of us these days, it's hard not to feel nostalgic for times long since gone by. Marc Jacobs, as it turns out, is not immune to that heart-wrenching pull toward the past, as his Spring 2020 runway show notes indicate. They open with a pull quote from the Paper Magazine review, by Christopher Barnard, of his Spring 2002 collection, which hit the runway on September 10, 2001.
"On the Monday evening before 9/11, Marc Jacobs showed a star-studded fashion show at Pier 54, with the Twin Towers glistening but a few hundred yards away," Barnard wrote. "Glamorous, celebrity-packed and incidentally poignant (the direction was 70's flower child) ... seen in context as a tragically dazzling snapshot of life in New York before the world changed the next morning."
And Jacobs isn't just reflecting on that fateful day 18 years ago; he's also thinking of recently-departed friends like Karl Lagerfeld and Lee Radziwill, old Hollywood stars like Doris Day and Anita Pallenberg, of current must-watch shows like "Fosse/Verdon" and "Euphoria," and of the near or distant future, "where the comforts of tradition may be all there is to grasp to."
All of that culminated in a Spring 2020 collection which, like the Spring 2002 collection before it, "is a celebration of life, joy, equality, individuality, optimism, happiness, indulgence, dreams and a future unwritten." The runway opened with the models flooding the mostly-empty Park Avenue Armory, "Dream a Little Dream of Me" playing across the space as they filtered through the audience who were perched on mismatched white chairs. It was bright and riotous, the models smiling, strutting and dancing, mugging for any cell phone camera held aloft as they passed.
If it was a lot to take in at once, the crowd got a second chance to check out the clothes as the models crossed the space again in opposing pairs. There were so many of Jacobs's signatures and favorite references from over the years: '60s flower children, '70s disco-glam queens, explosions of flowers and feathers, downtown-cool graphic tees and satin pants, uptown-chic tweed jackets (there's Karl), menswear suiting paired with top hats and bowlers, flowing gowns piled with ruffles and lace. The only through-line was individuality, with each model looking as though she had simply plucked her look from a rack of clothes and strolled into the space to show off.
Since paring his runway shows back in Spring 2018, Jacobs has only gone from strength to strength, and this collection is no exception. Fashion editors will be spoiled for choice trying to choose which of the looks they'll pull for editorials next spring (and not just because several felt literally pulled from the pages of iconic vintage glossies, another point of inspiration this season): the violet and marigold dress made up of chiffon flowers or the pastel floral satin suit? The giant, butterfly-shaped sunglasses or the white ruffled top hat? Customers who want something easy to wear will snap up the slouchy corduroy, the striped-knit dresses, the patchwork jeans and the lurex turtlenecks.
Jacobs already had the audience in the bag by the time he came out for a bow, but he truly sealed the deal by running, twirling and blowing kisses around the room, perched on platform boots. "As with closely guarded tradition, tonight is our reminder of the joy in dressing up, our unadulterated love of fashion and embracing grand gestures of unbridled expressions, reactions, ideas and possibilities," his show notes end. I can think of no better way to bid farewell to New York Fashion Week.
See every look from the collection in the gallery below: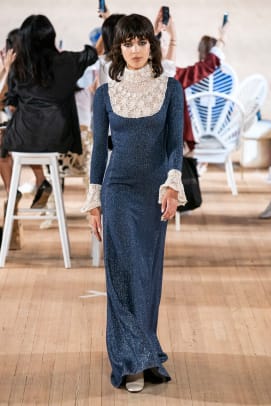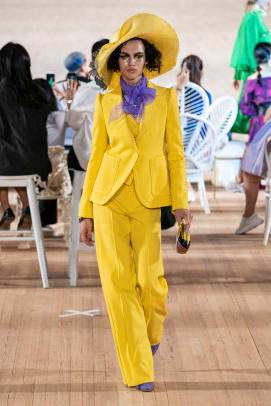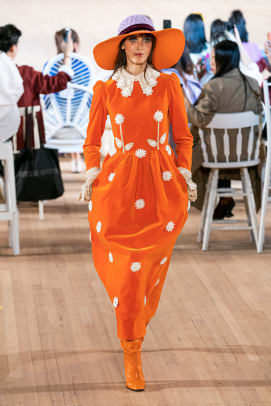 Sign up for our daily newsletter and get the latest industry news in your inbox every day.