Michael Kors Shares His Optimistic View of America for Spring 2020
Patriotism, but make it fashion.
If you haven't seen the 1949 movie version of the musical "On the Town," starring Gene Kelly and Frank Sinatra as sailors on a 24-hour shore leave in New York City, don't fret: The Michael Kors Spring 2020 runway — held on Wednesday at the Brooklyn Navy Yard, no less — will catch you up.
The show notes cited inspirations like "the powerful romanticism of the 1940s" and "patriotic stars and stripes in prints and metallic accents," the kind of classic Americana Kors traffics in with a soundtrack to match, courtesy of the Young People's Chorus of New York City. (Songs included such classics as "This Land Is Your Land," "American Pie," "Somewhere Beyond the Sea" and, yes, "New York, New York" from "On the Town.")
This translated into belted, baggy pants paired with bucket hats and platform sandals, navy blue blazers with exaggerated shoulders and matching pleated skirts, jaunty sailor's caps and sharp white military jackets. The standout pieces were the navy menswear shapes with gold thread serving as striping, running down high-waisted trousers and double-breasted dresses. In case the message wasn't clear, there were also graphic sweaters with the word "hate" crossed out in red, and a series of star-spangled red and navy dresses at the end.
Kors undid some of the '40s glam by mixing in some punk inspiration; the Veronica Lake waves of the models' hair were wilted and beachy instead of polished and perfect. Leather and leopard print broke up the patriotism through the middle section. Perhaps gold metal stars and anchors were a little literal, but they also made for slightly-tough accents on studded trackpants and sweaters, especially so trailing down schoolgirl skirts. White creepers and angular sunglasses added a downtown '80s edge to puffy polka dots and gingham ruffles. And because nothing is more American than pie, Kors served up slices of fruit motifs with cherries and lemons sprinkled across glittering dresses and playsuits, or perched atop black and white loafers and pumps.
Was it heavy-handed? Yes. But it was also Kors at his All-American best — not to mention, one of his strongest collections in years.
See every look from the collection in the gallery below: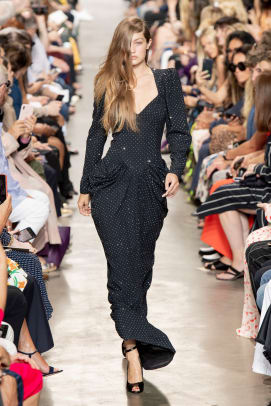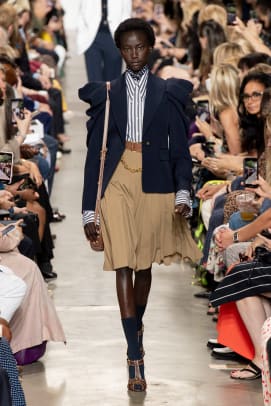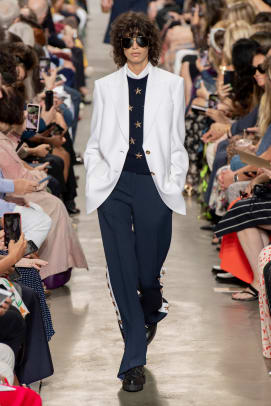 Sign up for our daily newsletter and get the latest industry news in your inbox every day.