Missoni Highlights the Global Climate Strike for Spring 2020
"We are at a crucial point for our planet, and we need to take action."
At Milan Fashion Week on Saturday, Missoni held its Spring 2020 runway show at Bagni Misteriosi, which usually serves as a (very fancy) public pool during regular opening hours. For its latest collection, the storied Italian, family-owned luxury brand, known for its signature zig-zag knitwear, tapped into one of the hottest topics within the industry, if not the entire world: climate change, specifically the Global Climate Strike. 
At every seat were Little Sun solar lamps from artist Olafur Eliasson, who launched the clean energy initiative in 2012. "Join us in holding hands with the sun, we are at a crucial point for our planet and we need to take action," stated an accompanying card from creative director Angela Missoni and Eliasson. For every purchase of these lamps, another one is given to one of the organization's partners in rural Africa that are in need of solar energy.
But while hundreds of showgoers were supplied with such a well-intentioned item — complete with a lanyard, packaging and a branded bag — placed at each of their seats, which were accessorized with a portable Missoni-style foam cushion, we can't help but wonder how exactly the brand's Spring 2020 collection will help benefit an industry that is rife with waste and in need of major efforts and changes towards sustainability.
Aesthetically, the collection reminded us of upcycling, as a number of dresses and skirts appeared as if they were patched together with different Missoni prints. (It's a practice that Missoni, the designer, has been enforcing since 2018, and she's taking steps towards more sustainable endeavors within her family business.) There was clearly a '70s vibe to the entire co-ed line, too, mainly inspired by Jane Birkin and Serge Gainsbourg: layered ensembles, suiting (the glitter versions caught our attention the most), babydoll dresses adorned with mini-ruffles, beaded statement bags and loads of thin scarves styled as loose ties and belts. 
The two strong points of the entire show — the '70s and climate change — seem fairly disparate, but we hope there's at least some sort of through line or, at least on behalf of Missoni, an actual plan of action.
See every look from the collection in the gallery below.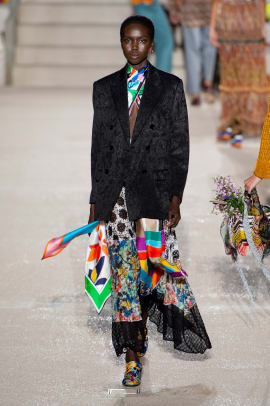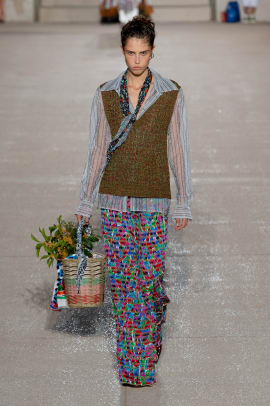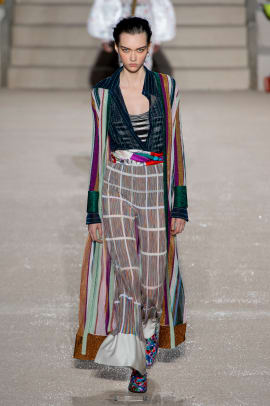 Stay current on the latest trends, news and people shaping the fashion industry. Sign up for our daily newsletter.