Jeremy Scott Channels Picasso for Moschino's Spring 2020 Collection
There was even a Moschino logo that parodied the late creative's signature
Jeremy Scott dug back into his bag of fashion tricks for Moschino in Milan. The runway show's Spring 2020 invite arrived at my hotel room in the shape of an artist palette and logo-emblazoned paintbrush. "Bob Ross?" I thought, as I pictured Maude Apatow from that Halloween episode of "Euphoria." Not quite. Instead, Scott channeled Pablo Piccasso on Thursday night, as showgoers arrived at the Palazzo del Ghiaccio's venue-turned-catwalk, which boasted two life-size Baroque-style frames. 
The props served as picturesque moments for each model on the runway, who were dressed in outfits that were covered in painterly prints, spanning the different styles, eras and mediums of the famous Spanish artist: There was Bella Hadid wearing a harlequin outfit from Picasso's "Rose Period;" Kaia Gerber donning an actual abstract guitar from when he dabbled in sculpture; Cara Taylor costumed into a framed charcoal drawing; and Stella Maxwell in a dress embellished with Picasso's famous "little flowers." The Moschino logo even parodied the late creative's signature, and Scott produced more stylish looks inspired by Picasso's Spanish culture, which at times became the subject of his artwork, like matadors, bulls and flamenco dancers.
The fashion-as-art trope can feel played out, but leave it to Scott to revive it with his high-fashion treatment. While this season was certainly not as flashy as Fall 2019's highly entertaining game-show theme, that won't stop us from wanting to see these conceptual ensembles on the red carpet on a few daring celebrities. Katy Perry in a sequined harlequin jumpsuit? We can already see it.
See every look from the collection in the gallery below.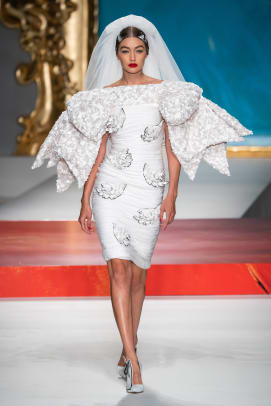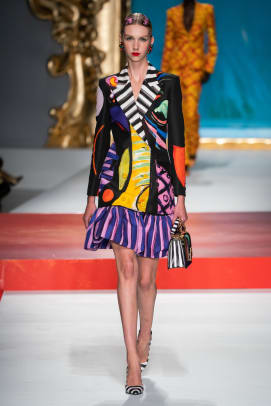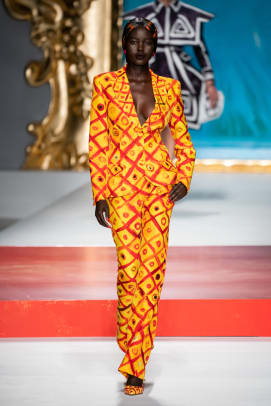 Sign up for our daily newsletter and get the latest industry news in your inbox every day.