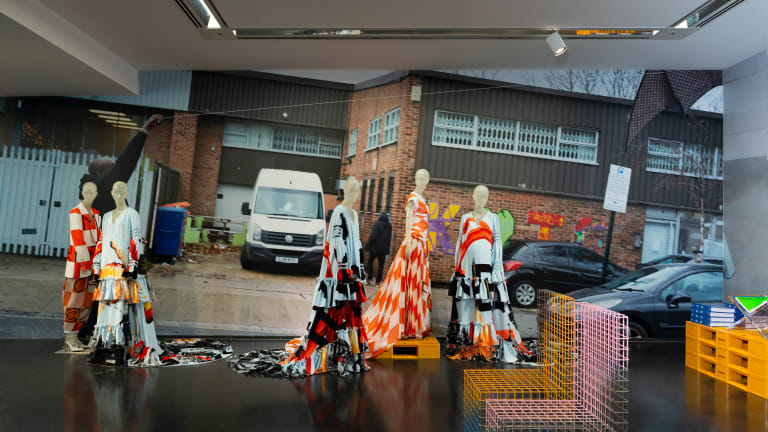 The Luxury Evolution of the Museum Gift Shop
"Virgil Abloh: Figures of Speech" features a "pop-up store" on par with any other luxury retail experience. Here's why that matters for gallery-goers.
There are gift shops, and then there are gift shops.
In the case of the former, visiting parties may be convinced to turn any number of pleasant tchotchkes into mementos, like an odd stack of postcards or a poster they may wait months or years to frame. But with the latter, emphatically italicized version, well — it's more like an extension of the exhibition. Any postcards available for purchase are probably not sanctioned by the USPS.
The retail offering at "Virgil Abloh: Figures of Speech," now running at the Museum of Contemporary Art Chicago (MCA) through Sept. 29, is most certainly a gift shop, not gift shop. Technically, it's a "pop-up store" on par with any Virgil Abloh, the famous polymath and designer behind both Off-White and Louis Vuitton men's, has created throughout his career. But unlike his previous pop-ups on New York City's Prince Street or Paris's rue Saint-Honoré, this one can be accessed only by exhibit ticket holders.
The MCA calls it an "extension of the exhibition," and it is. Abloh and his team worked intimately with the MCA's curatorial staff on the concept and design of the store, the walls of which are covered floor-to-ceiling with original photographs taken by Juergen Teller. It even has its own name, "Church & State," meant to draw attention to the false separation between what's on view in a museum and what's available in a gift shop on the other side of the wall.
Church & State makes its point — that commerce in a store has just as much artistic validity as something hanging in a gallery — while also selling $710 anorak jackets. With roots in everything from experiential retail to high-end art and design, Church & State represents a shift being made in the traditional gift shop model.
It also makes sense that fine art museums would invest resources into elevating their gift shop offerings given the current state of brick-and-mortar retail. Consumers are more attracted to curation and exclusivity today than ever before, and the museum gift shop has always existed to provide visitors with pieces they couldn't find elsewhere — hype before it was hype.
Related Articles
The Museum of Contemporary Art Chicago's New Exhibit Showcases 20 Years of Virgil Abloh's Work
The Special, Behind-the-Scenes Ways Museums Bring Costume Design Exhibits to Life
The Hot New Trend in Luxury Retail? Not Selling Anything
The Metropolitan Museum of Art has been engaged in the sale of art publications and reproductions virtually since its beginnings nearly 150 years ago.
"Our customer has always been one that demands uniqueness and quality, and we seek to offer that through the full spectrum of our assortment," writes Erin Thompson, creative and marketing director of The Met Store, in an email.
The Met began ordering images of European paintings as early as 1871 for archival purposes, with extra copies then going on sale to help fund The Met's operations. By the early 1900s, The Met Store's selection expanded to reflect a variety of price points, from limited-edition prints, fine jewelry and high fashion to more accessible items like scarves, stationery and exhibition catalogues. Today, The Met Store is exploring a new, decidedly 2019 way of attracting visiting guests.
"Recently, we've sought out esteemed brands to create exclusive co-branded products inspired by our collection and exhibitions as a way to attract new audiences and offer items that can't be found anywhere else," says Thompson.
For the Costume Institute exhibition Camp: Notes on Fashion in May, The Met Store launched "The Camp Collection," a capsule by 14 designers who created specially-designed or re-editioned products exclusively for The Met Store, including pieces by Gucci, Maison Margiela, Marc Jacobs, Molly Goddard, Moschino, Vaquera and, naturally, Off-White. Four months after its debut, much of the collection is either sold out or on clearance, but at publishing time, one could still purchase the Off-White Met Tote for $750. There also remains a range of more accessible trinkets, like Vaquera's $16 "Renaissance M" Giant Met Button or Marc Jacobs's Marquee Key Chain, now on sale for $32.50.
Back at the MCA, Michael Darling, the museum's chief curator, explains that Abloh was intently focused on offering a range of entry-level items alongside luxury pieces, like a selection of Off-White handbags, as well as his price-upon-request Mies Van Der Rohe-inspired wire mesh "grid" chairs, pictured above.
"We were trying to be really attentive to that gulf between the price of, say, Off-White clothes and what people would expect to buy in a museum," says Darling. "Virgil was really, really thoughtful to make sure there was still cool merchandise at a more accessible price point, as well as the more exclusive Off-White things." Church & State carries a range of reasonably-priced products, like a $10 postcard set and a $28 cotton canvas tote. "That was very important for him — that it didn't just feel like it was a super-exclusionary shopping experience."
London's Victoria and Albert Museum (V&A) operates an extensive retail operation of its own, the V&A Shop, where visitors can currently find pieces inspired by the V&A's "Christian Dior: Designer of Dreams" show. For every range within the V&A Shop, the retail team considers both price point and product type. But what's more important, regardless of cost, is how covetable each individual item is.
The V&A's Head of Retail Sarah Sevier compares the shopping experience to a classic department store — but "with no escalator" — where customers with all budgets are incentivized to return season after season to see what's fresh.
"It's widely known how uninteresting our high street is at the moment, and that's something we can offer in these sort of strange times," she says. "But it's about the whole experience of coming to a museum in that you can really engage with a retail offer you can't get anywhere else. And yes, some of it is exclusively produced, and so it literally can't be found elsewhere."
This is where gift shops become gift shops, at least in terms of price. This line is something the Museum of Modern Art (MoMA)'s MoMa Design Store knows well in its wealth of limited-edition pieces that are more keepsake than knickknack. 
"It's really important for us to always carry the original authorized pieces," says Chay Costello, associate director of merchandising at MoMA. "It's important to people who shop with us to know they're not getting a knock-off. They're getting something that's made with the original materials. The integrity of the form and function is going to be there. They're willing to invest in that because it's important to them."
Recently, MoMA Design Store has seen a flush of interest in the Roland Kiyola Piano, created in collaboration between electronic musical instrument manufacturer Roland and Japanese furniture company Karimoku. It retails for a cool $4,299. While it's a digital device, its technology still allows for players to palpate the keys so to further control the strength of the sound. "It's a high-end piece," says Costello, "but it's very worth that price in what it brings with it."
Shopping on the whole is changing, of course, a fact of which museum retail teams are well-aware. ("If you know what you're looking for, you don't have to go into any kind of store," says Costello. "You could just get it without having the inconvenience of having to go out and find it.") Like your standard brick-and-mortar, gift shops are getting more creative with how to better serve their visitors.
For the MCA, Darling has a vision of his own. What if the MCA acted as a sort of glorified Island of Misfit Toys, carrying special products that have a place in neither the big-brand stores nor the independent fashion boutiques?
"There's this niche in there for small clothing and product designers," says Darling. "I feel that there's a gap missing in the retail ecosystem, and in a place like Chicago, where a store carries the coolest things, and in that range."
After all, that is just what makes Church & State so unique in the first place: that its pieces — inventive in design, exclusive in production — already do live in that nebulous space between "big-brand store" and "independent fashion boutiques." 
That it's a complete blast to shop? That's just the icing.
"Shopping has become a discovery process and something that's connected to a larger meaning," says Costello. "Maybe it's a connection with a designer or an artist or a trip you took to a museum. It's about finding something new, and that delight of exploring."
Homepage image: Virgil Abloh designs. Photo: Katrina Wittkamp/Courtesy of the Museum of Contemporary Art Chicago
Never miss the latest fashion industry news. Sign up for the Fashionista daily newsletter.