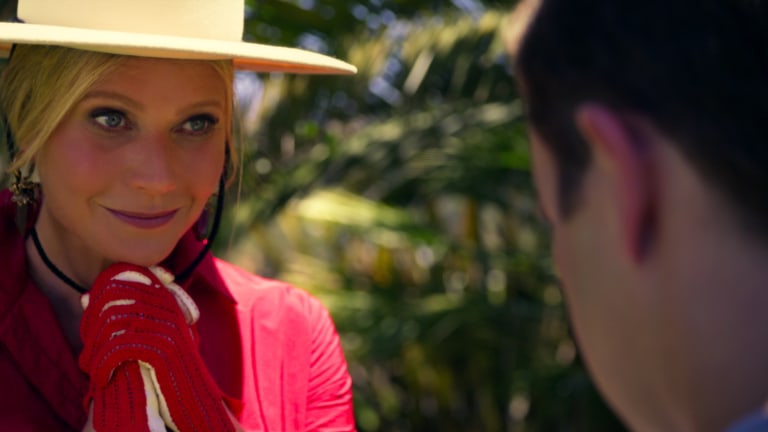 Gwyneth Paltrow Gardens in a Carolina Herrera Gown in 'The Politician'
Plus, Lucy Boynton wears a high-low mix of Chanel and Zara as a high school senior in Ryan Murphy's new Netflix series.
In Ryan Murphy's new Netflix series "The Politician," the mansion-dwelling and designer-wearing characters and their ultra-privileged Southern California hamlet only look outrageously glamorous and idyllic — and that's very much the point.
"Ryan Murphy, of course, guides us with his vision of the show and it was the opulence of the wealthy in Santa Barbara, where everything is sunny, perfect and beautiful and yet people are crumbling within," explains the prolific creator's longtime costume designer Lou Eyrich, over the phone, while navigating Los Angeles traffic. "Their clothes look shiny all on the outside and no one knows what's going on on the inside. This one was more about the facade of who these people were. 
In a sort of "House of Cards" meets "Glee," but minus the musical numbers, "The Politician" follows San Sebastian High senior Payton Hobart (Ben Platt of "Dear Evan Hansen") as he navigates the school's political and social landscape — and decides the direction of his moral compass — during a cut-throat race for student body president.
Eyrich oversaw the costume design — with Murphy signing off on every. single. look. — and designed looks for two icons playing matriarchs from opposite ends of Santa Barbara's socio-economic spectrum. Payton's chic and spacey mom Georgina Hobart (Gwyneth Paltrow) landscapes in designer gowns while Dusty Jackson (Jessica Lange) enjoys the charitable perks bestowed to her cancer-patient granddaughter, Infinity (Zoey Deutch), a bit too much.
Murphy's 20-years-and-going collaborator brought on Claire Parkinson to handle costumes for the remainder of the cast, including Infinity, Payton's impeccably uniformed strategy team and San Sebastian High It Girl Astrid Sloane (Lucy Boynton). Parkinson, who's already hard at work on a season two, took inspiration from midcentury society photographer Slim Aarons's coverage of posh Palm Springs, cinematic political satires like "Election" and 1972's "The Candidate" and quintessential fashion houses: "'70s Halston" and "very much Gucci."
Below, the show's two costume designers break down the cast's clever storytelling and, most of the time, absurdly chic looks.
Payton Hobart (Ben Platt)
The aspiring student body pres has actually been gunning for the POTUS top spot since age seven — and dresses for the job he wants. "Ryan likes the idea that [Payton's] always in a tailored suit," says Parkinson, who looked to Robert Redford in "The Candidate" for Payton's mock-neck short-sleeve shirts and his '50s and '60s-influenced three-piece suits. "I wanted him to be idealistic and presidential, but deliberate in a way," explains the costume designer, who also kept Presidents John F. Kennedy and Barack Obama in mind. "He's so concerned about how he's perceived."
Parkinson custom-made suits and bought designer pieces, like the wide-pinstripe double-breasted Ralph Lauren blazer (above) and an emerald green silk notch-lapel one by Paul Smith. Parkinson looked to Acne, A.P.C., Prada and Loewe for Platt, who went through a whopping 29 changes in just the first two episodes. Payton's Americana-influenced palette of red, white and blue — with transitions into deep wines and greens — reflect his political ambitions. But Parkinson would counter the teen's monochrome "buttoned up" aesthetic with a playful touch, like Gucci sneakers. "To keep it still a little young," she says.
Related Articles:
The 'Assassination of Gianni Versace: American Crime Story' Features Authentic Vintage Versace
How the 'Feud: Bette and Joan' Costume Designer Revisits Old Hollywood Glamour (and Drama) Through Wardrobe
How the 'Scream Queens' Costume Designer Found Inspiration on the Former Style.com
Georgina Hobart (Gwyneth Paltrow)
"One minute she's wearing her riding outfit, but then she's also gardening in a red gown. She's very quirky because she can [be]," says Eyrich, about Payton's devoted mother Georgina. "Ryan wanted her really eccentric, over the top, always dressed to the nines, even if she was … gardening or painting by poolside."
Paltrow's longtime stylist Elizabeth Saltzman gave an assist with her industry connections to pull (at the time of filming) current-season and runway pieces from Rodeo Drive-level high-end design houses where Georgina would probably shop: Tom Ford and loads of Gucci, including a printed scarf worn babushka-style for nursing a sick Payton, a double-G belt to cinch her snug horse-riding trousers and a silky pajama set suit from pre-fall 2018 for a clandestine night mission. "We did a lot of bugs and flower themes on her and that's what [Gucci] was doing at that time. It fit perfectly into our motif," says Eyrich.
For more mundane day-to-day tasks, like the aforementioned weeding, a long-sleeve and collared gown by Carolina Herrera, a vintage Halston straw hat and custom-built crocheted gloves (top) were in order. Naturally, a powder-pink and caped power pantsuit by Duro Olowu (above) would be the obvious choice for a crucial tête-à-tête regarding the family trust. "Who would wear that to an important meeting with your lawyers, you know?" laughs Eyrich. 
When Georgina ventures out of Santa Barbara — and not via private jet — she wears a Valentino pre-fall 2018 cape-mini-trench emblazoned with a sketch of a tiger head (above). "Georgina wouldn't have a comfortable traveling outfit, like everybody else," says Eyrich. "Hers has to be a heeled boot and a trench cape."
Astrid Sloan (Lucy Boynton)
"Astrid is the fashion princess of the show," says Parkinson, about the poor little rich girl, who uses her daddy's questionably procured funds to stack her diversified closet. "She has such a strong voice, so she always shows it with how she dresses. [She doesn't have] just one style."
Astrid's aesthetic pays "a little bit of an homage" to "Clueless," per Murphy, but Parkinson also imagines that the restless teen looks to the likes of Parisian Françoise Hardy, current-day It Brits Sienna Miller and Alexa Chung, and the London mod scene (coming full circle with Boynton's Biba shopgirl role in "Bohemian Rhapsody").
Parkinson used an equally eclectic lineup of designers including Chanel, Dior, Miu Miu, Sies Marjan and contemporary and high-street labels like Sandro, Maje and Zara. The latter was the source of the above, erm, Parisian design house-reminiscent tunic dress. She also mixed in designer vintage, like Diane von Furstenberg and Chloé blouses. Astrid's Chanel flap bag is a mainstay, even when she ventures into "basic," as she says, territory. But, honestly, Boynton can make anything, even a generic souvenir sweatshirt, look devastatingly cool.
"Lucy, too, has such a fashion sensibility, that we just had so much fun creating our character," says Parkinson. "She became Astrid in every fitting, and [Boynton] still writes me messages, 'How can I get that clothing? I miss seeing her.'"
James (Theo Germaine), Alice Charles (Julia Schlaepfer) and McAfee (Laura Dreyfuss)
"Their number-one agenda is to get Payton elected," says Parkinson about the anti-hero's team of savvy — if not a tad ruthless — political strategists, who should probably consider working on some IRL primary campaigns. 
No nonsense James (Theo Germaine) sticks with a consistent "unfussy," "super professional" and "elevated preppy" uniform of a collared shirt, work trousers and printed ties that say, "I'm here to get the job done." But look closely at the details for the staffer's quirks, including bold argyle socks and all the tie clips, which Parkinson carefully selected from vintage shops and markets. "We got one that had a 'J' on it and beautiful stone ones."
First Lady-in-waiting Alice Charles (Julia Schlaepfer) wears midcentury-influenced pastel sweater sets, tweedy skirts and multi-strand pearls which mesh with Payton's JFK-inspired silhouettes. "We made her a bit more of a Jackie O meets Princess Di," says Parkinson, who also sprinkled in a little "'80s prep." Alice's sorbet-hued, upper-crust-y wardrobe includes Kate Spade and Tory Burch skirts, a teal Chanel sweater set and pearls, Gucci patent loafers — in black and cream — and oversize pussy bows custom-made to color-coordinate with the rest of her outfits. "We would just make the look 100% deliberate and calculated, but still keeping it poppy and bright," says Parkinson.
Parkinson envisions "Gloria Steinem meets David Bowie" with a touch of "Diane Keaton" for McAfee (Laura Dreyfuss) and her very Fall 2020 series of pantsuits in vibrant colors and prints. The sharp polling expert wears a mix of power suiting, from a minty green Rachel Comey over a Dries Van Noten printed shirt (here), to the sherbert-hued Asos one above. Parkinson would layer in vintage designer blouses or ironic graphic T-shirts, plus accessorize with statement shoes like Commes des Garçons sneakers or "sky high Margielas" for "my Bowie moment."

Dusty Jackson (Jessica Lange)
With her glorious teased hair (a wig), talon-like acrylic nails and intentionally overdone makeup, Dusty has her own signature over-the-top style. "We had to really tone it down sometimes," says Eyrich, about coordinating with all the glam. "We had to go really super simple, like a fitted long sweater and some leggings, because otherwise it went very cartoon-y very quickly."
The team also went a bit method and shopped for Dusty where they thought she would go. "Probably resale shops and discount shops like Ross Dress for Less and T.J. Maxx," says Eyrich. "That's where a lot of her clothes came from, including her shoes." (Although, she did find some pretty fabulous '80s pieces from Cannonball & Tilly on Fairfax in L.A.)
Murphy was also very specific about how he wanted the Hollywood legend and fan favorite from "American Horror Story" and "Feud" to look as Dusty, hence the off-the-shoulder knits, body-con fits, excessive animal print — like a sweatshirt with zebra and leopard patches. "We thought we'd backdate her a little bit," explains Eyrich. "Like she's had the same clothes in her closet for a long time — and she shouldn't still be wearing them."
Infinity Jackson (Zoey Deutch)
"A child meets Minnie Mouse," recalls Parkinson, about Murphy's vision for Payton's running mate. "Dusty is dressing her as a doll." Infinity's naively juvenile pink- and cartoon animal-infused wardrobe invites sympathy for her continuing illness — which means more free trips to Disneyland and dinners at Olive Garden for her grandmother Dusty to indulge in.
"Infinity is layering things, like many tulle skirts, and she loves rainbows and tutus," adds Parkinson, who thrifted "a ton" of Goodwill, plus custom-built or reworked pieces. "We would do puffy paint on sweatshirts," she continues. "We would buy bobby socks and cozy knits and add flowers to them. Anything very sweet and doll-like."
Luther and Martin Hobart (Trevor and Trey Eason)
Despite mom Georgina's to-die-for designer wardrobe, the obnoxiously one-percenter, WASP-y outfits worn by the Hobart twins' — Luther and Martin (Trevor and Trey Eason) —truly delighted me the most. I just lol'd every time the Abercrombie model-looking real-life twins appeared on screen — and spouted some dim, douche-bro lines back and forth — in matching popped-collar Polo Ralph Lauren shirts with, of course, the most massive, oversize logo.
Parkinson looked to her own childhood experiences summering in Martha's Vineyard and attending college in Boston for the twins' "Ivy League, over the top, preppy" 'fits. She also took inspiration from '90s Polo Ralph Lauren ads and made sure the the two were always coordinated their plaid button-downs, cable-knit v-neck sweaters, polos and bow-ties from Brooks Brothers, Vineyard Vines and, obviously, Ralph Lauren, both contemporary pieces and '90s-era cable knit sweaters with clubby stripe-trimmed collars.
"I wanted them to be like the guys always wearing the topsiders, when you're like, 'you're wearing a blazer or a suit and you're still wearing boat shoes? But why?'" laughs Parkinson. "Payton's not going to be caught dead wearing that." 
'The Politician' streams on Netflix on Friday, Sept. 27.
Top and homepage image: Courtesy of Netflix
Never miss the latest fashion industry news. Sign up for the Fashionista daily newsletter.