'Cheap' Materials Go Chic on the Spring 2020 Runways
A trip to Jo-Ann Fabrics may be in your future.
Sumptuous Italian silks and elaborately beaded confections have been relatively absent from the first half of New York Fashion Week's 2020 shows. Instead, it seems designers might have found their fabrics in the Jo-Ann Fabrics clearance aisle. 
At Jeremy Scott, for instance, there were hallucinogenic pieces concocted from patchworked satin panties and metallic leather mini dresses that looked more like the packaged pop-star Halloween costumes you'd find at Party City than designer frocks sold on Farfetch.com. This shiny lamé fabric reappeared at Christopher John Rogers on a number of gowns. The satin-y textile that often covers the tables at Bat Mitzvahs, as well as a rave-like holographic material, also turned up in his collection on both form-fitting and voluminous garments. 
Christian Siriano, too, used the shimmery, festival-approved fabric to make a body-hugging off-the-shoulder dress and a few tops. Many other pieces from the designer's collection looked like they could have been purchased in the costume aisle of a fabric store as well — the construction level, of course, was leaps and bounds beyond what you'd see at a dance recital or a high school musical. And we must assume the fabric choice was intentional, because the man should know how his way around Mood Fabrics at this point. 
So, there you have it: Plenty of runway proof that cheap is now chic. See it all below.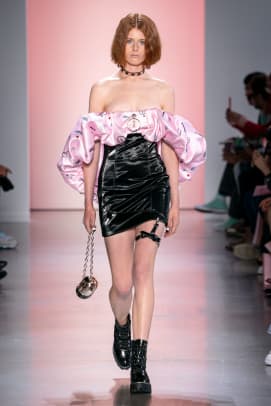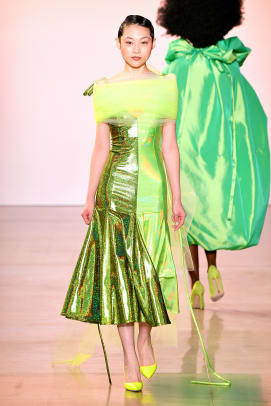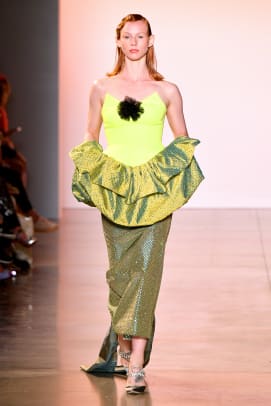 Sign up for our daily newsletter and get the latest industry news in your inbox every day.