Polka-Dot Prints Are Making Waves on the Spring 2020 Runways
Save your stripes and plaids for another day.
Though polka dots have always been considered a staple print, the spotty motif has taken a back seat when it comes to street style and even on the runways for the past few seasons. Instead, we wanted to wear leopard, among other animal print varieties, as well as plaid and whatever color was trending within our sartorial zeitgeist. (Millennial pink? Slime green? Gen-Z yellow? Who knows these days.)
But back in July, we noticed the fashion crowd bringing back the polka-dot print, especially during Couture Week in Paris, and around the same time, a certain polka-dotted dress from Zara was going viral among mass consumers. The pattern was attracting celebrity stylists, too, and we saw a few red carpets peppered with dots, from Alison Brie's silky, two-piece set by Orseund Iris to Brittany Snow in a sheer, sequined Monique Lhuillier dress.
Perhaps designers were catching on to this growing trend while producing their Spring 2020 collections. During New York Fashion Week, we witnessed a number of spotty creations on the runway, like the pretty tulle gowns peppered with velvety polka-dots from Wes Gordon for Carolina Herrera. Tory Burch opted for a classic blue-and-white pattern, found on blouses, skirts and short dresses, while Adam Lippes chose black and white, adorning dresses in dots of various sizes. Zero Maria + Cornejo even played with the design's versatility, as well, with polka dots placed so close together that they almost resembled checkerboard print.
Try to spot (hehe) all of the polka-dot prints from the Spring 2020 runways in the gallery below.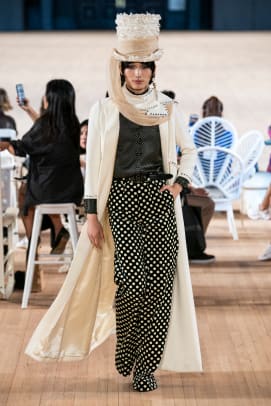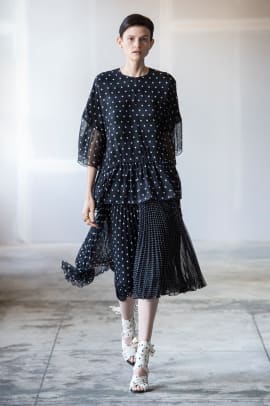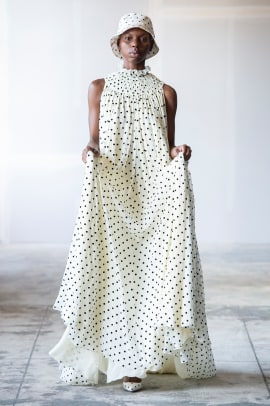 Sign up for our daily newsletter and get the latest industry news in your inbox every day.