At Off-White Spring 2020, Virgil Abloh Was Present Even in His Absence
The show must go on.
Just a few weeks ahead of Off-White's Spring 2020 fashion show in Paris, designer Virgil Abloh announced that he would be taking a doctor-ordered sabbatical due to unspecified health issues. Considering how much of the hype behind the brand is centered around Abloh himself, it would have been fair to wonder if the runway show would have the usual pull for his dedicated fan base.
But if anyone was worried — or, more likely, hopeful it would be easier to get into the show on Thursday — the crowd in front of Centre Pompidou quickly assuaged those doubts. It was the usual mob scene outside, packed with people trying to make it into the parking garage-turned-show space to see what the Spring 2020 collection would bring. The answer: plenty of signature Off-White pieces, like sporty bra-and-leggings sets, tank tops and louche pants, many decorated with large holes in unexpected places. There were also bright reds and pinks, especially pretty on a coat with a half-filled floral motif, and a print which was the result of a collaboration with the Bouroullec brothers.
The bags also got the hole-punch treatment with a new style dubbed the Meteor. It's non-functional to the point of parody, as it holds literally nothing and will retail for $1,665 when it becomes available on Sept. 29, according to Vogue.com. Models wore them with their wrists punched through; customers looking for a more practical solution will be relieved to know the Meteor comes with a pouch in case you, you know, want to actually carry things.
Oh, and if all those holes remind you more of swiss cheese than meteors? That's intentional, too, according to a press release: It's a nod to Abloh's alma mater, the University of Wisconsin, and the state's cheeseheads. Even when absent, Abloh makes sure his presence is felt.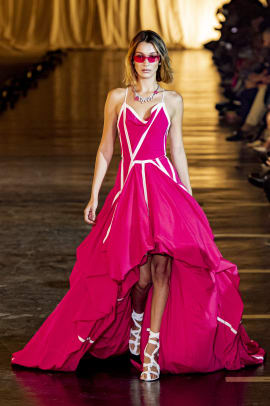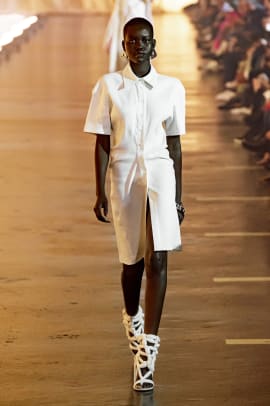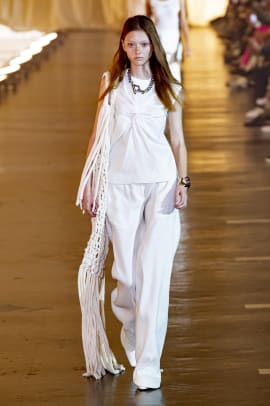 Stay current on the latest trends, news and people shaping the fashion industry. Sign up for our daily newsletter.