Laura Kim and Fernando Garcia Take Oscar de la Renta on Vacation for Spring 2020
Can we come, too?
It's been three years now that Laura Kim and Fernando Garcia have been at the helm of Oscar de la Renta, and for several seasons running they've proven they deserve the top spot at one of America's most important fashion houses. It's a streak they'll keep running for Spring 2020, an excellent collection that's ready to be packed for their clientele's next luxurious getaway.
The key piece for the season is the flowing caftan, the ne plus ultra of rich people resortwear, in hothouse floral prints and muted, stucco-toned stripes. Vacation is all about cutting loose and, depending on the locale, getting a little sultry, so Kim and Garcia revisited the fringe and tassel motifs which have dotted through recent collections, this time finishing them with wood beads or crocheted lace.
Of course, one can't be all play and no work, so there's plenty of tailoring in there too, from candy-colored blazers to flowing linen pants. Red carpet is a staple of the house a well, with Kim and Garcia turning out pieces like beaded chiffon tops and ball skirts for the Hot Young Things, woven strapless dresses and lamé pleated gowns for society ladies and raffia coats and matching suiting for the ladies-who-lunch set — a little something for everyone, all paired with strappy sandals in the perfect height.
You might need to trade in your airfare to the islands for one of these gowns, but really, wouldn't swanning about in a light-as-air confection be just as restorative as a trip to the sea?
See every look from the collection in the gallery below: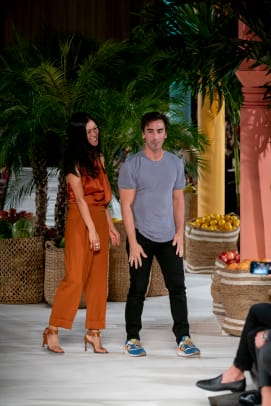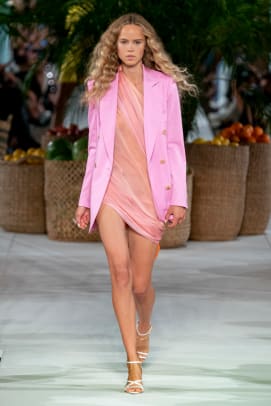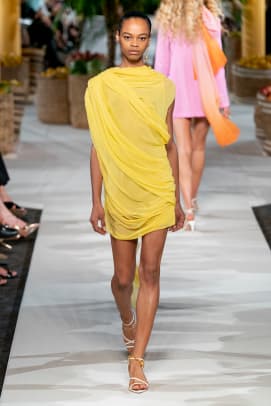 Sign up for our daily newsletter and get the latest industry news in your inbox every day.