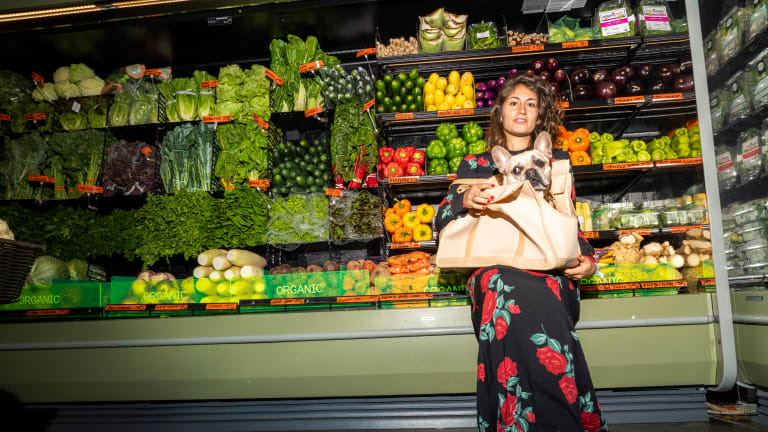 The Luxury Pet-Care Market Is Enabling Dog Owners to Curate an Aesthetic for Their Animals
Insta-worthy design isn't just for humans.
Jessica Tran never had a dog before she adopted Ghost, an Australian Shepherd mix who is, in Tran's own words, "extraordinarily beautiful." Ghost has these giant caramel saucers for eyes like two glossy Werther's Originals fresh off the conveyor belt and a series of peachy white freckles dotting the middle of her button nose. You'd be hard-pressed to find someone who disagrees with Tran's assessment, and that's a not-insignificant reason why she brought Ghost home in the first place.
"This is something I'm a little bit ashamed of," she says. "But also, I'm not — I feel like a lot of people fall into this trap. I adopted Ghost because she was beautiful. I want to say I know I adopted her because she was the one who needed the most attention, but she definitely didn't need me."
Ghost had a waiting list of 14 eager adopters before the queue reached Tran and her boyfriend, better known for the purposes of this story as Tran's co-dog-parent and Ghost's other human.
"That was a very backwards decision," says Tran, a senior partnerships manager at Intrepid Travel. "Not choosing a dog based on their personality is the entirely wrong thing to do, and now I'm stuck with one of the most difficult dogs I've ever met in my entire life," she says. "But she coordinates with everything I wear."
Ghost is also, in Tran's own words, "an asshole." Tran calls her as much lovingly, adoringly — after all, she is the namesake of Tran's vintage clothing shop, Ghost Vintage — much as you would a family member you love unconditionally but who is terrible at remembering birthdays. That's because Ghost is part of the family.
For a new faction of dog owners like Tran, pets are becoming something more. They have always been our furry best friends, beloved supporting characters who pop into frame and elicit strokes of joy and companionship. But as the direct-to-consumer tidal wave floods industries from lawn care to toilet paper, reinventing markets to make our lives easier and more streamlined, our shopping inclinations are becoming more and more streamlined, too. And aware of it or not, shoppers are getting pickier — in terms of both form and function — about the products they're letting into their homes and bestowing upon their families, pets included.
"Every single company has a singular design now, and people want that for their dogs, as well," says Tran. "They're looking for, one, accessories for their dogs to match everything else they're wearing, and two, things that are branded and communicated as cheaper, more efficient, better-working."
Tran describes herself as being "dog-adjacent," which is to say, she's not so consumed by her pet ownership that it defines her entire life or identity.
Adjacency, as it turns out, is good for business. The global pet-care industry is exploding, with a new onslaught of direct-to-consumer pet brands stretching the market to reach an estimated $202.6 billion by 2025. This is in no small part aided by millennials and Generation Z consumers, who are becoming pet owners earlier and more frequently than generations past. Today, these younger age demographics account for 62% of pet ownership, according to Forbes, and these younger pet-owners are spending: The American Pet Products Association reports that U.S. shoppers spent $72 billion on their pets in 2018, up from $69.5 billion in 2017 and $66.7 billion the year before that.
Minali Chatani, co-founder and head of brand at direct-to-consumer pet essentials brand Wild One, was one such pet-owner herself. In 2013, when she moved to New York and settled into her own apartment, she got a cat and immediately found herself underwhelmed by the lack of aesthetically-oriented pet-care products on the market.
"I was feeling very specific about the way I wanted my space to be laid out and designed," she remembers. "I was having a really hard time that year finding home pieces for my cat that weren't ugly litter boxes or terrible cat trees."
Chatani launched Wild One with her co-founders in September 2018 with the plan to fix the headache she found herself experiencing five years prior. So while the brand applies performance materials like soft-stretch polyester and carbon steel to its product line, Wild One also considers human aesthetics — i.e., that consumers curate their worlds with their pets in mind.
"There wasn't anybody in the space fusing that functional element with design aesthetics," says Chatani, "or a resonant brand catering to consumers in the same way that has been done in other verticals for a younger consumer, who is much more focused on style, as well as function."
Today, Wild One compromises much of Ghost's own "wardrobe," and that's because it ticks all of Tran's own boxes. Contrary to what the word "wardrobe" may infer, Ghost is not a big clothes-wearer. She has just one puffy jacket, purchased out of necessity for New York City cold snaps.
"There's a line you have to toe: function, as well as fun," says Tran. "I never want to make Ghost feel uncomfortable in any way for the sake of me dressing her up. But it's nice to have fun with the things that are necessary, like leashes and collars."
Tran describes her "dog-adjacent" style — minimal and tasteful — much in the same way that one might characterize their personal clothing or home decor style. That's because Chatani views Wild One as more of a fashion and lifestyle company than one that makes eco-friendly poop bags for animals.
Chatani specifically references Everlane as a point of comparison, in that the brand sets its sights on basics and executes product launches against the essentials category alone. Specializing in minimalism allows consumers a certain degree versatility, where they can build a closet, a home or an entire lifestyle around the elevated staples that fit their greater, more personalized style. Pet essentials should be no different.
"These are simple pieces, but they still have a point of view," says Chatani. "They still have a stylistic element where you feel like you can curate your life and curate your own personal style around them and with them. You don't feel like you're breaking the bank. And you don't feel like you're investing in something that is of poor quality."
Wild One's consumer is on the younger side, someone who fits squarely into that millennial and Generation Z category of first-time pet owners. Being a younger age demographic, they're also what Chatani calls an "econ-shopper." But that doesn't mean they don't have buying power; they're just unwilling to compromise on aesthetics in order to have the best-working product, because direct-to-consumer brands have shown them they can have both.
"They're obviously willing to invest in quality products that meet those standards, that are the same standards they apply to themselves," says Chatani.
If Wild One is akin to Everlane in this analogy, Max-Bone is closer to, say, a Ralph Lauren. Founder and CEO Parisa Fowles-Pazdro launched the elevated pet label in 2016, after she got her first dog, Macintosh, and came to understand first-hand just how many home supplies are required for dog ownership. Like Chatani, Fowles-Pazdro was surprised by the lack of Macintosh-friendly pieces that fit in with her otherwise meticulously decorated home.
"We're very particular with everything — we spend money on our furniture," she says. "I wanted him to have beautiful cashmere blankets, beautiful beds, beautiful toys. And what was out there was not that."
What Fowles-Pazdro couldn't find, she created herself, and at a higher price point than the rest of the category. Three years later, the brand closed a Series A funding round this March. Its tagline is "a sophisticated line designed for your dog with you in mind," and its main product range almost looks like human clothes that got zapped in a "Honey, I Shrunk the Kids" machine. One of Max-Bone's best-selling items, the $75 Talon Raincoat, comes in a bright yellow the shade of classic rubber galoshes and includes detailing like adjustable sleeves and gunmetal hardware.
"When you do the research, this generation is putting more items on their dogs — they accessorize with them," she says. "Before, it was a bit silly, but it's not anymore. Our goal is to make it look like they're a family member. They're not just wearing something from Petco."
For those Petco purists, many of Max-Bone's products — a $65 "Après Ski" knit sweater, for example — may be interpreted as luxurious to the point of excessive. Fowles-Pazdro is well-aware, and on the contrary, she insists that each item satisfies function just as much as it does form. It's just that the function is so lavishly executed that the form takes center stage, not unlike human ready-to-wear clothing.
Fowles-Pazdro doesn't design sweaters to dress up dogs. Everything Max-Bone makes, while beautiful, has a practical capability behind it. Her thinking is this: If your dog is freezing, why would you want to put them in, say, a ballerina sweater when they could be wearing something beautifully made and thoughtfully designed that keeps them just as warm? 
"It's really the mindset of not wanting superfluous items in your life," adds Chatani. "It's almost like the Marie Kondo effect of paring back what you have to have, and just focusing on those things — trying to purchase or accumulate the better-quality, longer-lasting pieces that still have a point of view."
It's not just about consumer desire to live a more well-curated life. It's also that we'll do anything for your pets. They are our dearest companions and most treasured loved ones who require clothing and accessories and home goods just as any person who shares your space. That's what brands like Wild One are trying to replicate, and why shoppers like Tran are so keen to give Ghost that type of care. Because our pets deserve the same unconditional love they give us.
Homepage photo: Courtesy of Wild One
Sign up for our daily newsletter and get the latest industry news in your inbox every day.